David Beckham, Sven Forkbeard and one very angry assistant – imagine if Boris Johnson was England manager
The contrast in leadership styles between the England manager and the prime minister could hardly be more stark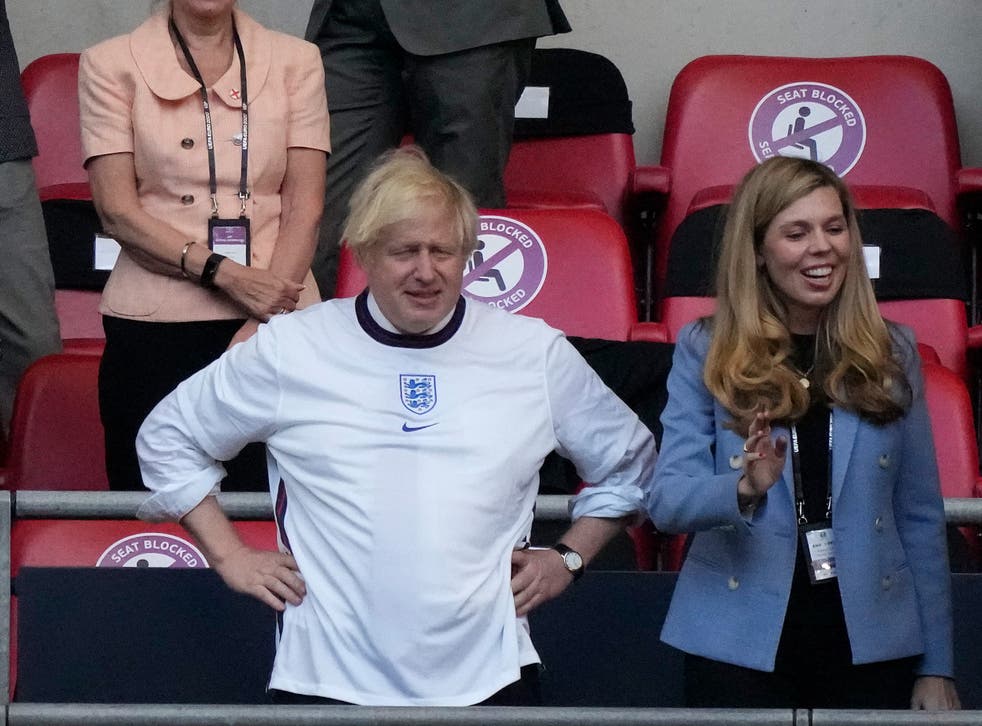 Current data is showing that two million Brits could catch Covid this summer, 10 million of us could be ordered to self-isolate, and there could be well over 100,000 new infections a day, making it the biggest wave of the pandemic so far, greater even than the two giant peaks we have previously struggled through. The government's talk of a "Freedom Day" in just over a week's time is juvenilia in the extreme.
Contrast this with the state of the England football team, which is a model of togetherness and harmony and has reached a major men's final for the first time in 55 years. Gareth Southgate's leadership could not be more different from Boris Johnson's. Southgate's leadership is all about detail, humility and the team; Johnson has no interest in details or humility and it always has to be about him.
Johnson has said that after the government's so-called "Freedom Day" on 19 July, masks will no longer be legally required. It will be left up to "personal judgement". This is not strong leadership – this is absence of leadership. Instead of one pronouncement that everybody in the country can follow and understand, this absolving of responsibility will lead to constant miseries and arguments all over Britain, every single day, as people's personal judgements will differ. Just as an example, it would not be everybody's "personal judgement" to lie to your loved ones repeatedly, to not be able to say how you paid for your home refurbishments or confirm exactly how many children you have.
If Southgate had had to come up with a policy for masks there would have been many meetings, all of which Southgate would have attended, and there would be a policy which he would expect everybody to adhere to. Rather than setting some arbitrary day in the future for their removal, Southgate would take things cautiously one step at a time, making sure that everybody was on board at each stage. That is not how Johnson works. According to Dominic Cummings, when it came to meetings, as soon as any awkward questions needed to be answered, Johnson would do a thumbs up and shout "forward to victory" before pegging it out of the room.
Johnson is keen to bask in the success of the England football team but he seems to have taken little interest in football until England reached the semi-finals. England have now reached the finals – but let's imagine that somewhere in a parallel universe Johnson was the manager of the England football team. How different things might have been.
Jack Grealish is the fans' favourite but Southgate has resisted calls for him to start regularly. If Johnson was the England manager, he would be desperate to remain popular with the fans and so Grealish would be the first name on the team sheet. The fans also wanted Jadon Sancho, so he'd have been in the team along with any other famous footballers that Johnson was keen to be associated with, meaning David Beckham could well have got a recall. We can also be pretty certain the selection process would not have been particularly rigorous, so possibly also making the team would have been Ed Sheeran, Dido Harding, Matt Hancock's sister and Matt Hancock's next-door neighbour.
Southgate went out of his way to praise all of England's opponents so far including Germany, Scotland and Denmark, as well as their managers Joachim Loew, Steve Clarke and Kasper Hjulmand. If Johnson had been the manager you feel he would have praised himself while being unable to resist mentioning Adolf Hitler, Culloden and Sven Forkbeard.
Southgate consulted with his players about taking the knee and they came to a collective decision that all the players and backroom staff supported. If Johnson had been the manager there would have been no taking the knee because Johnson has said he doesn't believe in "gestures" – although he is quite happy to drive a bulldozer through a wall, wave a kipper over his head, get stuck on a zipwire, and buy a water cannon that can't be used.
Southgate does interviews with everybody and encourages players to do so as well. If Johnson was England manager, you suspect he would agree to do an interview, then wait for all the other football managers to do their interviews, before saying he was too busy to do the interview, although he would find time to answer some questions from nursery children before singing "wheels on the bus".
Southgate has had the same assistant for eight years and he is constantly asking him for advice. If Johnson was England manager, he'd have likely fallen out with his assistant after a very short time. The assistant would now be telling anybody who would listen that Johnson's leadership was "ludicrous", that he was "unfit" for job and that his girlfriend was "going crackers".
Southgate has encouraged England players to get involved with causes they believe in and be the people they truly are. If Johnson was managing Marcus Rashford he would have said he wouldn't support him over school meals, then he would, then he wouldn't again, then he definitely wouldn't, then he would, but only for a short time.
Southgate has backed players even when they haven't been playing well; Johnson would be more likely to back a player one day, change his mind two days later, and then, once the player had left the team, go round telling everybody that he had in fact sacked them.
Southgate dropped Phil Foden for breaching coronavirus restrictions after sneaking two girls into a different part of the team hotel. Johnson would have said it was up to Phil Foden's own "personal judgment" and would likely have enjoyed the chaos that ensued because everybody would be looking at him "to see who's in charge". You suspect that Johnson would also have been extremely impressed with Foden's behaviour and disappointed to not have been invited to join him.
We are now in the finals – but Southgate wrote in an open letter at the start of the Euros saying that "no matter what happens" he hopes everybody will look at the team and say "that's the way to represent your country". If Johnson was manager, you can imagine that the team would have been full of egos, totally divided and that we would have been knocked out in the group stages. You can also imagine that at the press conference afterwards, before anybody could ask any questions, Johnson would have put his thumbs up and pegged it out of the room shouting "forward to victory".
Join our new commenting forum
Join thought-provoking conversations, follow other Independent readers and see their replies