As a gay football referee, here's what the 'Gay footballer' Twitterstorm reveals about homophobia in football
Ultimately it doesn't matter whether the 'Gay Footballer' account is real. Regardless of its authenticity, the story gave so many of us hope. Though if it is genuine, it proves that huge barriers remain for LGBT+ people in sport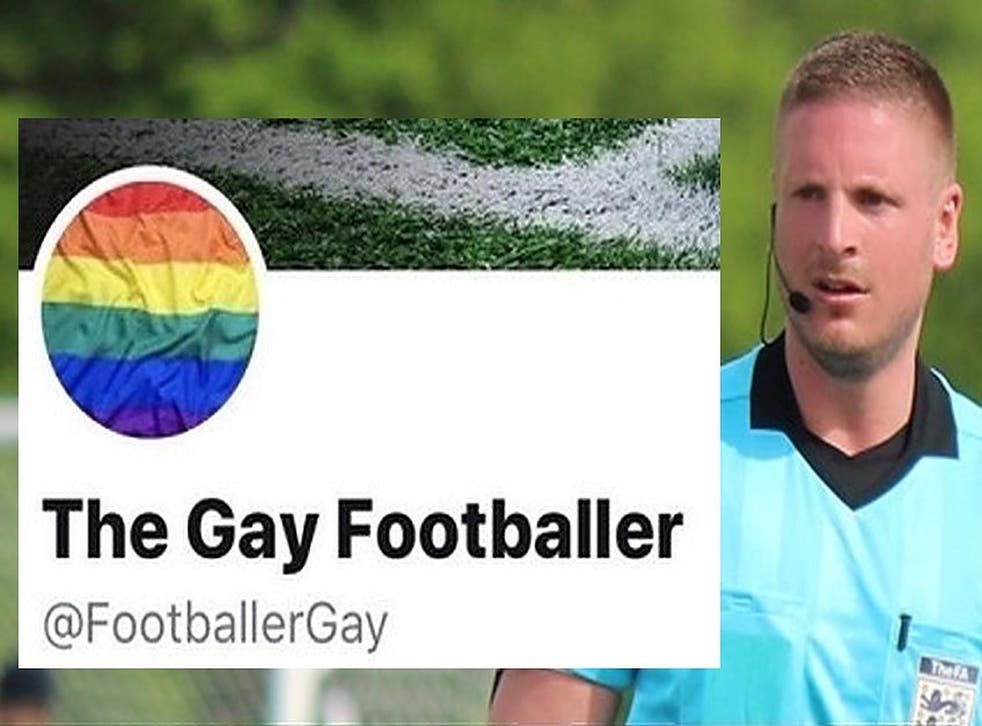 In August 2017, I was the first gay football referee in the professional league to state publicly that I'm a gay man. With this in mind, the recent "Gay Footballer" Twitter account has impacted me both personally and professionally.
@FootballerGay is a Twitter account that appeared recently which claimed to be run by a Championship footballer who intended to come out as gay. The account's profile stated that the alleged player was a "proud gay man" and posted numerous tweets saying his club had been informed of his decision to come out and had been supportive. As more attention surrounded the account, it quickly amassed over 50,000 followers. Then, sensationally, it tweeted saying that today (24 July) would be the day the player's identity was revealed.
Though, rather than a reveal, the account has been deleted. Shortly beforehand, it changed its bio to read: "I thought I was strong enough. I'm not".
Over the last few weeks, the popularity of this mysterious account has got me thinking about my own story and the role that football and my identity as a gay man have played in my life. I have been at loggerheads with myself as to whether the account was genuine or not. Given my personal history, I extended an olive branch of personal support to the individual who claimed to own the account. We spoke on the phone and I offered advice, but I still remained sceptical of whether the story was real. I'm not the only one: as well as messages of support from the greats of the game, like Gary Lineker, there have been no shortage of tweets doubting the authenticity of the account.
But ultimately it doesn't really matter whether the account is real, because there are many things – both positive and negative – to take away from this story. The Gay Footballer gave so many of us, especially younger people, hope. Though, if true, it also proves that it remains a huge challenge for individuals in sport to be open about their sexuality.
Women's US football team use gender discrimination lawsuit as confetti
Being a gay football referee in the professional leagues has been tough over the years, and I have become used to dealing with anything that is thrown at me. When I started refereeing back in my hometown of Plymouth, it was obvious that there was nobody in football who was openly gay. I would often experience my share of homophobic comments or witness bigoted chanting at football games.
Being a referee, I was conscious that I would receive more abuse than perhaps others in the industry. After all, football does not have the best reputation for acceptance and tolerance when it comes to sexuality, race, faith or gender.
It was only when gay rugby referee Nigel Owens came out in 2007 that I realised I must decide whether I continue in my referee career in silence, or come out and risk my career but be free. This tormented me for many years, until a point my performance was suffering. I had been demoted in refereeing levels, I was falling out of love with the game and it was causing me mental health issues. I was living a life in the shadows.
Then I became aware of number of campaigns (Rainbow Laces, Football v Homophobia and Pride in Football) that ultimately tipped the decision in favour of coming out publicly in football. Finally, in May 2017, I made contact with an LGBT+ journalist working for Sky Sports. He instilled confidence and trust in the relationship, and over the months we worked on my story collaborating with the Football Association, EFL, Premier League and PGMOL. I was so worried about my career and progression, but I could not have asked for better support from these organisations.
If @FootballerGay was a trial run, I think we should look back at it and take the positivity from it. Real or fake, the individual was shown love and support which might encourage others to come forward in the future, dispelling the view that players will receive abuse if they come out. I hope that if it was genuine, the individual has all the support and love around them, and that not coming out this time around doesn't change the support they will receive in the future.
Support free-thinking journalism and attend Independent events
Though if it is genuine, the player's decision not to come out publicly displays how hard it is, even in 2019, for sports people to be open about their sexuality. Coming out is still so complicated on a personal level for many, let alone publicly.
We might have moved on from the days of Justin Fashanu – who publicly came out as gay then took his own life eight years later – but we still don't have an openly gay male professional football player in the UK. However much more accepting the game might seem, the facts speak for themselves.
The first gay footballer to come out, whether @FootballerGay or someone else, will have my full support. To anyone contemplating coming out publicly in other sports or professions, my message is this: have a good support network around you, be proud of who you are and remember that it will all be OK.
Ryan Atkin is a professional football referee and Sports Champion at LGBT organisation Stonewall
Register for free to continue reading
Registration is a free and easy way to support our truly independent journalism
By registering, you will also enjoy limited access to Premium articles, exclusive newsletters, commenting, and virtual events with our leading journalists
Already have an account? sign in
Register for free to continue reading
Registration is a free and easy way to support our truly independent journalism
By registering, you will also enjoy limited access to Premium articles, exclusive newsletters, commenting, and virtual events with our leading journalists
Already have an account? sign in
Join our new commenting forum
Join thought-provoking conversations, follow other Independent readers and see their replies