If Geert Wilders does win the popular vote in the Dutch elections this week, there will be consequences for Europe
Wilders is further polarising the electorate around EU membership. He has even accused 'war-mongering' and 'shameless Europhiles with their dreams of empire' for the problems in Ukraine by propping up what he describes as the 'National Socialists, Jew-haters and other anti-democrats' in Kiev's pro-Western government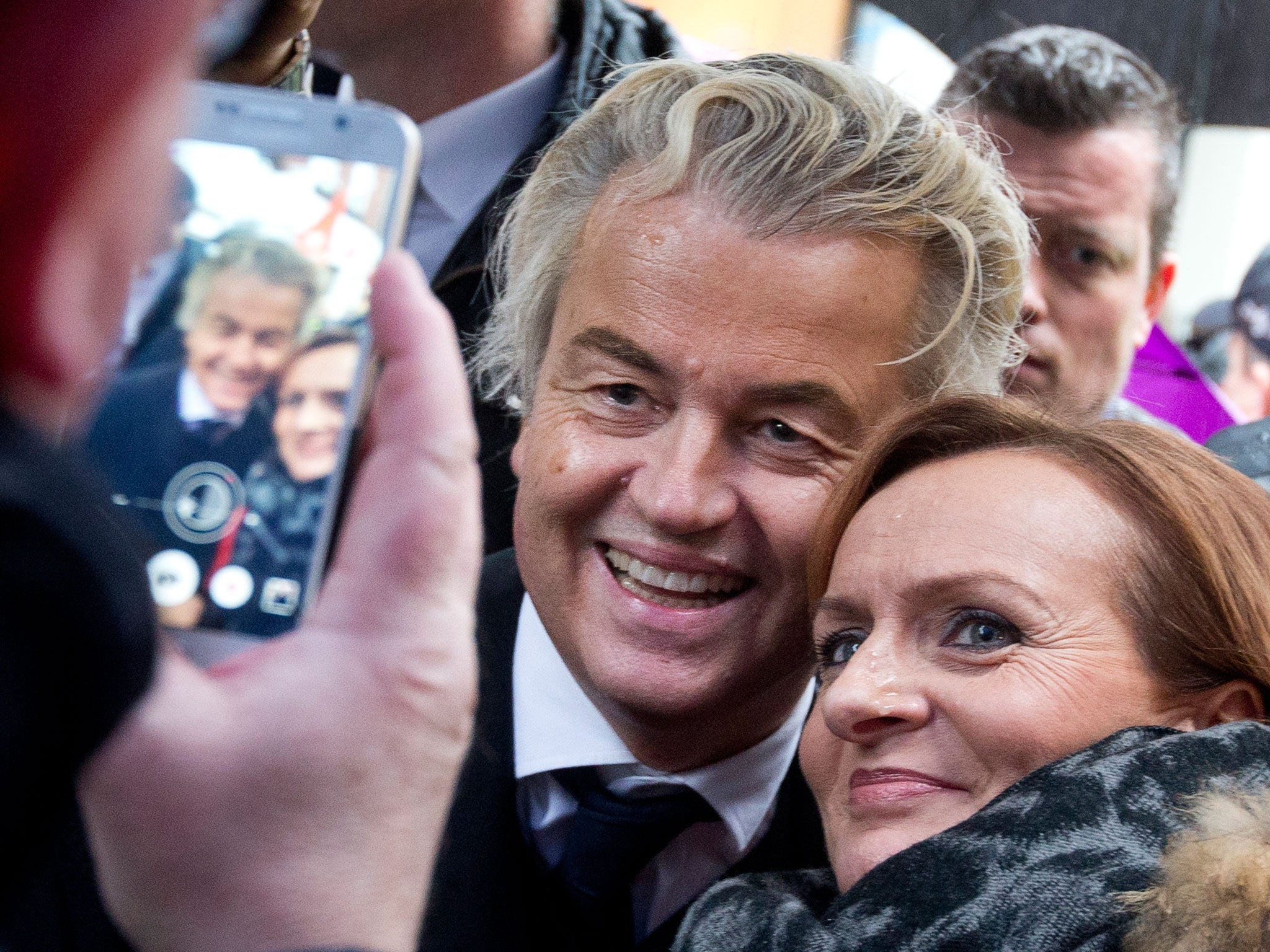 The Netherlands, which boasts the fifth largest economy in the Eurozone, goes to the polls on Wednesday in the next big test since Donald Trump's election and Brexit of whether anti-establishment, conservative forces will continue to make political headway.
With the far-right leading in polls for much of the campaign, the country will soon discover whether much of its longstanding, albeit now fraying liberal political traditions are, now "underwater" like much of its landmass.
Polls this month have tightened, with some showing Prime Minister Mark Rutte's centre-right People's Party for Freedom and Democracy (VVD) now having a narrow advantage. However, concern remains that the populist Freedom Party, led by the controversial so-called "Dutch Trump" Geert Wilders, could emerge – for the first time – as the largest single party.
Wilders, who was convicted last year of incitement to discrimination, advocates an array of contentious positions, including "de-Islamicising Europe", that have ostracised him from mainstream politicians in the country. His nativist, nationalist platform is similar to that of other populist, far-right leaders across Europe, and his central pledge to make "the Netherlands ours again" has obvious echoes of Trump's "Make America Great Again" slogan.
Wilders – who has longstanding connections with right-wing US conservatives and attended the Republican convention in Cleveland last summer – is a fan of the new US President, having recently said he "has done more to beat the mass immigration in two weeks' time [in office] than the whole European governments in their whole existence".
Dutch anti-Muslim politician Geert Wilders reacts to hate speech trial
However, for all the similarities that Wilders has with other European far-right leaders in his enthusiasm for Trump, he is by no means an identikit politician to them, which partially reflects the fact that he split from the VVD just over a decade ago. For instance, unlike some on the far-right who oppose LGBT rights, including same-sex marriage, Wilders claims to support these which he believes are in line with traditional Dutch values.
Moreover, although Wilders has articulated pro-Russia positions, he has sought to keep more distance from President Vladimir Putin than some on the European ultra-conservative fringes. This is, partly, because anti-Moscow feelings are still strong amongst many in the Netherlands after the MH17 disaster in July 2014, which saw nearly 193 Dutch citizens killed.
Despite the fact that the Freedom Party could still emerge as the largest group in parliament, this outcome is generally not being treated with the same degree of alarm in Europe than the prospect of French National Front presidential candidate Marine Le Pen winning power in May. This is because it is unlikely that Wilders will become Dutch prime minister later this month. Polls indicate that the Freedom Party will win less than 30 of 150 seats in parliament and – in a context where the country's elections generally lead to coalition governments – almost all other groups have ruled out working with him, for now at least, because of the perceived extremity of his views.
In a country with a long tradition of religious tolerance, Wilders has asserted Islam is potentially more dangerous than Nazism, that the Quran is more anti-Semitic than Mein Kampf and that it should be banned from book stores, and called mosques "Nazi temples". This is not usually the Dutch way.
Wilders has warned of a popular "revolt" should the Freedom Party emerge as the largest single group, but not win power. In this scenario, it is likely that support for his cause could only grow in the short to medium term, with potentially multiple consequences.
Firstly, the sometimes outrageous rhetoric of Wilders may continue to push the political centre of gravity rightwards. Recently, for instance, Rutte – the VVD leader – has been criticised for his own sharpened attacks on immigration. Critics have argued that he is coming dangerously close to aping Wilders, who urged last month a crackdown on "Morrocan scum".
Secondly, in a country which has voted No in two key, separate EU referendums in the last 12 years – in 2005 and 2016 respectively – Wilders is further polarising the electorate around EU membership. He has even accused "war-mongering" and "shameless Europhiles with their dreams of empire" for the problems in Ukraine by propping up what he describes as the "National Socialists, Jew-haters and other anti-democrats" in Kiev's pro-Western government.
Hundreds of pro-Turkey protesters clash with police in Rotterdam
While levels of support in the Netherlands for leaving the EU are lower than in the United Kingdom, some polls indicate around half the electorate would like a "Nexit" referendum. In this context, Wilders and other leavers are surfing a wave of Eurosceptism, especially in the conservative south of the country, which could grow in salience.
Thirdly, and cumulatively, the growing influence of Wilders could make governability in the country increasingly complex and difficult. This is especially so given the growing fragmentation of Dutch politics, which will see some 28 parties (around half of which did not exist in 2013) trying to win seats in next month's election.
Taken overall, while Wilders is unlikely to emerge this month as prime minister, his impact on Dutch politics could be significant for years to come. His prominent far-right challenge means the election will be closely watched internationally, not least in France, given that his ally Le Pen is looking for inspiration to pull off an upset victory herself in that country's presidential race.
Andrew Hammond is an associate at LSE IDEAS (the Centre for International Affairs, Diplomacy and Strategy) at the London School of Economics
Join our commenting forum
Join thought-provoking conversations, follow other Independent readers and see their replies