Brexit hasn't broken the traditional political party – just look at how the Conservatives have fallen into line
Theresa May has reminded her party faithful that there's one thing more important than Britain's future in Europe – and that's the future of the Conservative Party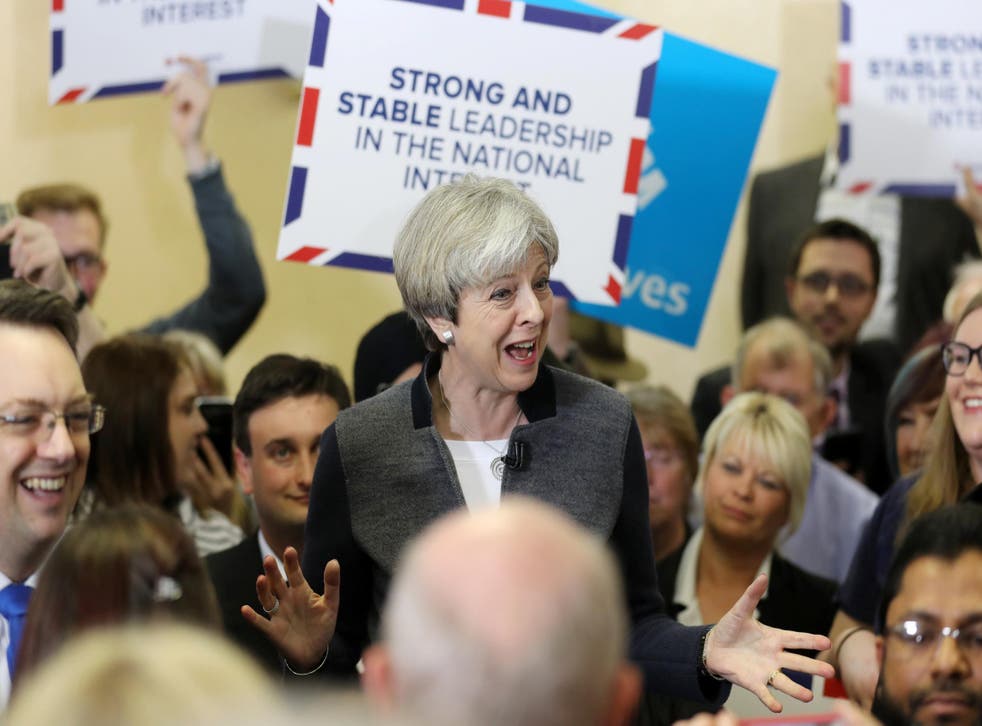 The traditional political party is dead. Haven't you heard? For decades, Conservative Party membership has been dwindling – it's a long time since the era when Young Conservative dances served as marriage markets for an entire social class. (2.8 million members in 1953, down to about 150,000 today.)
Meanwhile, rosters may have been swelled by the surge of Corbyn-campaign vehicle Momentum, but more than half its parliamentary party are still contemplating escape to a new left-of-centre (or "Continuity Remain") party vehicle. In France, as every British pollster with a French GSCE will tell you, the first round of voting in the current presidential election was marked this weekend by the success of two candidates from outside the political mainstream. We shall hear a lot of people suggest this week that such is Britain's future.
Not so fast. If we learn one thing from the first few days of the 2017 election campaign, it is that reports of the death of the traditional political party have been greatly exaggerated. Across the country, seemingly dry and dreary constituency associations have swung into action to wield their most significant power – picking the men and women who'll have a meaningful shot at a parliamentary seat. Even some of Jeremy Corbyn's greatest critics in the Labour Party – with exceptions – are pinning red rosettes to their lapels and quietly fudging the issue of whether they're happy to make Corbyn PM.
Watch the Conservative campaign, and the resilience of the nation's oldest political party becomes particularly apparent. The Tory party is a fractious beast, but it likes power – and Tories know power requires them to exude executive competence. Look at how swiftly the party machine rallied around to crown Theresa May during last summer's leadership contest – outsider Andrea Leadsom was, I gather, "encouraged" to quit that race and avoid a long and damaging internal struggle.
MPs clear way for general election on June 8
The jury's still out on whether Theresa May made the right call in going to the country with another (exhausting) election so early in her tenure. (When she publicly insisted that no election was on the cards, I argued that it was in the Tory party interest to keep Jeremy Corbyn at the head of the Labour Party for as long as possible. I'd say the same today – though Corbyn's new declaration that he won't resign after an election loss suggests that Tories can keep breathing easy.) It would have been perfectly reasonable – nay, admirable – for May to declare that a new-ish Prime Minister elected only by her own party should seek endorsement from the nation as a whole. (The Tory party pilloried Gordon Brown for refusing such a test.)
What sticks in the craw, for many of us, is her continuing insistence that the new election will in effect be a re-endorsement of her negotiating position on Brexit. With both Conservative and Labour MPs wildly split on their stances, many of us face a choice between voting for a local MP whose view on Brexit reflects our own, or a broader party we trust on a whipped vote.
Yet for all her talk of a single-issue election, what Theresa May has done in a stroke is remind her party faithful that there's one thing more important than Britain's future in Europe – and that's the future of the Conservative Party. Nothing unites a party like an election. Look at Nicky Morgan, former Education Secretary and one of the PM's biggest critics. This week, Morgan posted an article on the Conservative Home website, supporting May's decision and sharing tips with the website's grassroots readership on how to campaign under the party banner.
UK news in pictures

Show all 50
Elsewhere, there are signs of a return to the political status quo. Ukip leader Paul Nuttall spent yesterday talking down "establishment parties", but his movement is sinking in the polls, with all the irrelevance of a single-issue party that has already declared victory on its single issue. (Its French counterpart, the Front National, is less of a "new movement" than it claims: Le Pen père founded the group in 1972.) Meanwhile, the Lib Dems hope to regain third-party status: their own membership is now at its highest since 1994. With old party politics come old dilemmas for voters: will a Remainer-LGBT campaigner vote for Tim Farron?
Meanwhile, the prospect of a new British centre party is still fraught with difficulties. Emmanuel Macron may have done well with the new movement he founded in just April 2016 (a cult of personality such that its slogan, En Marche!, shares his initials.) But France, with its complex coalition politics, has a long tradition of party structures shifting and renaming themselves. Nicolas Sarkozy's reshaped his centre-right party Les Republicans in his own image as recently as 2015; Jacques Chirac forged its predecessor, UMP, only in 2002. As today's left remembers well, the British SDP failed in part because it lacked the Labour Party's strong sense of historical narrative.
As long as Britain's first-past-the-post system remains in place, it will be inadvisable to draw too many communalities with presidential France. Given how many weeks every Tory MP will spend this year wearing a blue rosette, Theresa May has shrewdly made it reputationally impossible for any to cross the floor to join any centrist or Remain grouping in the near future. Perhaps a better chance of change is to see more formal groupings of dissenters emerge in each party. (A few years back, Tory moderniser Nick Boles suggested his allies stand separate candidates as "national liberals".) Reform of the party system will come, but slowly and steadily – as is the British way.
Register for free to continue reading
Registration is a free and easy way to support our truly independent journalism
By registering, you will also enjoy limited access to Premium articles, exclusive newsletters, commenting, and virtual events with our leading journalists
Already have an account? sign in
Join our new commenting forum
Join thought-provoking conversations, follow other Independent readers and see their replies