Here's how General Mattis could solve the problem of Isis in Iraq and Syria
Mattis may be considering boots on the ground, but while increasing US involvement in Iraq and Syria is necessary, it is not sufficient to stop another Isis from emerging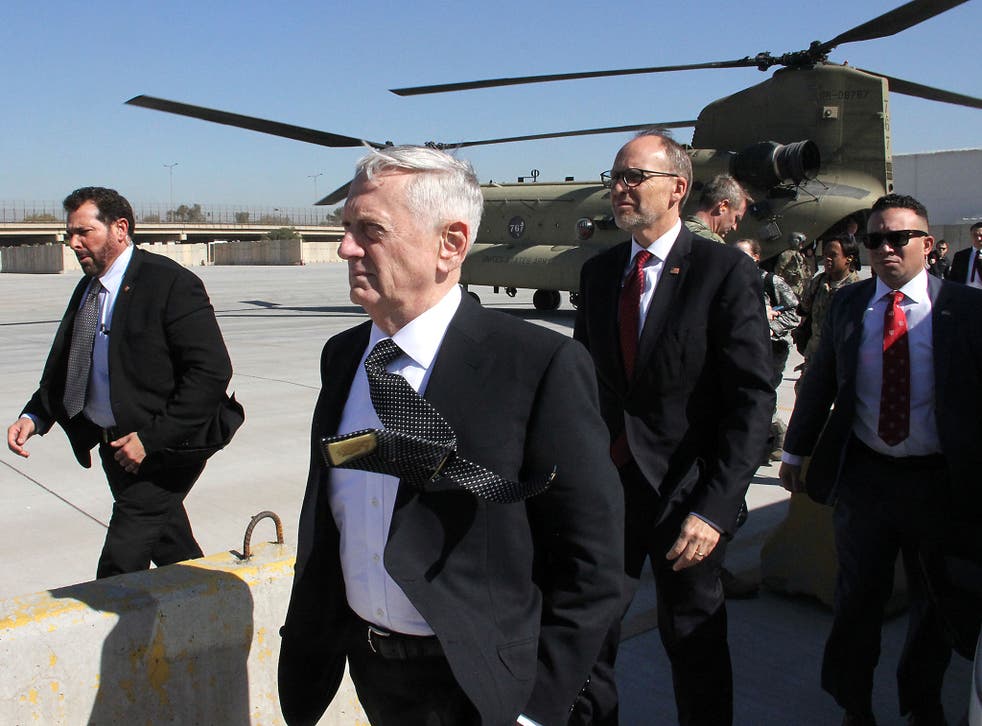 As the 30-day deadline looms for US Defense Secretary James Mattis to design a strategy to defeat Isis, speculations have begun to emerge about the likely components of this strategy. Mattis's trip to Iraq has come to underline the importance of military cooperation between the American and Iraqi governments in the fight against extremist groups. This cooperation is already taking place as American military advisors are reportedly assisting Iraqi forces in the battle to retake Mosul from Isis.
Mattis's strategy is anticipated to increase the scope of this cooperation, though it is not yet clear if this means sending more US troops to Iraq. But while increasing US support for the Iraqi government in its fight against Isis is important and necessary, it is not sufficient. For Mattis's strategy to offer something more effective than what the United States had done during the Obama administration, it needs to go beyond military matters, and be based on long-term thinking.
While the liberation of Iraqi territories from Isis appears to be successful militarily, it has masked some long-term problems in Iraq that need to be addressed in order to prevent Isis or groups like it from re-emerging in the future because of enduring grievances. Some of these problems include the matter of who would hold liberated territories after Isis, particularly as the Sunni community in Iraq faces internal divisions.
Iraqi forces launch push to retake western Mosul from IS
As such, it is not just sectarian fractures that mar Iraq's social and political landscape—although the war on Isis has managed to unite many across sects and religions—but also intra-sectarian political clashes. Any anti-Isis strategy with viable outcomes must address the political dimension of the day after.
A similar situation exists in Syria. Again, it is not yet known if Mattis will favour sending US troops to Syria to liberate areas from Isis, but the question of who would hold Raqqa post-Isis is crucial because regardless of US involvement, it will not be American troops who will perform this role.
Kurdish groups have been fighting Isis in northern Syria and are pitted as loyal military allies by the United States. However, considering that there have already been clashes between some of those groups belonging to the YPG and Arabs, ethnic tension will be a real potential problem were the predominantly Kurdish Syria Defense Forces to be deployed to take over Raqqa from Isis. Some Arab Raqqa residents have reportedly said that they would prefer to stay under Isis rule than have their areas be controlled by Kurds.
Another key issue is foreign fighters. A forthcoming Chatham House report assessing Western policy towards Syria over the past six years highlights the importance of having a strategy regarding the thousands of foreign fighters with Isis and other groups if extremist groups are to be defeated. This requires careful coordination with the 80 plus countries of origin of those foreign fighters on extradition as well as deradicalisation and reintegration programmes.
Aleppo before the Syrian Civil War

Show all 12
Finally there is the issue of local fighters. As the Chatham House report notes, not all Syrian or Iraqi fighters joined such groups because of their ideology; many joined for political or economic motivations. Addressing those drivers is a key requirement for a comprehensive strategy against Isis, which means that this strategy must address political transition in Syria.
And here comes the matter of potential US cooperation with the Bashar al-Assad regime, which is trying to present itself as an anti-extremist champion. As this regime itself facilitated the creation of jihadist groups in Syria to discredit the 2011 uprising, can it really be trusted to never repeat that tactic in the future?
Dr Lina Khatib is the head of the Middle East and North Africa Programme at Chatham House
Join our new commenting forum
Join thought-provoking conversations, follow other Independent readers and see their replies