George Osborne's warnings about the economy show how fragile his austerity-led recovery is
The Chancellor's warnings of a 'cocktail' of serious threats make the Autumn Statement seem a long time ago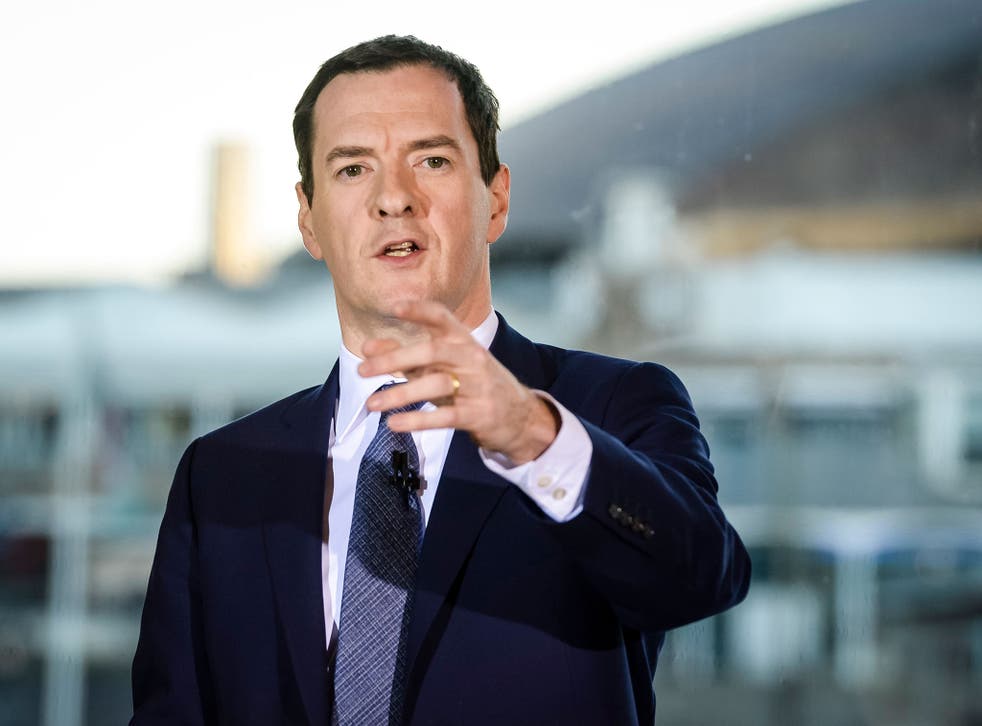 Political weather can change quite as quickly as the real thing, it seems. Not very long ago the Chancellor was letting the economic sun shine; better-than-expected public finances (though also pressure from Labour) pushed him into an embarrassing but ultimately wise U-turn over tax credits. How long ago that Autumn Statement now seems.
Now the Chancellor is looking very wet indeed, warning us about a "cocktail" of serious threats from a slowing global economy. In his interview with the Today programme he even went so far as to raise the threat of "conflict" between Iran and Saudi Arabia. And a happy new year to you too, George. You're becoming almost as doom-laden as Sir Vince Cable.
Mr Osborne is, of course, right to issue such a gloomy outlook, which we may expect to be reflected in downgrades for growth, employment and tax revenues in due course. In that sense Mr Osborne is just doing what politicians do – managing expectations, preparing the way for more bad news, disarming opponents, and, indeed, talking down the more frothy aspects of the current boom in (Southern) house prices and consumer borrowing. That the Chancellor's warning came the same day as record British new cars sales were announced was more than an interesting coincidence.
As so often in recent decades, the storms are coming from East Asia as well as the usual squalls from across the Channel in a sclerotic eurozone. The Chinese authorities' semi-tragic attempts to control share prices and currency markets are an unfortunate example of learning about capitalism the hard way. North Korea's nuclear antics simply add to what is a very toxic mix of factors in that part of the world.
Elsewhere in the once vibrant "Brics" – once the great hope for global growth – the scene is also grim: Brazil is mired in corruption; Russia an economy pretending to be dynamic rather than the real thing, hurt by sanctions but also astonishingly low commodity prices. India alone seems to be holding up (having endured something of a bad patch itself).
Which brings us to the Middle East and oil. The senseless assassination – for that is what it amounts to – of a Shia cleric by the Saudi regime was an act of monumental stupidity. Greater instability may well mean oil prices rise in due course. The global consequences of that – an inflationary bout accompanied by slow growth or recession – will mean the nightmare of the 1970s revisited, this time with the added deadly activities of Isis.
Mr Osborne was, in his way, making the case for sticking to austerity. That is an admission of failure. The Chancellor's targets for deficit reduction have been missed and missed again; in part that was down to the eurozone crisis, but also due to the self-defeating result of trying to cut a deficit in a deep recession and with a banking system still fragile. Mr Osborne has relied on the Bank of England delivering ultra-low interest rates and printing money to keep a floor under the economy; that has only partly worked. Confidence has been strong in recent months, but in the wrong areas.
Most fundamentally, the Chancellor's promises to rebalance the economy have failed to come good. So far from moving from debt, house prices and consumption to fuel growth, and towards investment, manufacturing and savings, we have in fact witnessed the opposite. It takes time to turn any economy around, but Britain is going in the wrong direction, blown off course by home-grown policy errors as well as international storms. No wonder the Chancellor is telling us he is worried.
Join our new commenting forum
Join thought-provoking conversations, follow other Independent readers and see their replies