The Independent's journalism is supported by our readers. When you purchase through links on our site, we may earn commission.
Put your political correctness away – Gigi Hadid's impersonation of Melania Trump was offensive, but it wasn't racist
Given that the claims of 'racism' are from one rich second generation migrant to another extraordinarily privileged migrant makes me think that the political correctness police have gone too far this time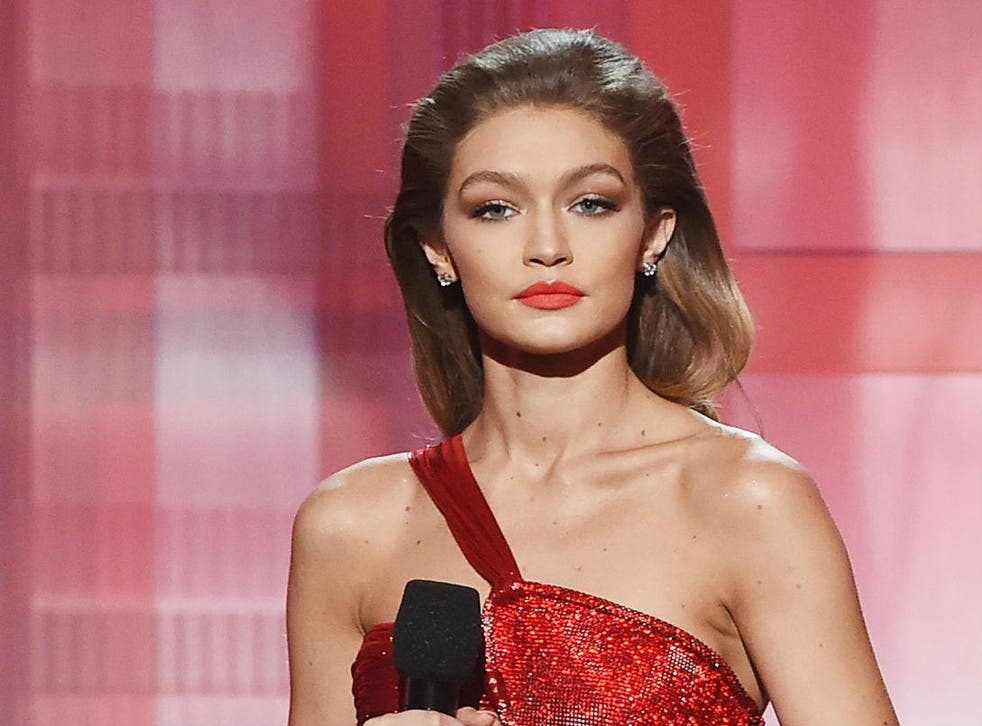 Comedic impersonations are always tricky to get right; there's a fine-line between getting it spot on and outright offending the person you're imitating. Supermodel Gigi Hadid, co-host of the American Music Awards, seems to have failed altogether as she weathers a backlash following her impersonation of Melania Trump at the ceremony on Sunday night.
The 21 year old mocked the First Lady-elect by putting on a fake Slovenian accent, sporting a "duck-face" and riffing on Melania's infamous speech when she reportedly plagiarised Michelle Obama.
The short sketch created huge laughs from the live audience. But it seems viewers at home were not so impressed. Many took to Twitter to voice their outrage, some even going so far as to say Hadid's impersonation was "racist".
Can everyone please take one very long and deep breath and chill out please? Yes, Hadid's take on Melania Trump was offensive. Taking on an exaggerated accent is always going to be a cheap-shot. But, given that in this instance the joke is between two uber privileged white-passing women, the notion that Hadid's comedic sketch is racial discrimination is puzzling. Futhermore, as Hadid is the child of Dutch and Palestinian immigrants it seems a tad misconstrued to call the act "racist".
Gigi Hadid's fashion career in pictures

Show all 14
More than ever people are quick to jump on the bandwagon that offending someone is synonymous with being a racist and these kinds of assumptions that are squeezing the life out of comedy. The tug-of-war over political correctness, which at its core is a good cause, is arguably becoming ever more tiring. Even those who often complain about it, including Donald Trump himself, with his recent rebuke at the Hamilton cast, are leaving many of us bewildered over what we can and cannot laugh at.
Hadid has since apologised for causing offense on Twitter with a handwritten note that read, "I removed or changed anything in the script that I felt took the joke too far, and whether or not you choose to see it, what remained was done in good humour and with no bad intent". Jay Pharoah, who co-hosted the AMA's took to Facebook yesterday to defend Hadid. "Everybody pump the brakes on damn minute! Over the last eight years the beautiful Michelle Obama has been the victim of excessive slurring. At the AMA's we exaggerated a speech that actually happened, where Melania clearly plagiarized (cause that was the joke)."
Two weeks after Trump's shock win, humour is arguably one of the only ways of coping with the currently unpredictable, strange political climate we find ourselves in. With four years of Trump to come, can we all just chill and have a laugh?
Register for free to continue reading
Registration is a free and easy way to support our truly independent journalism
By registering, you will also enjoy limited access to Premium articles, exclusive newsletters, commenting, and virtual events with our leading journalists
Already have an account? sign in
Register for free to continue reading
Registration is a free and easy way to support our truly independent journalism
By registering, you will also enjoy limited access to Premium articles, exclusive newsletters, commenting, and virtual events with our leading journalists
Already have an account? sign in
Join our new commenting forum
Join thought-provoking conversations, follow other Independent readers and see their replies