Gordon Brown is taking the long view of European history – and that will swing the last votes
Most polls show Euroscepticism increasing with age, but the over-75s defy that trend. Could living the long 'sweep of history' make us value the path of European unity?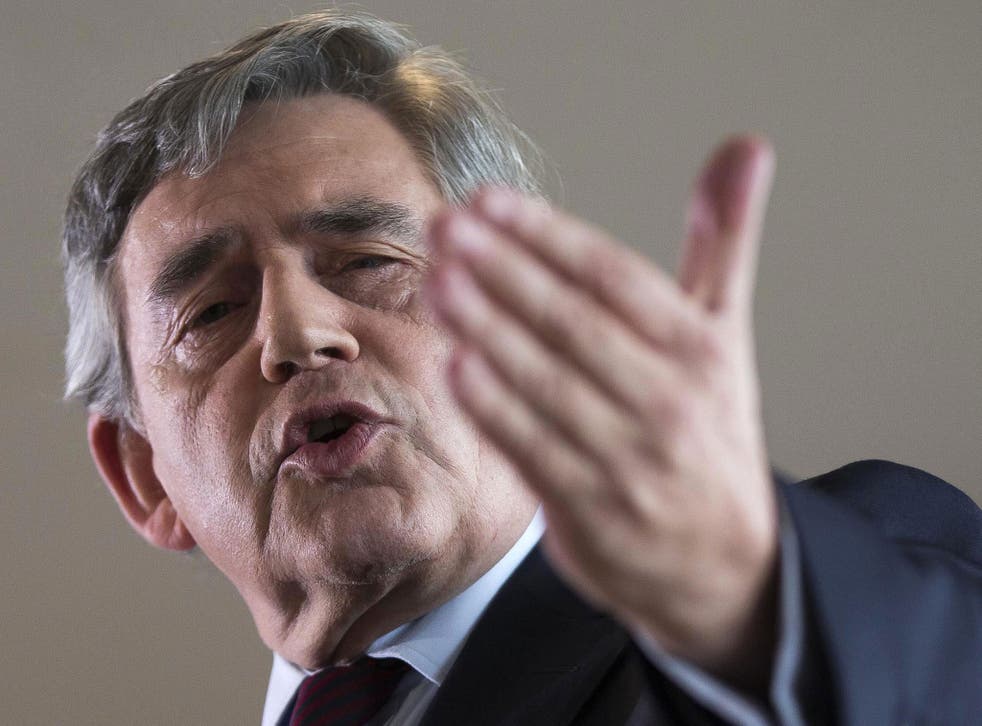 A reactivated Gordon Brown is back on our television screens, his unmistakeable voice – sonorous and somnolent in equal measure – resounding on the airwaves. As it was with the Scottish referendum two years ago, there is a vote to be won. Once again, to quote Brian Blessed: "Gordon's alive!"
Now we are in the home straight, it is the rump voters who have not yet made up their mind – many of them Labour voters – who count. Is Brown, who launched the "Labour fightback" on Monday with a speech and a round of media appearances, the man for the job? With only 10 days to go, what difference could a former Prime Minister who never won the affection of the electorate truly make?
The answer to that question depends on how much weight voters will place, when making their decisions, on what we might call 'the long view' of the EU question.
"Look at the sweep of history," Brown exhorted Radio 4 listeners on Monday morning. "Britain led Europe against Fascism, Britain created the European convention of human rights, Britain was the leader in persuading Eastern Europe to come into the European Union, Britain has always led the way when things have been difficult in Europe and I think it's time we were a leader again."
This is stirring stuff to those of a particular internationalist persuasion, and it's wholly characteristic of Gordon Brown in the autumn of his political career.
True, we have heard similar appeals to people's sense of history intermittently throughout the campaign, with mixed results. Wield the weighty issue of European history clumsily and people will see you for what you are: a pound shop Churchill co-opting a long and complex narrative for short-term political gain.
David Cameron and Boris Johnson have both been guilty of this in their own, different ways. Johnson's ludicrous comparison of the EU project to the Third Reich was singly unconvincing, while Cameron's speech on the EU spun the matter of war and peace within an inch of its life, until all any voter remembers of it is a warning about World War Three that he did not make.
One suspects that European Council president Donald Tusk's intervention on Monday, warning that Brexit could be "the beginning of the destruction… of western political civilisation in its entirety", will also fall into this category.
Dave Brown on Europe

Show all 9
It could be argued that it is much more prosaic matters, such as the cost of the weekly shop, house prices, the value of a pension and the prospects of getting a job, that are going to motivate most voters on June 23. But that is not to say the lofty "sweep of history" arguments have no power to persuade.
As we come closer to the point at which all the arguments crystallise into millions of solitary moments between a voter, their pencil, and the ballot paper, it is worth remembering that at this point voters begin to gravitate toward caution. The responsibility of putting that X in the box looms large.
This is a vote of historic proportions; delivered measuredly by a credible figure, a gentle reminder of that fact will only make voters weigh their own contribution more heavily, can only be to the benefit of the Remain cause. Brown is such a figure.
So too, for a very large and oft-forgotten constituency, is Justin Welby, the Archbishop of Canterbury, who eloquently took one of the longest imaginable views of the EU question, rooting his decision to vote for Remain in the "glorious principles" of Britain's Christian heritage.
His call in the Mail on Sunday for a vote made in the spirit of the "vaulting idealism" of the post-war generation who built our modern international institutions – the EU included – will be dismissed as so much hot air by some Leave campaigners, who claim that the idealistic, visionary thing to do is to back Brexit. But there is an interesting nuance in the polling data that suggests they may be wrong.
Most polls show Euroscepticism increasing with age, up to the 55+ or 60+ age group, who are the most likely to back Leave. But data produced last week by ComRes, based on four polls recent polls, showed that the over-75s defy that trend and back Remain 45 to 42.
Could it be that the experience of living through a European war, of having lived that long "sweep of history" that Brown describes, makes one more inclined to favour the path of European unity?
We voting today are the latter-day custodians of the international order that their generation hauled out of the chaos of war. It will do the Remain campaign no harm to remind us of that fact.
Join our new commenting forum
Join thought-provoking conversations, follow other Independent readers and see their replies