The most interesting thing about the Grammys wasn't Beyonce and Adele, it was who surrounded them
As she wept and batted away praise, a cacophony of Very Important Moguls ran from the back of the auditorium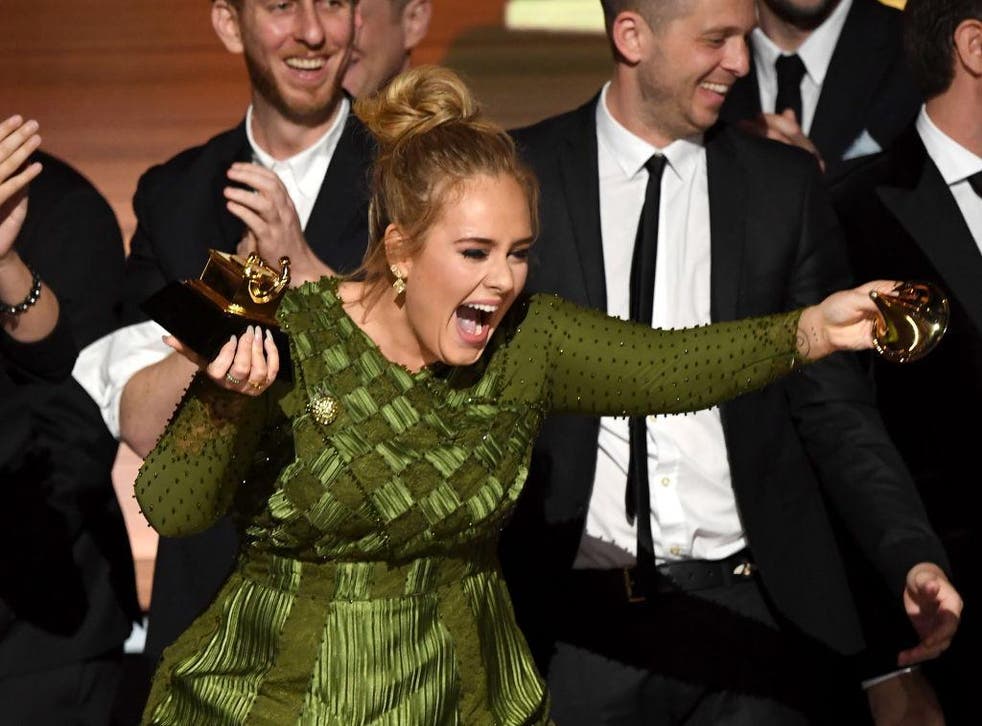 One is either the sort who stays awake until dawn watching Adele, Beyoncé and Bruno Mars at the 59th Annual Grammy Awards, swapping ecstatically between TV screen, Twitter reaction and pints of black coffee, or the sort that sensibly goes to bed.
The latter group – myself included – woke this morning to a Grammy media meltdown. A myriad of pertinent, deeply emotional, history-making moments had been missed. Adele snapped a Grammy in half and insisted Beyoncé was better than her. Beyoncé had delivered a high-concept performance styled as a goddess of fecundity. Political pot-shots were taken and the dead were honoured.
Well if we're honest, Bruno Mars crooning though "Purple Rain" felt like a semi-final act off Stars In Their Eyes who might eventually lose to a spray-tanner from Huddersfield doing Enya, but it stayed respectful. Adele, on the other hand, didn't merely balls-up her George Michael "Fast Love" tribute, needing a second take, but also did one of those excruciating slow versions. "The Sam Smith method," let's call this.
Beyonce reacts to Adele breaking her Grammy in half to give to her
Why Adele, why? "Fast Love" is a blisteringly upbeat paean to the giddy pleasures of being bummed ragged by miscellaneous rough trade, yet here it was reduced to a victim's rasp. For God's sake no-one let Sam Smith get hold of "Outside". He made "How Do I Know"by Whitney Houston sound like a depressed goat presenting BBC Radio Four's You and Yours.
Still, audiences caught up in the moment loved Adele and went wild for Bruno. They even liked Lady Gaga with Metallica, even if it resembled a clip from BBC4's The Life of Rock with Brian Pern.
More divisive was Beyoncé's "Love Drought"/"Sandcastles" performance, celebrating her pregnancy, which included a spoken word section on motherhood that brimmed with the sort of lines typically found on fridge magnets sold near the tills in Clintons Cards. "You look nothing like your mother… You look everything like your mother!" said Beyoncé, dressed like Queen Nefertiti, The Statue of Liberty and The Wizard of Oz's Tin Man, all at the same time.
Beyoncé in baby bore mood is gruelling. Perhaps I'm not of the age group for it to feel fresh and new, but not since Madonna's "Ray Of Light" era has one woman made such a meal out of a missed period. How long ago "Formation" feels already now we're in I've-Been-To-A-Find-Your-Cervix-Workshop mode, but all things pass.
Despite all this, Sunday night's most talked about moment was Adele's acceptance speech for the Best Album award – or, more accurately, her non-acceptance speech. Adele, it seems, feels Beyoncé's Lemonade was the rightful winner.
She didn't feel this strongly enough to actually refuse the award, of course, but enough to break the award in half and give a piece to Beyoncé.
To some, this may seem patronising. Inflammatory, even. A bit like Britain calling Greece and claiming have, if anything, too many of these bloody Elgin Marbles things so we'll Fedex you a gift-bag.
Grammys 2017: Adele forced to restart tribute to George Michael after error during 'Fastlove'
Most interestingly to me, however, was that as two women – Adele on stage, and Beyoncé watching on in the audience – played a polite, self-effacing game of "No you're the best, No you are!", the stage behind Adele filled up with a very different sort of person. Sixteen anonymous white males, mostly wearing suits, mostly from the record company crowded around her.
As Adele wept and batted away praise, a cacophony of Very Important Moguls ran from the back of the auditorium, needing their moment to shine, with no qualms about standing on that stage stealing any woman's limelight.
Yes, there were two Queens wrestling over territory, but the music business is still a man's world.
Join our new commenting forum
Join thought-provoking conversations, follow other Independent readers and see their replies