The people who let down Grenfell Tower residents in the first place are still in power – today we'll try to change that
How can we trust the inquiry and police investigations that follow if those who are being investigated presumably remain able to access and review the evidence that may one day be used against them?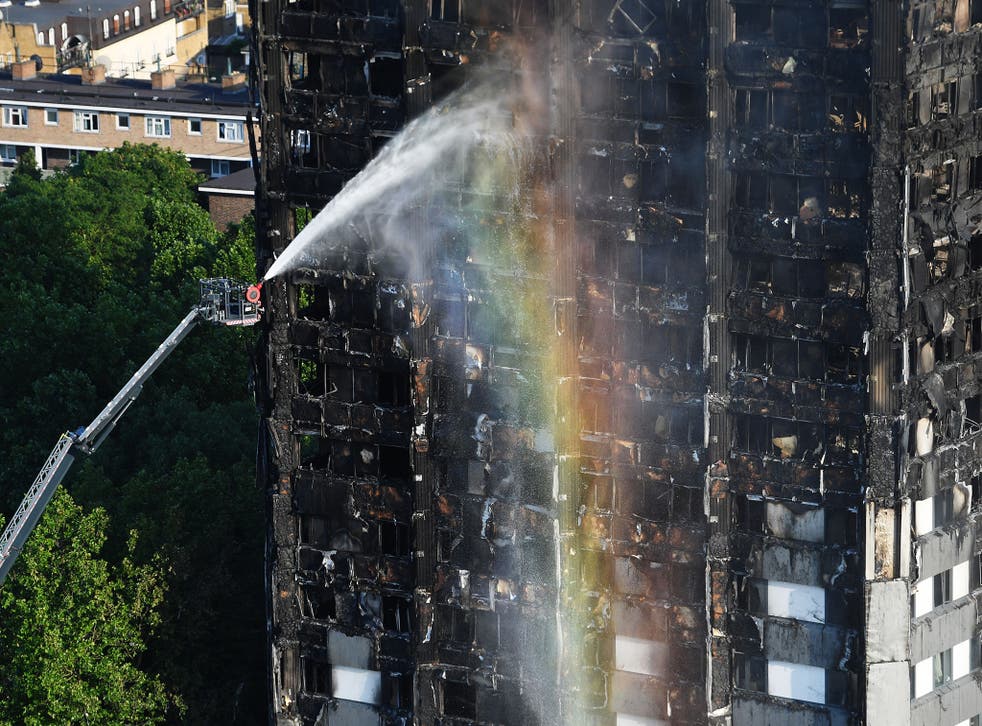 We are all living in the shadow of Grenfell Tower. Many of us quite literally. I live five minutes away from the estate. I visit regularly and I have seen firsthand the abject failure of this council to deliver what its residents need.
Those failures persist today. Still there are residents without wheelchairs, and tales being told of caseworkers who have to be chased and then still fail to deliver. There is, residents say, a lack of information available in traumatised residents' first languages, and a failure to deliver meaningful and convincing assurances that tenancy or immigration irregularities won't cost survivors their right to be re-housed or even to remain here.
What's even more shocking is that the people who so badly let down Grenfell's residents are still in power. In fact, they are meeting today as their woeful attempt to provide some kind of support in the aftermath continues. How can that be? How has our political system become so warped that 80 or more suspected deaths on anyone's watch is allowed to go without consequence?
Sadiq Khan: Local community have got no confidence in the local council following response to Grenfell Tower
The cabinet of Kensington and Chelsea Council must resign, as the community is demanding. They've completely lost the trust of this community. The social contract has been broken. Those who were meant to keep their "subjects" safe blatantly failed to do so – and residents have entirely lost trust in them in the aftermath.
It's a daily insult to this community to know that these councillors are still taking home their pay packets and making decisions about the lives of survivors after all that has happened. And how can we trust the inquiry and police investigations that follow if those who are being investigated presumably remain able to access and review the evidence that may one day be used against them?
These people shouldn't just resign from their cabinet seats – as the leader of the council has done – but from their council ones as well. This would give us the chance to elect councillors in whom we have faith and who are untainted.
If Theresa May can call a snap election for no good reason, then the residents of North Kensington can certainly demand local change now. Business as usual is not an option.
A series of by-elections on the council could revolutionise politics here and show survivors and the wider community that their voices are being listened to. I was the Green Party candidate in Kensington in 2017. It was extraordinarily moving to see the historic result close-up. And it's time to show that democracy can deliver again.
I've watched with awe as our community has provided the help that the authorities have failed to deliver. They continue to do so. It is time for them to be given the power officially which they already wield de facto.
How would it be if all other parties agreed to stand aside and let candidates running on a Grenfell ticket become our councillors and take the place of those who have directly failed them? Imagine what that could mean for politics here in London and elsewhere. People with lived experience of the most pressing issues in the community not just being asked for their views and dismissed, not just voting in an election when they know the outcome anyway, but making the decisions themselves.
The missing people from Grenfell Tower

Show all 23
Imagine what would happen if we the residents decided to prioritise social housing; if we said no to any developments that put profits before people; if we decided to take into public ownership properties that lie empty while our homeless are shipped out to suburbs as part of what I would certainly call social cleansing.
Grenfell has shone a light on what those of us who live here have long known: that this community has had its assets stripped for no good reason. Our beautiful North Kensington Library was let without consultation to a neighbouring private school. The man who made that decision – Rock Fielding-Mellon, Chair of the Council Housing Committee – had his children on the waiting list.
Countless community spaces have been lost, spaces like the Maxilla Nursery and The Westway Information Centre. Now Kensington and Chelsea College is under threat and the Silchester Estate, neighbouring Grenfell, faces "regeneration" against many of the residents' wishes. Demolition remains on the cards, something the community does not want.
As one Grenfell survivor put it to me this afternoon, "if, instead of focusing on asset-stripping the community, they'd been doing what they were meant to be doing – keeping us safe – none of this would have happened."
It's time that words like accountability and democracy actually meant something. I am proud of what Greens have done down here to help the community – especially Sian Berry AM and Amelia Womack, deputy leader of the party – but I also believe in radical politics and think that in this instance the most worthy replacement for the councillors who have failed this community is the community itself.
Jennifer Nadel was Green Party candidate for Kensington in 2017
Join our new commenting forum
Join thought-provoking conversations, follow other Independent readers and see their replies