Greta Lee: Stars head west for fundraiser's charity warm-up show Stars Give Hope
The West End show is 'a dream come true' for Lee, who lost her nine-year-old granddaughter to leukaemia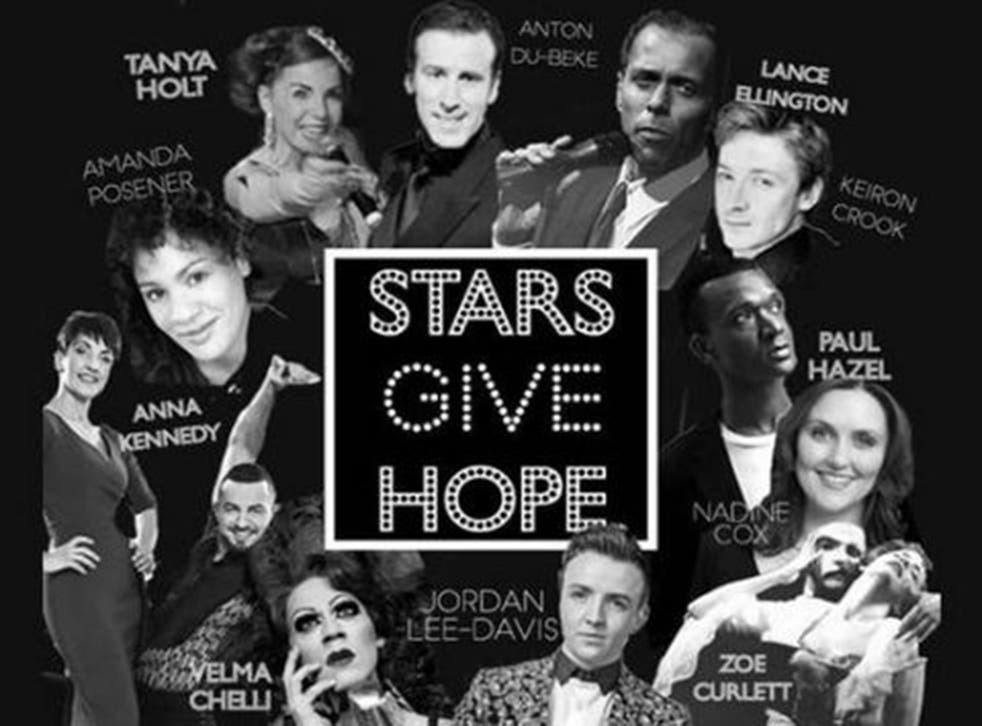 In 1991, Greta Lee lost her nine-year-old granddaughter to leukaemia. Lee had always been active in raising money for charity, but suddenly she was a grandma on a mission. So when a children's hospice called Hope House opened a sister home for "life-limited children" in Wales, Lee staged a fundraising gala in her village hall. With the help of her London-based daughter Maggie Paterson – the principal and founder of Pineapple Performing Arts School – Lee's first show drew a host of stars from stage and screen to her home town of Tywyn (population 3,264). And since then, her "off-off West End" extravaganzas have continued to grow.
Next month, for the first time, Stars Give Hope will be held in the West End of London, with the management of the Hippodrome allowing Lee to stage the show there free of charge on 2 August (for tickets, see hippodromecasino.com/whatson/stars-give-hope/). And in case you're thinking that performers from Strictly Come Dancing, Les Mis, The Lion King, The Rat Pack and more are breathing a sigh of relief, Lee is still hoping most of them will show up to Tywyn for a warm-up on 18 July.
The West End show, though, is "a dream come true" for Lee, who is 81. But the highlight of her fundraising years came last month when she was invited to the Queen's garden party. "When the invitation came through the door," she tells me, "I made my husband phone Buckingham Palace because I thought there'd been a mistake."
The white stuff
In the days after the Charleston church shootings, a video began circulating on social media with the title "Black man loses it explaining racism, white privilege and supremacy to white man". And while it's impossible to trace the provenance of that video, there's no denying the power of the clip's central message. At one point the man, in what appears to be some sort of group therapy session, spells out precisely what it feels like to be experienced as a "problem person". He says: "Why can't we all just treat each other as human beings?... To me, when I hear that from a white person, what I'm hearing is why can't we all pretend to be white people."
If you're feeling like that argument is a little one-sided, you'll welcome the news that a new documentary is about to air on MTV called White People, which features interviews with young white Americans who feel "uncomfortable talking about race". Diddums, etc, and so on.
Don't get me wrong, the documentary is a serious attempt to understand a serious issue, and it's made by the Pulitzer Prize-winning journalist Jose Antonio Vargas. But really? On MTV? The channel, you might remember, that in its early days operated a "blackout" on videos by African-American artists until the then head of CBS, Walter Yetnikoff, threatened to pull all of his artists' work off MTV unless the network played the video to Michael Jackson's "Billie Jean".
Endorsement of the week
You might have read about Ren Lu You, the 29-year-old banker from Alabama who is offering $10,000 to anyone who can help him find a girlfriend (see dateren.com). But the best thing about You's website is the banner endorsement that reads: "'He is nice boy' – my mom."
Good things come …
Patience used to be seen as a virtue. Now, we're all spitting mad when an online video dares to buffer for three seconds before playing.
So it can be gratifying when a story takes a little time to percolate. It was in May that I first heard about Philani Dladla, a 24-year-old South African known as the Pavement Bookworm. Dladla's story was sensational: "While living on the streets I noticed how many beggars there were getting money for nothing. I thought I could be different and give people something worthwhile – like a book or book review – in exchange for money," he says.
I emailed Dladla on 15 May with a few questions. Nothing. Then, on 21 June, he replied. His email read simply: "Hi brother." I persevered. Last week, I got this reply to my question about how he was doing: "My life have changed a lot since I stopped doing drugs. Now, my readers' clubs are growing and my foundation is securing funds to take kids to higher-education institutions." I can't lie, I was hoping for a more personal response, but Dladla is a busy man and his work with homeless young people in Johannesburg is important.
On the subject of delayed gratification, hats off to a Twitter user who opened an account under the name Frank Furter (think Rocky Horror Show) and tweeted "I see you shiver with antici ..." back in 2009. Six years later, his next tweet read: "... pation."
No rhyme or reason
Another in a regular series of limericks based on recent events:
The critics and public agree,
There's a buzz round the new Harper Lee,
She's a writer few equal,
And now there's a sequel,
But don't hold your breath for book three.
Twitter: @simmyrichman
Register for free to continue reading
Registration is a free and easy way to support our truly independent journalism
By registering, you will also enjoy limited access to Premium articles, exclusive newsletters, commenting, and virtual events with our leading journalists
Already have an account? sign in
Join our new commenting forum
Join thought-provoking conversations, follow other Independent readers and see their replies