Goodbye for now, Gunnersaurus, your departure is a lesson and a warning to us all
Like so many dinosaurs, Gunnersaurus was a relic of the past but his fate highlights again the disparity between players and the rest of the staff at big clubs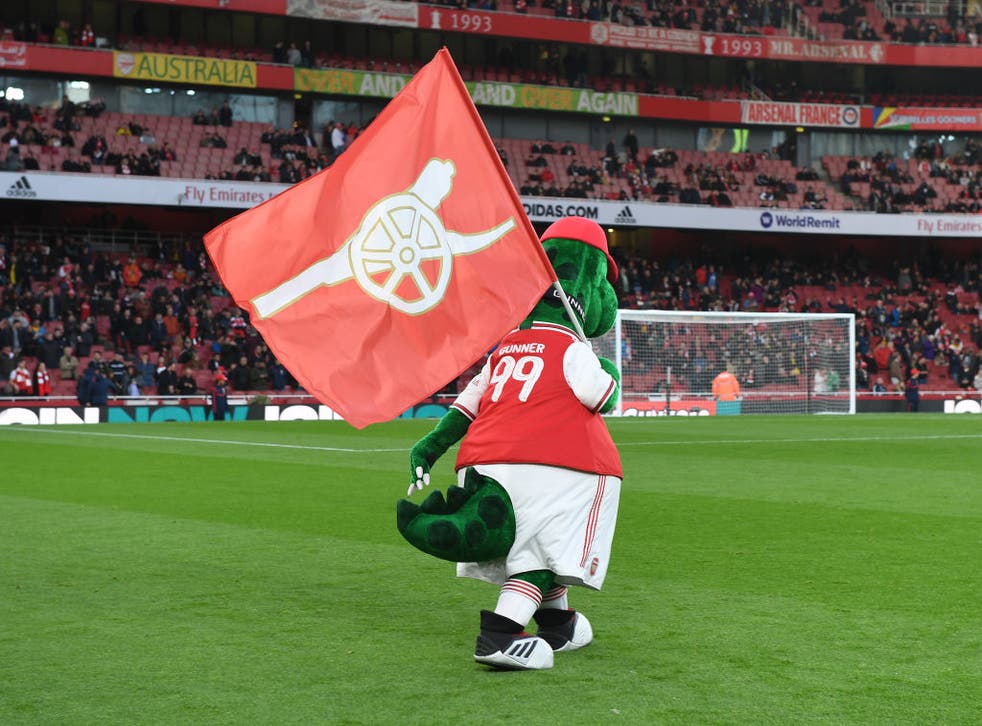 Up to the stroke of 11pm, when Arsenal signed Thomas Partey from Atletico Madrid for a reported £45million, the club's main transfer deadline day story was that they had sacked their beloved mascot, Gunnersaurus.  
According to The Athletic, after 26 years in the big green suit, Jerry Quy was told his services would no longer be required, part of Covid-19 cost cutting that has also led to 55 other redundancies (it has since been reported that the mascot will return when fans are allowed back into the stadium). Quy's salary wasn't revealed, but we can be fairly confident it was less than the £350,000 Mesut Ozil is said to earn every week to sit at home watching Arsenal on television.  
Yesterday's activity represents a depressing microcosm of football this year, a world where wage and fee inflation for players continues, while the club's regular staff get an ever-worse deal. Arsenal are more reliant than other Premier League teams on matchday revenue, so have been hit harder by the ban on crowds. Earlier this year a group of players, led by the admirable Hector Bellerin, announced a voluntary pay cut to help the club weather the storm, but until fans can return in large numbers, the trend is likely to continue.
Like so many dinosaurs, Gunnersaurus was a relic of a past era. The green lad was not only the club's only remaining member of the Invincibles squad from 2004, but also the last connection with the George Graham era. When he made his debut against Manchester City in August 1994, football looked very different. The game was not on TV, and even Arsenal fielded only two foreign players (John Jensen and Stefan Schwartz). The Premier League was starting to crank into gear.
The joy of Gunnersaurus, and the reason his demise was mourned beyond N5, is his idiosyncrasy. Why is he a dinosaur? Why is he green? There's no obvious connection to Arsenal. At other British clubs, mascots tend to the cutesy, with a tenuous and/or lame punning connection to the club. Who can forget Manchester City's bizarre Moonchester and Moonbeam, aliens from the planet Blue Moon? Or West Ham's "Hammerhead", a kind of robot hooligan. Spurs have a large bird called "Chirpy Cock", which sounds about right.
Gunnersaurus, on the other hand, came fully formed from the Jurassic Park-addled imagination of an 11-year-old boy, Peter Lovell, who entered a competition arranged by the Junior Gunners. "It was one of those moments in the history of my life," Lovell said in an interview with ESPN. "That's the moment I went from being intimidated by the world to believing that I could do anything. It's beautiful."
It's hard to imagine a club of Arsenal's size allowing anything like that now. A new mascot would have to be approved by a committee of "stakeholders", most likely including dodgy sovereign wealth, a government or two with a questionable human rights record, and a massive global sportswear brand. The main consideration would be global marketability. Thousands would be spent ensuring green dinosaurs were not offensive in China. In recent years the only entertaining new mascot has been Kingsley, Partick Thistle's nightmarish monobrowed yellow sun-man, designed by the artist David Shrigley, and even the most ardent Partick fan would concede they are a smaller outfit than the Gunners.  
Gunnersaurus' game evolved over the years. In the early days of the Emirates Stadium he would shoot T-shirts into the crowd with a cannon. He was a sombre observer of memorial silences, before the game's authorities decided that mascots observing silences lacked gravitas. Recently his duties have eased. Before kick-off he wanders the pitch, waving at the crowd and encouraging the players in their warm-up exercises. At half-time he played in goal, trying his best not to save penalties from children. When he saves one by mistake, he looks genuinely crestfallen, an impressive piece of acting in a cumbersome 8ft suit.
The serious point about Gunnersaurus' untimely extinction is that it highlights the disparity between players and the rest of the staff at big teams. The salary issue is out of the hands of individual clubs. Studies have shown that team performance has little to do with managers, and everything to do with player wages. If you hire the most expensive players, eventually you win the league. Seen from one angle, clubs aren't so much businesses as vehicles for transferring money from fans – whether in the stadium or watching on TV – to players. It's a ruthless global meritocracy that has found a natural home in Britain. The peripheral activities of the football club, of which Gunnersaurus is a part, are run on a different scale.
There's no obvious solution. Players can't be expected to treat their employers like charities, although there is nothing to stop them agreeing to guarantee certain standards for worse-paid colleagues. Most would agree it's right that the players, usually working class, often ethnic minority and sometimes from the poorest places on earth, make the money in football, rather than the owners. Buying a football club, as Mike Ashley and others have learnt, can be a frustrating investment. A salary cap, or an American-style franchise system, might help limit the players' pay in favour of the owners, but any system would have to be applied equally around the world, or at least Europe, and would bring its own problems.
None of this excuses Arsenal. If they really wanted to, they could obviously find the money to save their dinosaur, and the 55 other staff who have lost their jobs. Hopefully Gunnersaurus will return when the fans do. Until then his demise, like the extinction of his ancestors, ought to serve as a lesson and a warning.
Register for free to continue reading
Registration is a free and easy way to support our truly independent journalism
By registering, you will also enjoy limited access to Premium articles, exclusive newsletters, commenting, and virtual events with our leading journalists
Already have an account? sign in
Register for free to continue reading
Registration is a free and easy way to support our truly independent journalism
By registering, you will also enjoy limited access to Premium articles, exclusive newsletters, commenting, and virtual events with our leading journalists
Already have an account? sign in
Join our new commenting forum
Join thought-provoking conversations, follow other Independent readers and see their replies