The expansion of Heathrow is unforgivable – we will fight this decision
This is not a win for families who jet off on a holiday once a year – this is to pacify the needs of those privileged individuals who fly regularly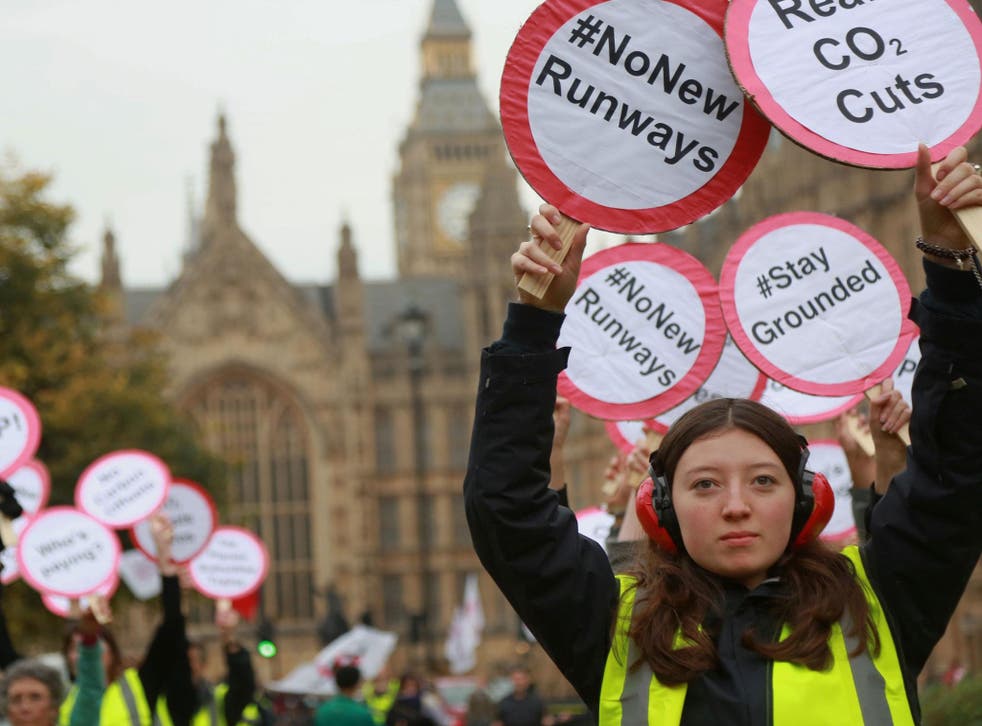 It's finally been confirmed: the Government is ignoring the abundant evidence and backing expansion of Europe's biggest airport. For those of us who care about Britain's role in combating climate change, and for people living in west London, today's decision is a disaster.
This will directly affect those living around Heathrow, with increased pollution, noise and daily disruption to their lives – and it will benefit only the wealthier fliers, with just 15 per cent of UK residents accounting for seven out of 10 of all flights taken. This is not a win for families who jet off on a holiday once a year (and most people don't even do that); this is to pacify the needs of those privileged individuals who fly regularly.
We are living under a Government that says it wants to allow people to "take back control", yet it is pressing ahead with a decision that will inflict more noise and pollution on a local community that's already suffering – all for the benefit of aviation lobbyists and the business-class set.
In pictures: 70 years of Heathrow

Show all 22
The expansion announcement today comes days after leading scientists said that the world is entering a new "climate change reality", as average carbon dioxide levels are now more than 400 parts per million. The effects of burning more and more dirty fossil fuels are well known, but worth reiterating. From an increase in devastating flooding in Britain, to wildfires in Indonesia and more hurricanes hitting the Caribbean – climate change affects everyone's lives, but hits the most vulnerable communities hardest.
Theresa May knows all of this of course and, at times, she appears to really care. Earlier this year she proudly told the House of Commons that the UK is the "second best country in the world for tackling climate change". That's why her decision back expansion at Heathrow is so unforgivable. And let's just be clear about this: today's decision puts a wrecking ball through the UK's climate change commitments. This decision comes in the same week that the UK Government is in court for failing to tackle illegal air pollution limits.
Lifting people into in the air requires a lot of energy, and there's no prospect of that energy coming from low carbon sources anytime soon. That's why, unlike every other part of the economy, aviation isn't expected to reduce its emissions. This already generous exemption is now set to be magnified many times over. If we're serious about climate change, we would need to make even deeper carbon cuts in other parts of the economy (and we're already failing to do that).
Another solution would be to force Northern airports to limit flights and bring in a substantially higher tax on flying – are the Government going to take those actions? Of course not.
Those of us who want to reduce the impact of flying cannot just wish away increased demand – instead we need practical proposals to keep aviation at levels that are compatible with fighting climate change, and which require no new runways.
How the new runway at Heathrow could look
One such proposal, a frequent-flyer levy, would reduce demand for airport expansion through a fairer tax on flights that increases depending on the number of flights you take. It's clear that the small minority of wealthy individuals who fly often are fuelling the demand for new runways. The proposed frequent-flyer levy would be a fair way to manage demand – the crucial missing part of any aviation policy serious about tackling climate change and protecting local communities.
Another alternative would be to redirect investment away from airport expansion and into improving railways and reducing fares – to end the ridiculous situation where flying is often cheaper than taking the train to nearby destinations.
Ministers know very well that airport expansion, at Heathrow or anywhere else for that matter, will leave our climate change commitments in tatters – and we need to make sure they know that climate campaigners and local residents have absolutely no plans to give up this battle.
Caroline Lucas is co-leader of the Green Party
Register for free to continue reading
Registration is a free and easy way to support our truly independent journalism
By registering, you will also enjoy limited access to Premium articles, exclusive newsletters, commenting, and virtual events with our leading journalists
Already have an account? sign in
Register for free to continue reading
Registration is a free and easy way to support our truly independent journalism
By registering, you will also enjoy limited access to Premium articles, exclusive newsletters, commenting, and virtual events with our leading journalists
Already have an account? sign in
Join our new commenting forum
Join thought-provoking conversations, follow other Independent readers and see their replies