How the spirit of Calais inspired us to help feed the hungry during this crisis
Help the Hungry: Feeding one thousand men, women and children every day until January is a big challenge – but I know we can do it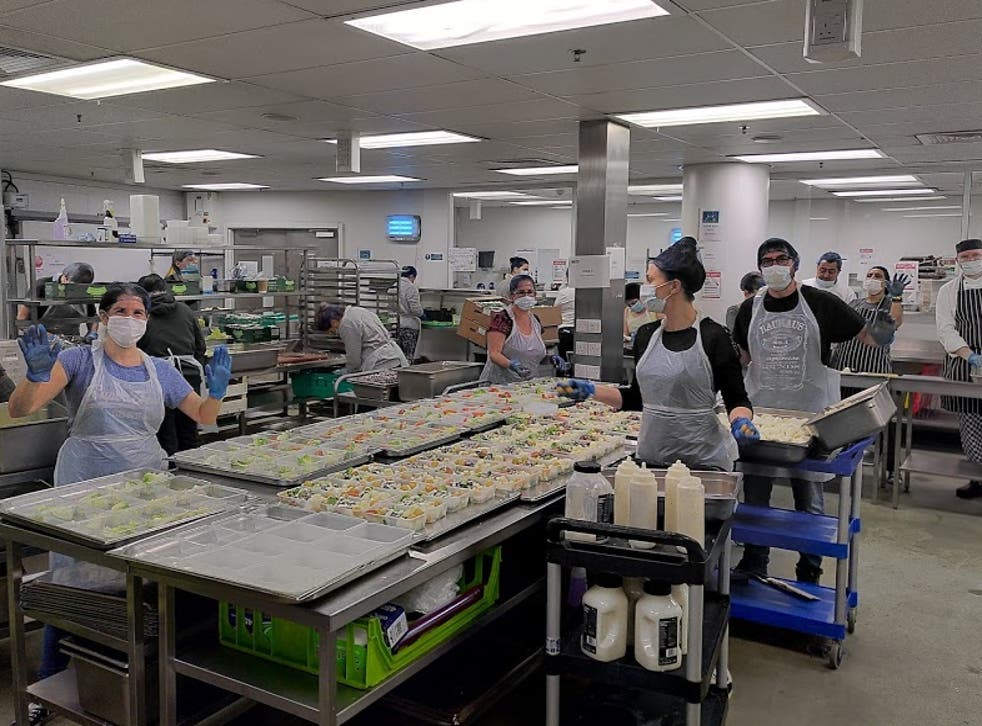 With Compassion are proud to be part of The Independent's Help the Hungry Christmas appeal, which has already made such an impact in ensuring food security for those in need. With your help, we aim to directly feed one thousand men, women and children each day from now until the start of January.
To do this, we are now working from London Scottish House, which we have turned into a "dark kitchen" producing meals for two food trucks from Food Truck Masters to take around London and the rest of the country delivering to communities, charities and projects in need of support. If you are a charity, a volunteer or a donor, get in touch to see how you can help.
Achieving this sounds a big challenge, but I know we can we do it. Just before lockdown in March I posted on Facebook that I was looking for a kitchen. I realised that many people would not be supported during this crisis and go hungry. A few days later, a small group of volunteers cooked a few hundred meals.
Now seven months later, our organisation With Compassion has cooked and delivered 450,000 meals for those who need it most.
It has become very clear in this pandemic that food poverty in London is much worse than anyone ever thought possible.
In those first days of lockdown no one really knew what to do. It reminded me of 2015 when, seemingly out of nowhere, hundreds of thousands of refugees fled war-torn countries and came to Europe. Instead of acting out of love and understanding, our governments reacted out of fear. Building hundreds of fences and barriers thinking that would solve the problem. The authorities welcomed everyone with constant harassment, rubber bullets and teargas.
In the midst of all of this I found myself in the so-called Calais Jungle. I was asked to help set up a small kitchen to feed people in the camp. On my first day I went for a walk and migrants living in the camp who often only had the clothes on their back wanted to share their food with us. We started talking, we shared stories, we created bonds. I realised that we had much more in common than our differences.
At the start of the coronavirus crisis, councils were overwhelmed by the instant need of food. The government deemed that it was not their responsibility to feed children who had to go without free school meals, or their vulnerable families. Benefits recipients were told that they would only be supported temporarily. In a way it felt like being in Calais all over again, where the government watched from the sidelines and many ordinary people, like you and me, stepped up to do what they could to help others.
UK news in pictures

Show all 50
With Compassion took over the kitchens of Wembley Stadium for five weeks, producing 5,000 meals every day for vulnerable Londoners. We then moved to Alexandra Palace, where with a team of 150 volunteers with fresh food from The Felix Project, we were able to feed 2,300 people per day.
I come from a large family in The Netherlands and one of my earliest memories is having Easter lunch in my grandparents' dining room. The whole family would come together. It was loud, everyone wanted to be heard, there were laughs and tears at the same time. Food was at the centre of everything we did. The first question for anyone who came to our house was: would you like something to eat?
Leon Aarts is the founder of With Compassion, one of The Independent's Help the Hungry charity partners
This November and December we will be delivering food directly to 1,000 people a day through our partner With Compassion. Please donate here to help us do all we can to ensure no one goes hungry this Christmas.
Join our new commenting forum
Join thought-provoking conversations, follow other Independent readers and see their replies