Help The Hungry: Olivia Colman backs our campaign to deliver food to people in need
The Oscar-winning actor joined Evgeny Lebedev to find out how our campaign is helping the vulnerable
Friday 24 April 2020 19:13 Comments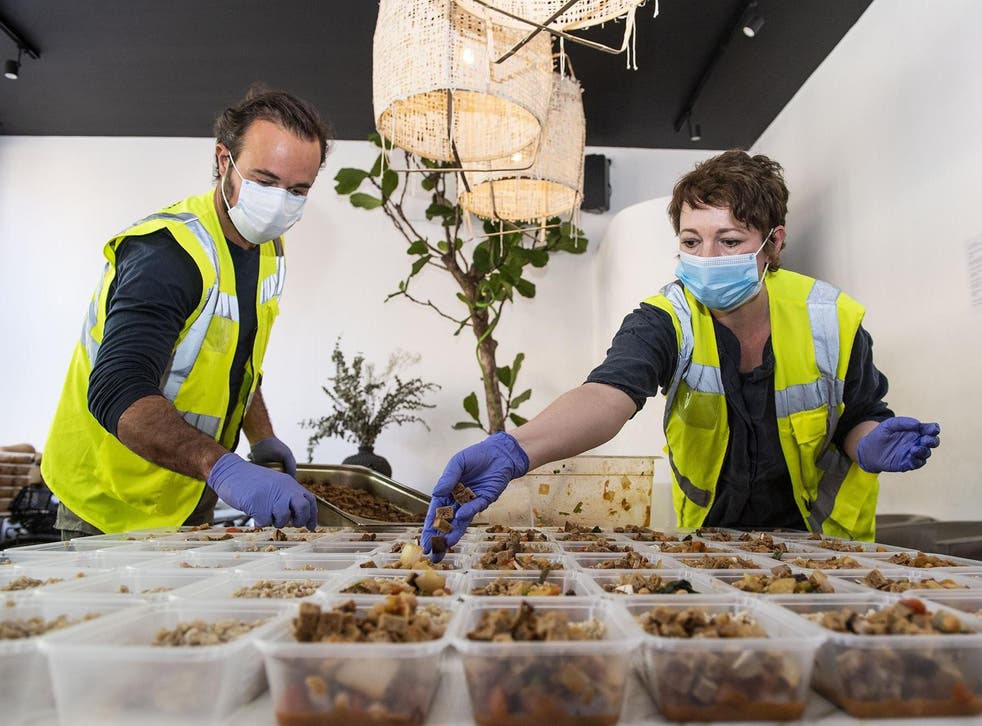 In normal times, Angelina in Hackney is a chic Michelin-rated restaurant known for its quirky fusion cuisine. That I spent yesterday there pouring tagine into takeaway boxes with The Crown's Olivia Colman is testament to the surreal situation in London right now. Olivia came to meet me at the Enfield depot of The Felix Project, The Independent's campaign partner. She wanted to understand what our appeal is achieving. We helped to load a van with fresh bread and fruit.
Since the beginning of our campaign, The Felix Project has more than tripled the amount of food it is able to distribute. Last Friday alone it shifted 43 tonnes, which is almost 100,000 meals, or the equivalent of six Routemaster buses. I wondered aloud whether we ought to take some loo paper, a new addition to Felix's expanded storage. "We tend to send that out with armed guards," Sam Kagwi, who works at the depot, told us with a straight face.
Our destination was a brilliant organisation called Made in Hackney, which has taken over Angelina's kitchen and recruited its staff to produce fresh meals. The restaurant used to serve five-course tasting menus; now it makes 500 meals a day for vulnerable people. The charity's head of operations, Nynke Brett, curates a list of vulnerable locals with the help of the GP surgeries.
Help the Hungry: Olivia Colman visits The Felix Project
"We're taking desperate calls from people on a daily basis," said Sarah Bentley, the founder of Made in Hackney. She explained that the waiting list for meals grows by 30 every day. "We would take more food [from The Felix Project] if we could.
"We had one family who told us that when we arrived, it was the third day they had gone without food. They had applied for universal credit, but it hadn't come through."
I am reminded of Hackney's brilliantly diverse population by the staff at the restaurant who have stayed to help. The Brazilian manager shyly requested a (socially distanced) selfie with Olivia.
French kitchen hand Tatiana told me she could have gone home to her family in France, but "at least I'm doing something good here". An armada of cyclists arrived at the restaurant. Each was allocated addresses and meal boxes, marked with allergies and dietary needs.
We followed Baba and Clarence to the first drop-off. The recipient, John, was delighted to see us – even if he didn't recognise Olivia. "I was really depressed by the lockdown," he told us.
For health reasons, John was on the list of people to whom the government wrote, warning them to stay in their homes. He lives alone and misses going out to eat and to see people. Another recipient, Lyn, visibly cheered up when we appeared. "I haven't got my glasses on. I was thinking you look just like Olivia Colman," she said laughing. "The only human contact I have is seeing the retreating back of the delivery man."
Lyn is also kept isolated by medical problems. "Inevitable when you're near 70," she added. She too lives alone and is finding it difficult. She hates going to the park, as she is wary of joggers.
On the way out of Hackney we pass a long queue for iced coffee, served out of a hipster cafe. I reflect on what Sarah from Made in Hackney told us before we left. "The need is there, and it is quite horrifying. There are two parallel realities. There are the people doing yoga. Then there are the people who are stuck at home with no food."
There is hope to be found in compassion, I've witnessed it – Olivia Colman
Yesterday I witnessed something amazing in the business parks of north London and the shut-up restaurants of the East End. Volunteers, delivery people and restaurateurs have come together to support the most vulnerable in this time of crisis.
The Felix Project, the charity partner of The Independent, runs an impressive operation. Vans zoom in and out of their depots, laden with fresh food and vegetables.
I was delighted to see how it all worked yesterday afternoon. I put on gloves and a hi-vis jacket, helped to load a van with fresh food, and we headed off to east London. The charity we were visiting, Made in Hackney, was producing 500 meals a day with our food.
They work with the local community to produce a list of vulnerable people, and their marvellous network of volunteer cyclists courier the healthy vegetarian meals to people's doors. It's like a community Deliveroo.
Many of the people I met were stuck in small flats, often alone, and immunocompromised. But I was struck by how cheerful they were in the face of such difficulty, and how delighted they were to see the volunteers. For some, it was the only human interaction they will have had all week. In the midst of this deadly virus and economic crash, it is cheering to see how quickly and efficiently so many people are rising to the challenge. The organisations that donate food, volunteers that transport it and the charities that transform it into fresh meals – I salute you.
And to the readers: I beseech you to support The Independent's campaign, in order to keep these deliveries running.
The Queen spoke of her belief that our "instinctive compassion" will take us through this crisis. What I witnessed yesterday – the dedicated, kind community-led work of The Felix Project and Made in Hackney – has convinced me there is indeed great cause to be hopeful.
The Independent is encouraging readers to help groups that are trying to feed the hungry across the country – find out how you can help here. Follow this link to donate to our campaign in London, in partnership with the Evening Standard.
Register for free to continue reading
Registration is a free and easy way to support our truly independent journalism
By registering, you will also enjoy limited access to Premium articles, exclusive newsletters, commenting, and virtual events with our leading journalists
Already have an account? sign in
Join our new commenting forum
Join thought-provoking conversations, follow other Independent readers and see their replies