Hillary Clinton's video is unbelievably patronising. The best thing women can do is ditch gender politics
Most women don't think of themselves as victims, or in need of mobilisation by Clinton. They have enough willpower and competitiveness to get things done themselves. Yet increasingly they are being asked to club together with the sisterhood, or whatever it's called next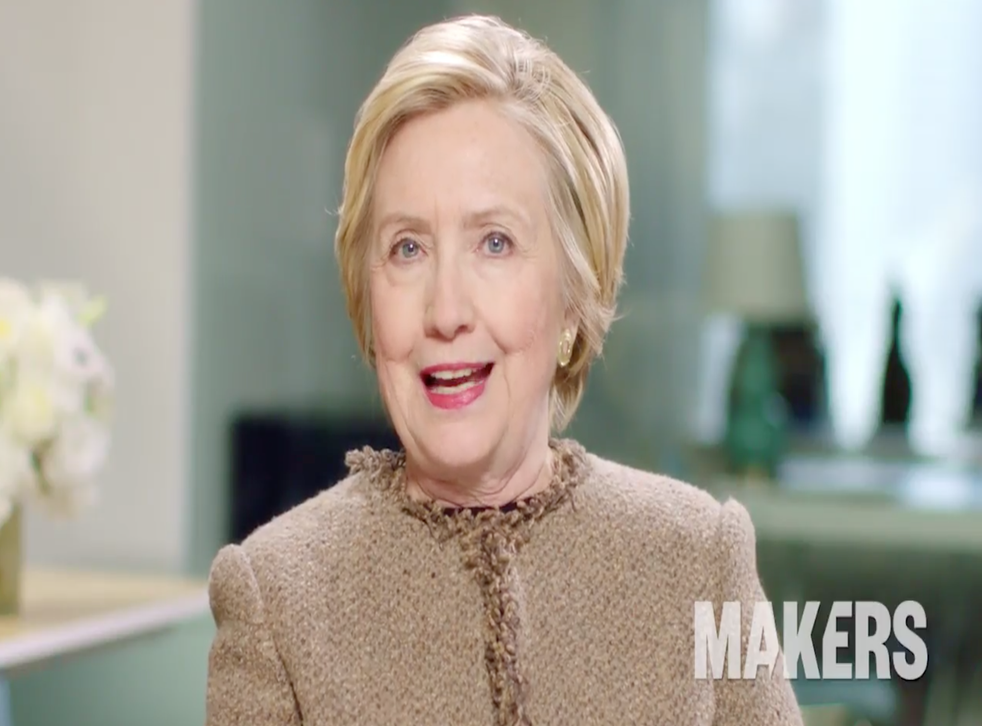 I was beginning to miss Hillary Clinton now that Steve and Betsy, and the rest of the Republicans, have taken over the world.
Until yesterday, when she released a video – her first post-inauguration appearance – to promote this year's MAKERS conference. MAKERS, if you haven't heard of it (I hadn't), sounds a bit like the World Economic Forum, in that it involves lots of posh people talking about how hard life is. Only these posh people are women.
But back to the video. During it, Clinton stares lovingly into the camera, her cheekbones illuminated by heavenly lighting, and delivers a feminist message. "Remember, you are the heroes and history makers," she says to the girls of tomorrow. "The glass-ceiling breakers of the future".
UK news in pictures

Show all 50
The general purpose of the video is to inspire women to stand up for themselves, and to big, bad men. I suspect it will be hailed as an amazing rejection of Donald Trump and all things sexist. Even though it's just a big fat cliché – and exactly the sort of thing that got him into power.
The fact is that huge swathes of the public are sick of hearing this phoney, simpering type of third wave feminism. I know I am. In particular, I've had enough of "glass ceilings". Where the hell are they all? I'm ready to break one just to get a new metaphor.
That's beside the point, though, because it's gender politics that grate on me, and Clinton's insistence on using them, even though she got into power without deploying the F word.
What she – and many political pundits forget – is that for every woman inspired by her "go get 'em" message, others feel really patronised. Clinton's pep talk suggests that we are all sitting on our hands, in desperate need of reassurance. Perhaps without her strong words we might be crying into our dinners at night – our biggest achievement!
But most of women don't think of themselves as victims, nor in need of mobilisation by Clinton. They have enough willpower and competitiveness to get things done themselves. Yet increasingly they are being asked to club together with the sisterhood, or whatever it's called next. Far from empowering women, this reduces them into a category that changes how others interpret them. That's what gender politics does; it fragments and divides people into minimal entities.
Hillary Clinton receives standing ovation on attending Broadway show
Indeed, over the last few months I have lost count of the numbers of gym classes, tech gatherings or worse I have been invited to – in the promise that they'll be "all female", as if this is a fantastic selling point. But I don't want to be some sort of millennial Amazonian. Are men so terrifying, that we now must have separate activities from them? No.
Gender politics is certainly not the antidote to Donald Trump, nor sexist sentiment generally. The Breitbart types find it pathetic when women have to be told by Clinton to stand up for ourselves. It emboldens their stereotype of us as weak.
What I found worst about Clinton's video was its suggestion that girls are "worried about what the future holds". I suspect this is far from the truth, as children are so clearly oblivious political events and sentiment.
But they are not immune to neuroses, which many adults are giving off at the moment. The worst thing we can do is suggest to girls that sexism will come to get them, as Clinton's video covertly hints. It's not even the case! They must expect to be winners.
If you look at some of the most successful people, let alone in politics, many of them forgot that they were women. Not literally – everyone has to go to the toilet – but they wanted to climb out of "the box", rather than put themselves into it. Now there's a better metaphor for you than this glass ceiling lark.
In truth, I am tired of Clinton and anyone else preaching naff, clichéd words to women, in the name of feminism. A lot of it is loserism. Even the 'This Girl Can' campaigns do my head in when I'm out and about. I don't need an advert for validation. Of course this girl can! And will!
But this girl cannot stand being patronised, which is exactly what Clinton's inspirational message did. She of all people should know that women don't need such blathering nonsense.
Register for free to continue reading
Registration is a free and easy way to support our truly independent journalism
By registering, you will also enjoy limited access to Premium articles, exclusive newsletters, commenting, and virtual events with our leading journalists
Already have an account? sign in
Register for free to continue reading
Registration is a free and easy way to support our truly independent journalism
By registering, you will also enjoy limited access to Premium articles, exclusive newsletters, commenting, and virtual events with our leading journalists
Already have an account? sign in
Join our new commenting forum
Join thought-provoking conversations, follow other Independent readers and see their replies