'Honour-based' violence is rife in Britain but victims have little support
ITV's new drama 'Honour' exposes the horrific abuse one women endured in the UK, but misses a chance to highlight the failings of authorities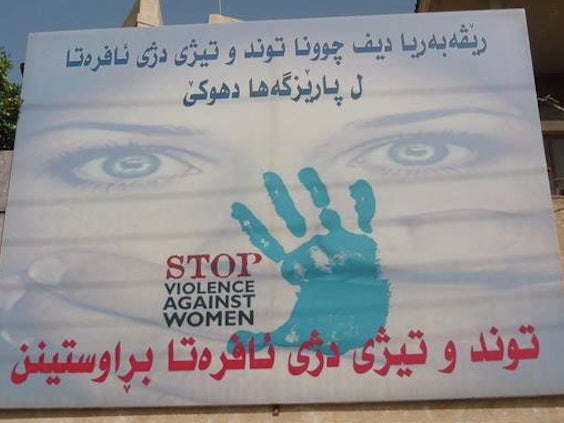 Iraqi Kurdish woman Banaz Mahmod, from Mitcham south London, was murdered in 2006, and her death was entirely preventable. Her case highlights how the police often fail to protect Black and minority ethnic women in the UK from violence, perpetrated by their families in the name of "honour". This brutal practice, is sometimes used to justify heinous criminal acts, including killings.
Honour, which aired on ITV 28-29 September, focuses on detective chief inspector Caroline Goode of the London Metropolitan Police, her investigation of Mahmod's death, and the prosecution and conviction of the murderers of the 20-year-old victim. But what the two-part drama misses is the systemic failures of the Met to respond effectively to those, like Mahmod, who report that they are at risk of "honour" killings and other "honour-based" violence.
Intervention at the point when Mahmod first came to the police's attention as a potential victim would have saved her life. Surely, it is better to prevent a murder than to prosecute one?
Fourteen years on from Mahmod's death, such crimes remain under-investigated and under-resourced, with victims rarely receiving the specialist support they need to protect themselves in the absence of effective police action.
"Honour-based" violence is not solely a human rights abuse that happens elsewhere – it regularly ruins and ends the lives of vulnerable girls and women in the UK. However, the term "honour-based violence" is complicated.
First, applying this term, and similar terms, to forms of violence that almost exclusively affect women implies that "honour" is intricately tied to women's behaviour and, therefore, the violence suffered is the victim's fault. Second, use of the word "honour" renders these crimes susceptible to "exocitisation". Cultural explanations perpetuate the idea that "honour-based" violence only happens to "other" women from "other" communities and diverts attention from the crimes, and that violence against women and girls affects all social, cultural, religious, and ethnic groups in the UK.
Mahmod claimed her father attempted to kill her on New Year's Eve 2005, forcing her to drink alcohol in order to subdue her. Realising the danger she was in, Mahmod managed to break a window and escape, cutting herself badly in the process. She found a payphone and made a frantic call to the police.
In hospital, Mahmod recorded her ordeal in a video message on her boyfriend's mobile phone. In January 2006, Mahmod was murdered, stuffed into a suitcase, and buried in a garden in Birmingham. Her father, three cousins and Mahmod's uncle were later convicted of her murder. Mahmod's video was used to convict her killers in court, but her death, such a short time after the first attempt on her life, shows the police failed to act on her cry for help.
In the 14 years since I started campaigning for justice for Mahmod, I have dealt with countless instances of non-fatal "honour-based" violence, of cases against abusers being dropped, either by the police or by the Crown Prosecution Service. A delay in reporting often counts against the victim as do procedural mistakes. Positive, effective responses from the police are often a post-code lottery.
The criminal justice system must use its powers to protect women and girls at risk of domestic violence, abuse, rape, forced marriage and "honour-based" violence/abuse, and female genital mutilation. Covid-19 and austerity has greatly reduced the types and sources of support available, especially specialist refuges for Black and minority ethnic women and girls.
Although successfully prosecuting those who murder and abuse women and girls is vital,  it's even more important that long-term efforts prevent these crimes from happening in the first place. Tackling "honour-based" violence – and all forms of violence against women and girls – requires a shift in policy and approach. 
Instead of viewing these crimes as cultural traditions common to "backward" societies, these issues must be considered in the broader context as just one manifestation of violence against women and girls, that of gender-based violence. The patriarchal value systems that underpin it are the common factors across social, cultural and ethnic groups.
For all the girls and women like Banaz Mahmod, we must do more to ensure that, when help is sought by those in danger, it is provided.
Aisha K. Gill is a professor of criminology at the University of Roehampton and was involved in advising both the Metropolitan Police and the Crown Prosecution in relation to the murder of Banaz Mahmod from 2006-2010.  Gill's work also informed the MPS strategic Homicide Prevention Working Group on Honour Killings. In the last decade, she has trained police and CPS specialist prosecutors to better respond to "honour-based" violence and forced marriage
Join our commenting forum
Join thought-provoking conversations, follow other Independent readers and see their replies