The Home Office's lip service to Pride doesn't change a thing – it's still complicit in ruthlessly deporting LGBT+ migrants
As the department's social media team adopted the rainbow flag, a gay rugby player was threatened with deportation to Kenya. 50 years after Stonewall, we should remember the celebration's roots in overhauling the status quo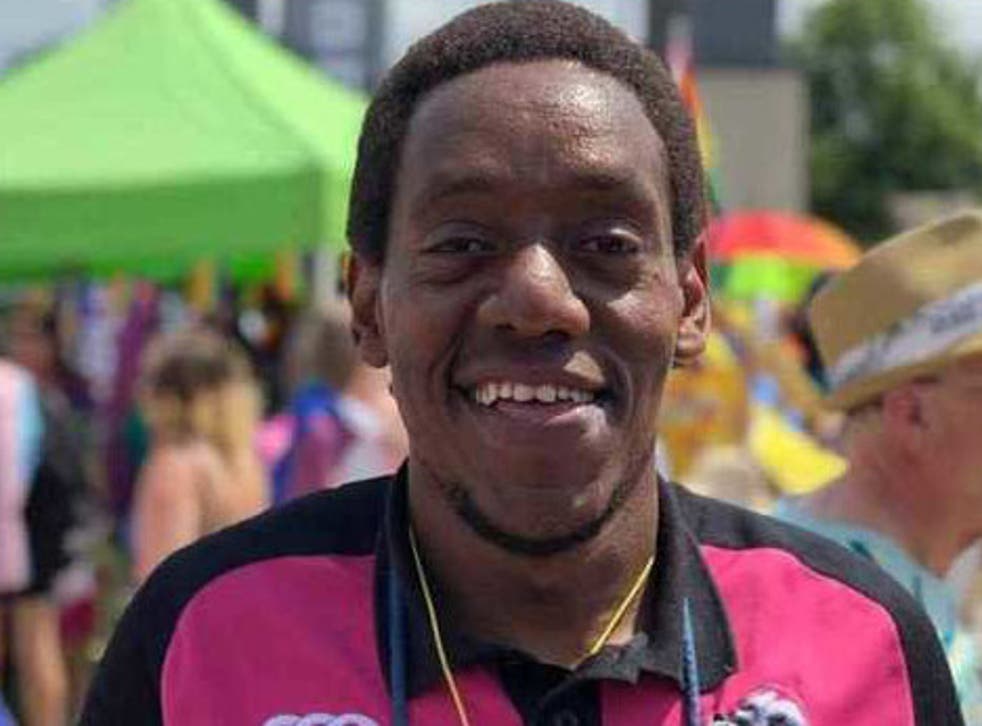 As the clock strikes midnight on May 31, businesses across the world get a magical makeover. Shop fronts are adorned with rainbows, same-sex couples are all the rage and packagings and logos are covered by a multicoloured hue.
At the best of times, this sudden and often short-lived support for LGBT+ people during Pride month can leave a bitter taste. But, yesterday when the Home Office followed suit, changing its Twitter profile picture to show the rainbow flag the injustice felt even more acute.
That same day, news broke that a gay rugby player, Kenneth Macharia, will be deported to Kenya after living for a decade in the UK.
As somebody was gleefully planning the Home Office's social media Pride celebrations, a colleague nearby was drafting the letter breaking the news about Macharia's deportation. Despite the Home Office itself acknowledging that gay men face harassment, rape and up to 21 years of imprisonment in Kenya (not forgetting these laws were first implemented by British colonial rule), the government department decided that Ken could take the risk.
Pride Month around the globe

Show all 16
Macharia is not alone. His story is part of a never-ending news cycle of queer migrants who have failed to prove that they're gay enough. In the last three years, the rate of rejected asylum claims from members of the LGBT+ community had surged by 52 per cent in three years, with 78 per cent of LGBT+ asylum claims refused.
I have also seen first hand how the Home Office's brutal hostile environment policy has hurt my queer migrant friends. I've watched the face of a gay friend crumple as he read a judge's asylum rejection letter citing that it was too convenient that he met the love of his life soon before his visa expired.
And recently, when standing as a witness for a friend in his asylum case, I was asked by the government's prosecutor: "How do you know he's really gay and has not pulled the wool over your eyes?"
This line of questioning is not uncommon and it doesn't take a Pride parade to work out that these are not the words of a department that values queer people and our safety.
The hypocrisy of the Home Office is staggering and the injustices it creates should fill all LGBT+ people with rage. But we can't pick and choose when we give empathy and we shouldn't only be outraged about the horrendous treatment of migrants when they identify as LGBT+.
We can't let ourselves be distracted from the horror of the Windrush scandal, brutal deportation flights and the sexual violence women in Yarl's Wood face, by succumbing to half-arsed lip service to "gay rights".
No amount of biodegradable glitter can wash those stories away and more importantly, the queer community can't let it.
Independent Minds Events: get involved in the news agenda
This year marks 50 years since the first brick was thrown at Stonewall, sparking the riots that would lead to the modern gay rights movement, and the anniversary makes this rainbow-washing feel all the more significant.
Of course Pride should be a celebration of individuals' ability to love but lets not forget its origin. It comes from unapologetic political rage, an uncompromising belief in justice and a desire to overhaul the status quo.
Perhaps the Home Office's LGBT+ employees consider it a nice place to work, worthy of the little rainbow flag, but I hope as they dance in the London parade they remember the countless people who can't march with them because they have been detained or deported by the very institution they work for.
The Home Office doesn't care about the LGBT+ community. If it did, it wouldn't be deporting Macharia and countless others. It's time to demand better from those who claim to care about us. Don't let the Home Office hide their racist policies behind a rainbow flag, sign the petition to get Macharia to stay and take a stand against this mindless, offensive rainbow washing.
Molly is a journalist and activist with Lesbian and Gays Support the Migrants
Register for free to continue reading
Registration is a free and easy way to support our truly independent journalism
By registering, you will also enjoy limited access to Premium articles, exclusive newsletters, commenting, and virtual events with our leading journalists
Already have an account? sign in
Join our new commenting forum
Join thought-provoking conversations, follow other Independent readers and see their replies