The junior doctors' contract officially penalises women – how can David Cameron say he believes in equality?
The Government has said that the adverse affect the contract will have on women 'is a proportionate means of achieving a legitimate end'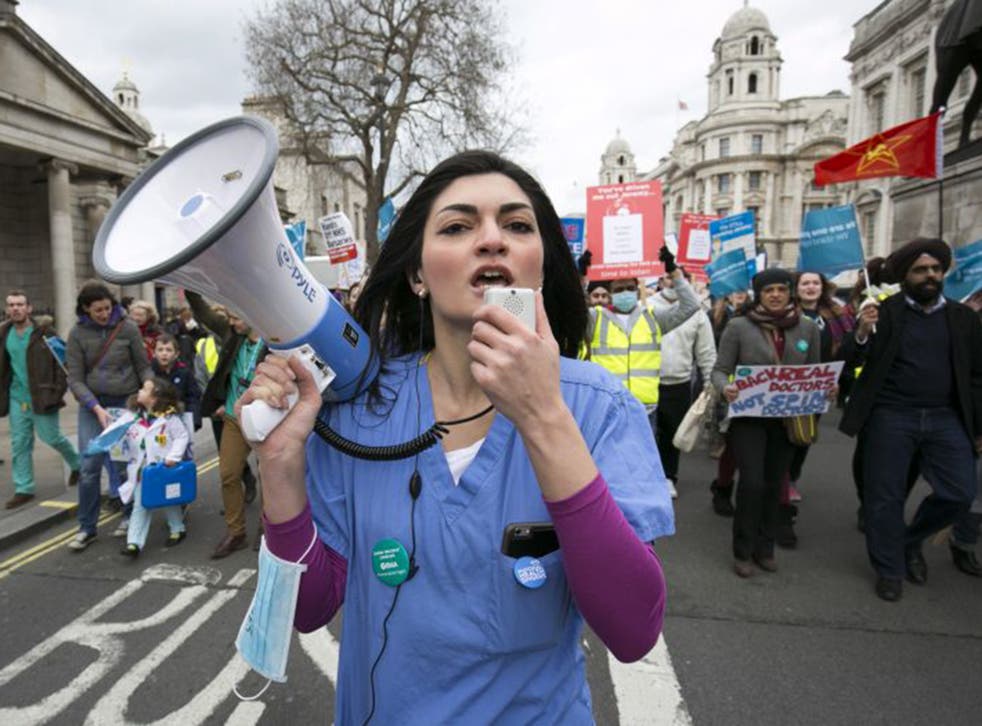 It might have come from a man, but David Cameron's vow last summer to "end the gender pay gap in a generation" was a giant step forward for womankind, according to the right-wing press. In seeking to present himself as the unabashed champion of women, the Prime Minister was on fire. There is "no true opportunity without equality," he claimed, and no place for a pay gap in modern British society. Writing in the Times, Cameron promised fervently to "cast sunlight on discrepancies" between male and female pay.
It really was stirring stuff; how Boden woman swooned.
Read more of our coverage on the junior doctors' contract
Less than a year later, the insincerity of his government's commitment to gender equality has just been laid bare. Yesterday, the Government published its equality impact assessment of the new junior doctor contract. Until now, female doctors' salaries have kept pace with men's because small annual pay awards prevent part-time doctors, of whom the vast majority are women, earning less than their full-time colleagues over time. But the new contract strips these safeguards away.
Now, as doctors progress through their training, we will see ever-widening gender pay gaps in medicine. Incredibly for a government ostensibly so committed to gender equality, the Department of Health hasn't even tried to hide the discrimination at the heart of its new contract. Instead, it states in its assessment that: "Any adverse effect on women is a proportionate means of achieving a legitimate end."
In other words, for Cameron, the alleged champion of women, women's salaries are mere collateral damage. Gender discrimination against the 60 per cent of doctors who are female is justifiable for our Prime Minister because the end justifies the means.
That's a high risk argument to make in politics. Imagine for a moment how hollow the phrase "proportionate means" would sound if we substituted another social group for women - Muslims, disabled people, gay or transgender people.
We've already narrowly avoided an attempt by the Chancellor, George Osborne, to raid disabled people's benefits to provide tax cuts for the rich. Must we really now add women to the groups in society the government seems perfectly happy to ride roughshod over? Small wonder doctors yesterday were up in arms, accusing Cameron of regressive, sexist, 1950s-style politics.
A recent study by the statistics agency, Eurostat, found that the UK has the sixth largest pay gap between men and women in the European Union. Our gender pay gap means that, for every pound a man in Britain earns, on average a woman will still only receive 80 pence. That equates to us working for free for 57 days of the year.
When my five-year old daughter grows up she wants to be a doctor like mummy. The government claims to support such aspirations. Nicky Morgan, Minister for Women, pledges "to inspire young women and girls so that they can compete with the best in the world for the top jobs – and see that their hard work will pay off." Except, that is, when it doesn't suit Number 10.
So what do I tell my daughter now? Try your hardest, do you best, and watch a man get paid more than you for doing the same job as you?
It seems that, for this government, women are just like men – only cheaper. Davis Cameron, the Don Draper of politics, ought to be ashamed of himself.
Join our new commenting forum
Join thought-provoking conversations, follow other Independent readers and see their replies