If Britain leaves the EU, France will be next
After Marine Le Pen's victory, it's more important than ever that Britain remains within the EU. A defeat for Brexit would be a vote of confidence in the future of Europe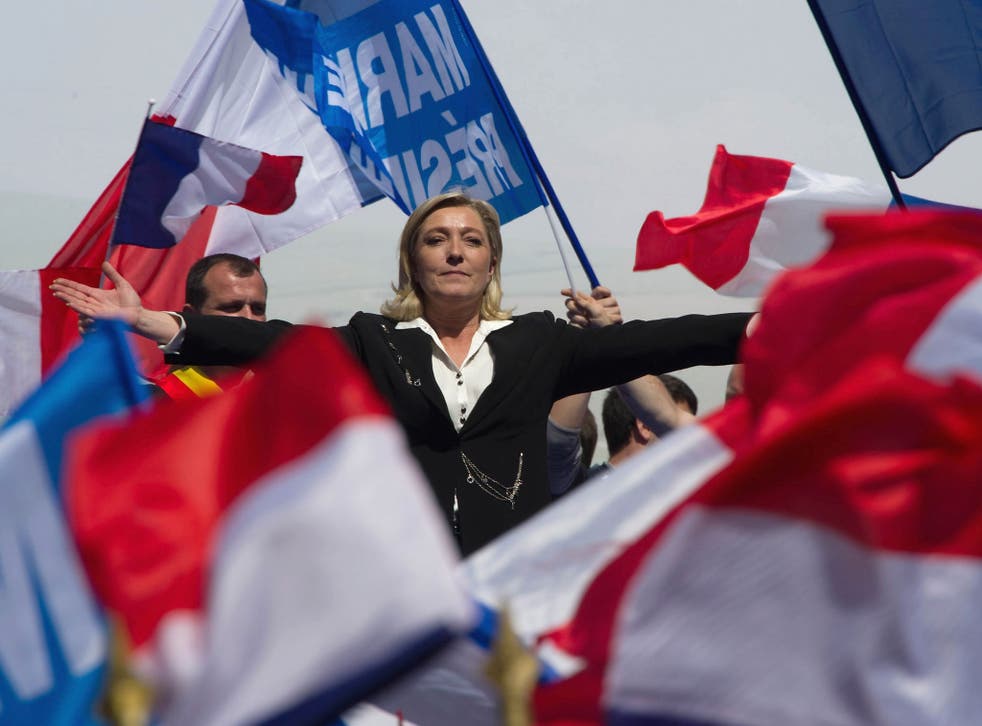 At last unity breaks out in Labour. After a nightmare of division and dissent over bombing Isis in Syria, Labour finds itself in the unknown territory of the leader, shadow cabinet and most MPs all agreeing that David Cameron's opportunistic Brexit plebiscite must not lead to the isolation of Britain from Europe.
The EU is becoming more centrifugal than the victory of the Eurosceptic Marine Le Pen in France, the Danish referendum No to cooperation on police and justice with other EU states, or the rumbustious anti-EU declarations from leaders in Budapest or Warsaw suggest. A defeat for Brexit would be a vote of confidence in the future of Europe and demonstrate that, as the Oldham by-election showed, Ukip's dishonesties about Europe can be taken on and defeated.
Now Alan Johnson, the most desired leader Labour never had, has launched the Labour campaign to defeat the Tory-Ukip isolationists who want Brexit to happen. He is seconded by future stars of Labour (when the party decides to become electable again) such as Emma Reynolds and shadow Europe minister Pat McFadden – curiously both MPs from Wolverhampton, home town of Enoch Powell who elevated anti-Europeanism to high politics in the 1970s.
To begin with, Powell's hostility to Europe chimed with Labour. In 1950, Denis Healey, then International Secretary of the Labour Party, provided the theoretical underpinning of the Attlee's government's rejection of any sharing of power with continental European nations. Healey argued that no Labour government "could accept a system by which important fields of national policy were surrendered to a supranational European representative authority"; over the following decades that expression of the supremacy of the nation became Labour's dominant ideology. After 1970, Labour MPs, the NEC and the party conference all had a majority against Europe and in 1983, Labour's election manifesto supported withdrawal from the EEC.
Today it is the Conservatives who are divided with a visible fronde in favour of withdrawal from Europe and many tempted by the double referendum argument advanced by the smarter Brexitites. This holds that a first vote to leave Europe will be followed by years of negotiation until the light dawns in Paris, Berlin and Brussels that the Brexit Brits are actually right and the EU should be demolished into a tribal grouping of nation states with no enforceable supranational policy at which point a second referendum can take place chez nous allowing us to say Yes to a Balkanised Europe.
This is nonsense. Once Britain is out, we are out - and the centrifugal forces in Europe will have a big boost. In the event of Brexit, Marine Le Pen would demand a Frexit referendum in France and other anti-EU populists across the continent would be boosted.
Alan Johnson has the support of 213 of 230 Labour MPs who have signed up for his anti-Brexit campaign. Jeremy Corbyn, John McDonnell and all the shadow cabinet have signed. The hopes of Ukip and Tory isolationists that a large number Labour MPs would join the Brexit campaign have been forlorn.
As Labour unites against Brexit it is an opportunity for Corbyn, Johnson, McFadden and Reynolds to inflict a major defeat on three main enemies. First, those Tories who allowed William Hague, Iain Duncan Smith and Michael Howard to take the Conservative Party down the blind alley of anti-Europeanism after 1997. Second, Ukip and the BNP, who have used the European Parliament elections to promote a xenophobic politics. And third, voting down Brexit will be a humiliation for Rupert Murdoch and the other off-shore media proprietors who have used their media power to promote crude, often openly dishonest anti-European propaganda.
This is down and dirty politics, but voting against isolationism should find a majority - and bring to an end the two-decade long campaign by the right and far-left against Europe.
Denis MacShane is Labour's former Europe Minister and author of 'Brexit: How Britain Will Leave Europe'
Register for free to continue reading
Registration is a free and easy way to support our truly independent journalism
By registering, you will also enjoy limited access to Premium articles, exclusive newsletters, commenting, and virtual events with our leading journalists
Already have an account? sign in
Join our new commenting forum
Join thought-provoking conversations, follow other Independent readers and see their replies