Imran Khan was once seen as a saviour – but in the Pakistan election he was just the least bad option
A popular chant amongst PTI supporters is 'Who will save Pakistan? Imran Khan! Imran Khan!' But in many people's eyes, the ex-cricketer is very much part of a tarnished establishment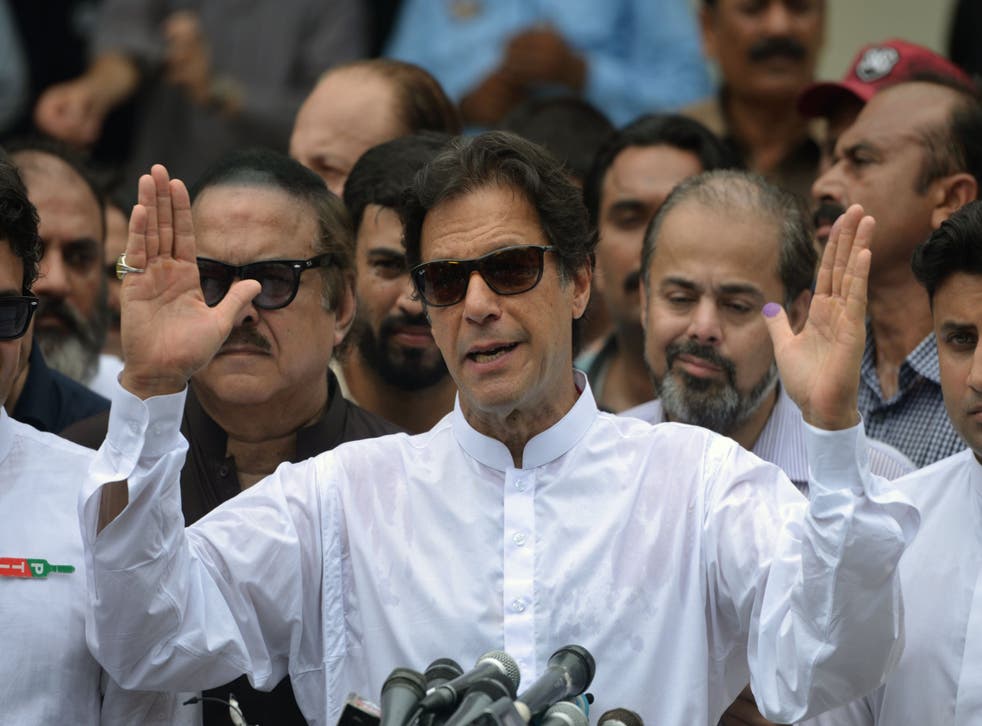 By the time I finish writing this article it is highly likely that Imran Khan will be announced as the next prime minister of Pakistan, a culmination of decades of struggle in the political wilderness. In order to understand the magnitude of this achievement, imagine a prime minister in the UK being elected from a party other than Labour or the Tories.
A common theme in the international coverage of this election has been allegations of interference in the electoral process by the military establishment, with the inference that Khan was appointed rather than elected to his new role.
To people who have been following Pakistani politics, accusations of military interference, voter fraud and rigging are nothing new. In fact, in the previous election, Pakistan Tehreek-e-Insaf (PTI; Khan's political party) were the most vocal about their reservations regarding the legitimacy of the elections, holding a protest march and mass sit in, bringing the capital of the country to a standstill.
Many feel that the Pakistan Muslim League (PMLN), who are now the aggrieved party, have only themselves to blame. They had an absolute majority in the previous government but refused to make any meaningful reforms to the electoral process, perhaps because it never occurred to them that they might one day be on the other side of such alleged machinations.
With their leader and the heir apparent now both in jail on corruption charges, and losing seats in former strongholds, politicians in PMLN are crying foul.
"I will make them cry!" Imran Khan had once famously promised, the soundbite now prominent in online videos, memes and songs and printed across many supporters' T-shirts. It was considered far-fetched at the time, bearing in mind that they seemingly controlled all the state institutions and had an air of invincibility around them, but Khan has a knack of delivering the impossible – and that is what his appeal is all about.
He led the country to its only World Cup in one-day cricket in 1992 after many had written them off. When he envisioned a state-of-the-art cancer hospital with world class facilities, where the majority of patients who could otherwise never afford the treatment would be treated free of charge, he was told that it was an impossible dream to have in a country where even the government has not provided such a facility. He ignored the naysayers and went across the country and abroad trying to raise enough funds. The Shaukat Khanum Memorial Cancer Hospital and Research Centre opened its doors in 1994 and is one of the most prominent charities in Pakistan.
Despite his legendary status as the country's most famous sports celebrity and a stellar reputation as a philanthropist, Imran Khan was not immediately embraced as a politician. He was routinely mocked by the press as being too naive and idealistic to be taken seriously, and given disparaging labels such as Im the Dim.
That there is no such thing as unbiased coverage is perhaps as true in Pakistan as anywhere else in the world. In a country where the highest rated television shows are often current affair programmes, there is no dearth of shows covering politics, but you would be hard pressed to find a single one without some sort of agenda shaping its narrative.
The journalism world in Pakistan is small and incestuous – mostly consisting of a privileged clique that are famously tribal.
Waters are further muddied when government ads are brought into the equation. With the global decline of the industry, additional revenue sources such as this are a lifeline, but it brings into question the impartiality of the news organisations that are major beneficiaries. Thus, Pakistanis have become used to taking any sensational piece of news with a grain of salt.
The Taliban Khan label is one example of such partisan hyperbole. Imran Khan has always been a strong proponent of peace talks with the Pakistani Taliban (TTP), that much is true – but it has always been because of concern for the collateral damage that comes with any military option. Imran Khan always advocated holding off on any military action until all peaceful means had been exhausted. But he had an almost bullheaded and tone deaf approach to the matter, often bringing up the issue of peace talks at inappropriate moments such as in the aftermath of violent acts carried out by the TTP and well past the time such talks seemed feasible.
His stance on collateral damage by drone strikes and military operations was later vindicated by the Pashtun Tahafuz Movement long march, a massive justice movement decrying excesses, discrimination and collateral damage suffered by many Pashtuns, for which many of the people who had derided him as a Taliban apologist voiced their support for.
So who is the real Imran Khan? He is often accused of being right wing, but his policies are no more to the right than the PMLN. I became a supporter of PTI when I was in my early teens, enamoured by the calls for social justice, establishing a social welfare state and fighting corruption. In Khyber Pakhtunkhwa (KPK), the province where his party was in power, PTI depoliticised the local police – a major achievement in a country where other political parties in government often use them as personal goons. They improved standards of public education, provided health insurance to a large segment of the population, and launched a major environmental conservation project called the Billion Tree Tsunami at a previously unprecedented scale.
However, his capitulation towards religious conservatives and embracing the Khatme Nabuwwat movement, responsible for the persecution of Ahmadis, meant I could no longer in good conscience actively support him or the party.
Longtime supporters have also been disheartened by the allocation of party tickets to opportunist electables, jumping ship from other parties, over the nomination of ideological party workers.
Much like Pakistan itself, Imran Khan is complex and often contradictory. After all, Pakistan is a country where the most prominent progressive party, the Pakistan People's Party, is responsible for the passing of the second amendment, officially declaring Ahmadis as non-Muslims and enabling their persecution, and is the biggest patron of the feudal system, which is almost akin to modern slavery.
Workers of the Awami National Party, another major progressive party, were responsible for the lynching of Mashal Khan on false allegations of blasphemy, in a case that shook the country. The PMLN were accused of covering up the biggest child abuse scandal Pakistan had ever seen. The Muttahida Qaumi Movement's militant wing has been accused of multiple murders. The list of dirty laundry goes on and on.
Pakistan can also ill afford another tenure of unbridled corruption and mismanagement of the economy that has come with previous governments – perhaps another reason why many Pakistanis now voted for PTI in droves.
Khan's victory will be bittersweet. A popular chant among PTI supporters is: "Who will save Pakistan? Imran Khan! Imran Khan!" Unfortunately, in many people's eyes, he has gone from being the saviour the country needed to just the least bad option on the table.
Join our new commenting forum
Join thought-provoking conversations, follow other Independent readers and see their replies