Independent readers react to Philip Hammond's Autumn Statement
Please send your letters to letters@independent.co.uk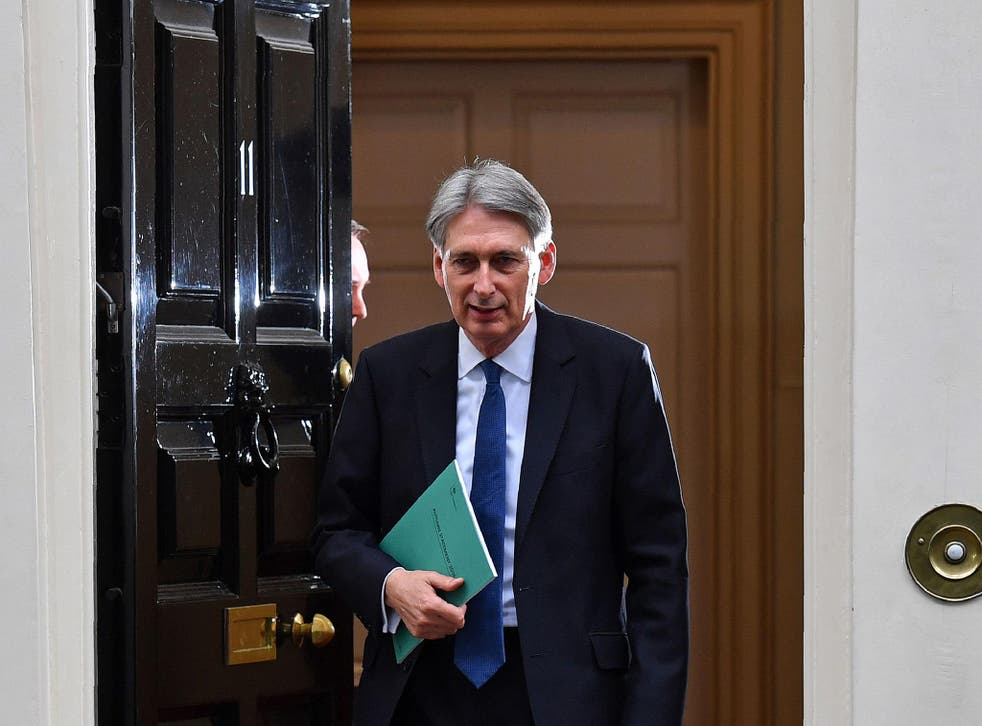 It is striking to note the findings of the Resolution Foundation, highlighting that while top earners were hit the hardest following the financial crisis, looking forward the biggest losers are lower income families, with the entire bottom third of the income distribution set to see incomes fall in the years ahead.
In recent months it looked like the Government recognised that it had inherited welfare cuts that would mean significant income falls for the very just-managing families that Theresa May has rightly highlighted as deserving support. Indeed, the Autumn Statement did include some welcome measures to raise the minimum wage, tackle letting agent fees and reduce the taper rate at which benefits are taken away as families earn more.
But overall the rhetorical commitment to just-managing families has not been delivered upon. The giveaway from that reduced taper being wiped out more than twice over by the additional takeaway from higher inflation deepening the impact of the freeze on benefits over the next few years.
This is clearly deeply disappointing and worrying for those families on the lowest incomes. Since arriving on the steps of Number 10, Theresa May pledged to help those who are just about managing. This pledge is clearly not being delivered and more help is needed for low income families if we are to prevent them being hit hardest.
Alex Orr
Edinburgh
The UK ministers in charge of negotiating trading terms with the EU seem very confident that they will be able to negotiate a deal favourable to the UK. They argue that Europe would be mad to reject something that was economically beneficial to itself. The figures from the OBR, announced in Wednesday's Autumn Statement, suggest that is exactly what everyone did when they voted for Brexit in the first place. Am I missing something?
Malcolm Harris
Grimsby
Despite promising to govern for all, the Government has betrayed older, vulnerable adults by failing to address the country's social care and NHS crisis in Wednesday's Autumn Statement. It didn't even warrant a mention. Successive governments over decades have put social care to the back of the queue and it has to stop.
By failing to act, the number of people going without care – currently one million – will rocket, as more care homes close and homecare providers go under. And as social care vanishes, NHS care will break under the strain.
Never has the call to tackle the social care crisis been so loud and united and never has the response been so empty. How do we make the Government listen – stand as MPs ourselves, to change it from within?
Neil Kinnock once said: "I warn you not to grow old". And in 1997 Tony Blair said he didn't want children to grow up in a country where the only way pensioners could get care was by selling their homes. How true and how shaming those words have now become. People deserve better.
Mike Padgham, Independent Care Group
Scarborough
There was something today called an 'Autumn Statement'. As far as I can tell it was a faceless man making things up as he went along.
I was half expecting to see an independent adjudicator pop up to verify that all the numbers were most definitely random and generated by a ball machine called Lancelot.
Apparently government finances will be £122bn worse off by 2020. I'm not sure how many zeros that is but I imagine quite a lot. Faceless-make-it-up-man said borrowing next year would be £59bn and not the £38bn as predicated by the random number generator in March.
But everything was going to be alright because in 2021-22 Lancelot, sorry I mean experts, forecast that borrowing would only be £17.2bn.
With all the uncertainty over the Brexit kerfuffle the experts have changed their mind to the tune of £21bn for next year since March. So with nothing settled on that front how am I supposed to believe the forecast for six years' time? You would get as accurate a forecast as that from the experts by opening a blank spreadsheet and letting you cat walk over the keyboard.
Oh yes, and the Autumn Statement is so important they won't be doing it any more. Somebody forecast that it was an enormous waste of time.
Mike Ireson
Hampshire
The housing and infrastructure announcement made by the Chancellor shows renewed support for the housebuilding sector; legislation which will positively benefit the development of new homes in the long term. Not only will it deliver more much-needed affordable housing in its own right, but also act as a stimulant in creating additional private homes on schemes where there is a significant affordable housing element. The fact that the Government is supporting affordable housing again must be seen as a positive.
Yet, the key to safeguarding the successful allocation of the pledged £2.3bn housing infrastructure fund is to ensure it is spent in sustainable locations, where there is a real need for improved connectivity and demand for housing.
Justin Gaze, joint head of residential development at Knight Frank
London
Register for free to continue reading
Registration is a free and easy way to support our truly independent journalism
By registering, you will also enjoy limited access to Premium articles, exclusive newsletters, commenting, and virtual events with our leading journalists
Already have an account? sign in
Join our new commenting forum
Join thought-provoking conversations, follow other Independent readers and see their replies