The cremation furnaces are melting – it is scarcely possible to process the human tragedy unfolding in India
As millions suffer due to the government's incompetence, feelings of helplessness and anger are growing, writes Maroosha Muzaffar from Delhi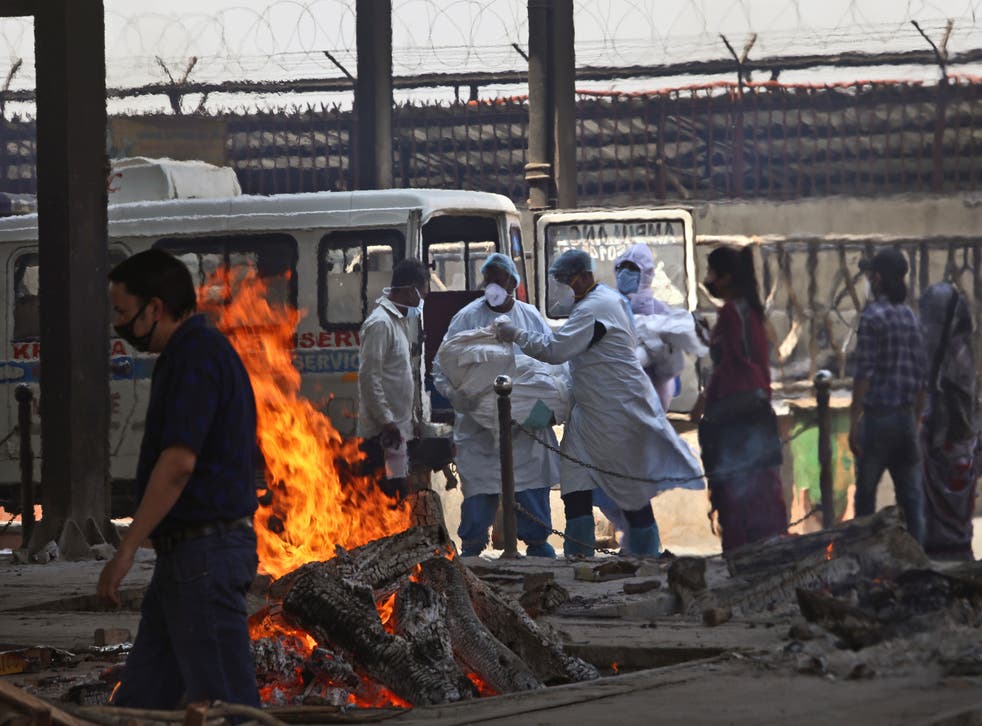 Every morning I receive a notification on my phone informing me of the number of Covid positive cases in India. Today it was 314,644 – the world's biggest-ever daily spike since the start of the pandemic last year.
I scroll through the numbers, latest news updates, take my dog for a walk and start my day. It's been like this for the last year now. My mind is unable to process the human tragedy that is unfolding all around us.
But it does make me angry – angry at the sheer incompetence and apathy of the government led by Prime Minister Narendra Modi. Covid has devastated the country and exposed the government's hypocrisy. They carry on with their election rallies and hollow speeches when the entire health infrastructure is crumbling right in front of their eyes.
They invited hundreds of thousands of devotees to Maha Kumbh, one of the biggest religious Hindu festivals, even when the second wave was raging across India. And even when the health ministry had warned that it could become a superspreader event. We saw thousands of maskless people gathered together with no social distancing. Even today the union home minister, Mr Amit Shah is holding rallies across West Bengal. It is clear what their priority is: votes.
On my social media, I see desperate pleas for help from families of Covid positive patients looking for hospital beds, of dead bodies laying around crematoriums and graveyards, of people scrambling for oxygen cylinders. People, gasping literally, waiting outside hospitals for medicines. I saw a video of a couple on the news this week, the husband crying and begging outside a government-run hospital: "My wife will die. I will hold your feet but please admit her. I beg you."
The 43 year old had already been turned away from three hospitals in Delhi. It is hard to watch news these days without feeling helpless. And angry.
Four of my very close friends are battling Covid-19 at this very moment. One has been hospitalised and her entire family has tested positive. She has a five year old who has nowhere to go. Three of my colleagues are also battling Covid.
Another friend lost both her parents to the virus recently, within 10 days of each other. She texted me: "Dude, this new wave is really triggering me. I'm losing my mind." I didn't have any words of encouragement for her. I told her, "stay away from news if you can", and continued "doom-scrolling" myself.
On my Instagram, too, there are frantic calls for help from strangers being shared widely. Even influencers who continued making money throughout the pandemic last year, thanks to their "shout outs" to brands, are now posting stories highlighting Covid resources. It is a shame that in a country like India, which is considered an economic superpower, citizens have to rely on strangers on the internet rather than the government.
I wish we didn't live in a world where the prime minister of the country refuses to take any press conferences and hence refuses any real accountability. In his recent address to the nation, which was just full of platitudes, Modi urged youngsters –baal mitre he called them – to make sure that their family members stay indoors during the pandemic.
In a parallel universe, probably unknown to him, people lost their lives to the deadly virus and were left to fend for themselves. While the prime minister must have had his dinner post speech, I shudder to think how many must have gone looking for cremation wood and burial space. The grief is unimaginable.
People who lost their loved ones to Covid have gone silent. And are watching the terrible human cost of poor policies of the government and collapsed infrastructure. A 65-year-old journalist recently lost his life waiting for help as he live-tweeted about his deteriorating health due to Covid. No one came to his rescue. No is coming to our rescue. As I write this, Mr Shah is addressing an election rally in West Bengal.
The situation in smaller cities and towns is possibly even worse. The numbers we hear everyday are probably just the tip of the iceberg. Recent reports also suggested that there is massive under reporting of Covid deaths in the country. A news report I read recently said that in Gujarat in western India, the gas and firewood furnaces [used for cremations] have been running non-stop during the pandemic, so much so that their metal parts have started melting.
We have not even begun to talk about the mental and emotional toll this pandemic has taken on the people who work in the funeral services. 
However, sometimes I feel a flicker of hope in spite of apathy of the government. I feel like it has all come down to the youth of the country. They are making toolkits for families of Covid patients. Others have started going for grocery runs for their Covid-positive neighbours.
Communities are helping each other. Strangers are amplifying pleas for help. But in spite of the mutual aid and solidarity we are seeing in action, it is sadly not enough. It is a shame that people have to do this for their fellow citizens. We already pay taxes. It is the prime minister's job.
Meanwhile, a certain ennui has set in. No news is uplifting these days. Oxygen cylinder leaks in Maharashtra killing 22. There is a shortage of oxygen in hospitals. Pregnant women have nowhere to go. Covid patients are dying in hospital parking spaces.
I read the news and think of pre-Covid "normal" mornings. I eat my breakfast of tasteless toast and omelette, while my dog sits at my feet. I throw her the crumbs and half of that omelette. And make myself another cup of coffee.
Register for free to continue reading
Registration is a free and easy way to support our truly independent journalism
By registering, you will also enjoy limited access to Premium articles, exclusive newsletters, commenting, and virtual events with our leading journalists
Already have an account? sign in
Register for free to continue reading
Registration is a free and easy way to support our truly independent journalism
By registering, you will also enjoy limited access to Premium articles, exclusive newsletters, commenting, and virtual events with our leading journalists
Already have an account? sign in
Join our new commenting forum
Join thought-provoking conversations, follow other Independent readers and see their replies