India's election is a remarkable exercise in democracy; but can violence be kept in the margins?
Two political activists, one for each party, were killed in clashes outside a polling booth in the village of Veerapuram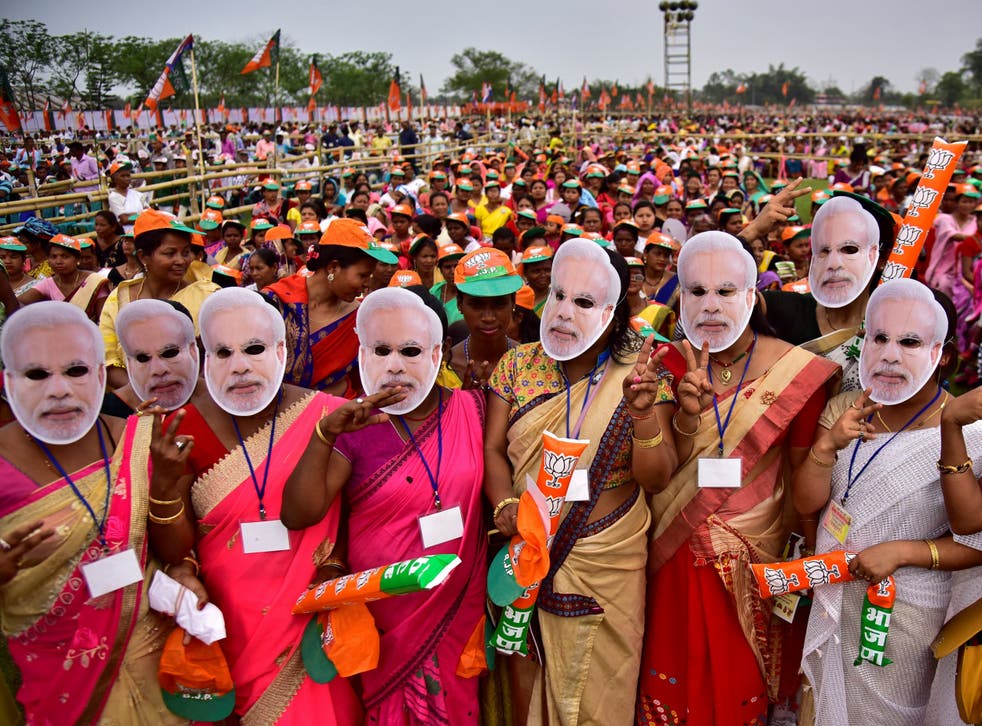 In India it's known as the dance of democracy.
After many months of bitter and acrimonious campaigning and in spite of some missed beats on the day, the general election here finally got into full swing on Thursday, with an estimated 93 million people casting their votes across 20 states and union territories.
That's more people than the entire population of the UK, plus a third. And this was only phase one - in the coming six weeks, up to 760 million more Indian voters will have their say in what has been billed as one of the most important elections in decades.
It is very early days yet, but already both the ruling Bharatiya Janata Party (BJP) of Narendra Modi and the main opposition Congress party of Rahul Gandhi are claiming to be off to a winning start. Modi took a leaf out of the Trump playbook by boasting about his crowd sizes in southern Assam, while Gandhi took a dig at the prime minister for thinking he's "bigger than the people of India".
If this first day of voting can tell us one thing about the way this election is going to go, it is that India's increasingly toxic political landscape, both in the form of social media bickering and real-world violence, is not going to stop people going to the polls.
Holi 2019 in pictures: Hindus celebrate Indian Festival of Colours

Show all 20
Turnout was estimated to be around 66 per cent – roughly the same as the average for the 2014 vote, which Modi's BJP won by a stunning landslide, and about on par for most elections in recent years.
Within that national figure there were huge discrepancies. In the fiercely contested West Bengal and Andhra Pradesh, turnouts were reported at 81 per cent and 73 per cent respectively. While in Baramulla in the Kashmir valley, where militants and separatists called for a boycott, it was just 32.29 per cent.
That's actually still not terrible for a region that remains so turbulent it was decided unsafe to hold local assembly elections there: a system of governor's rule is to be maintained instead. Pictures showed queues at Kashmiri polling booths, with voters telling reporters they wanted to make their voices heard.
They turned out in spite of a real threat of violence. A 15-year-old boy was killed by pellet guns fired by the security forces during a protest after voting concluded in Handwara, in the northern part of the valley, hospital officials said.
Despite this, the atmosphere was described as "largely peaceful", an improvement for sure on 2014, and in Jammu – the only other seat in the state polling in phase 1 – turnout was up at 72 per cent.
The biggest disturbances actually came in southern Andhra Pradesh, where the two big national parties hardly get a look-in and control of the state is fiercely contested between the regional Telugu Desam Party and its main opposition YSR Congress.
'Today, India has registered its name as a space superpower' Modi on successful test of anti-satellite missile
Two political activists, one for each party, were killed in clashes outside a polling booth in the village of Veerapuram, and at least two others were injured.
It was also from this state that the most complaints were received regarding the malfunctioning of electronic voting machines (EVMs). The state's chief minister, N Chandrababu Naidu, went as far as to accuse the Election Commission of "atrocities" and said he would march on the Supreme Court, demanding a return to the use of paper ballots.
The Commission admitted there were some faults with EVMs but said it affected less than 0.5 per cent of machines. And in spite of the disparate reports of violence, it heralded what it called a relatively "smooth" start to proceedings.
Indian elections - victory for Narendra Modi

Show all 12
"We thank the voters for coming out to vote in significant numbers. We would also like to thank the state machinery, security forces and nodal officers in various states for their support to ensure smooth polling," said deputy election commissioner Umesh Sinha.
During these elections, as is so often the case with India, it is important to bear in mind the sheer scale of the operation. For while there was clearly some disruption, we haven't (as yet at least) seen anything to match the serious communal violence that marred 2014's vote.
In Congress's manifesto, Gandhi accused the BJP of using its five years in power to create "an overall climate of fear, intimidation and hatred", and to undermine the independence of national institutions.
It has been reassuring, therefore, that the vast majority of the images of the election so far are of cheerful voters lining up, or smiling after casting their ballot with their fingers smudged by indelible ink.
In Uttar Pradesh, the state offering the most seats in parliament and arguably the greatest bellwether for the nation, young men and women described their excitement at voting for the first time and displayed their faith in the power of democracy.
"Voting is our right," 20-year-old Sanjay Kumar told the Hindustan Times, "…to change governments who don't work for us and vote out oppression. If someone new comes into power, they will have to introduce something new for the people."
Support free-thinking journalism and attend Independent events
With phase one of this dance of democracy over, officials have just a few days to prepare before the next song plays on 18 April, when the fates of several key southern states will be decided. Though there are no exit polls allowed, psephologists will start to look for patterns in turnout and the major parties will hone their efforts on the swings seats still to come.
For election observers there can be no more inspiring exercise than this in the world – and the drama has only just begun.
Register for free to continue reading
Registration is a free and easy way to support our truly independent journalism
By registering, you will also enjoy limited access to Premium articles, exclusive newsletters, commenting, and virtual events with our leading journalists
Already have an account? sign in
Join our new commenting forum
Join thought-provoking conversations, follow other Independent readers and see their replies