I spent time with the survivors of Indonesia's earthquake and tsunami – and this is what I saw
The devastation of the Sulawesi disaster has impacted the lives of tens of thousands of people. Photojournalist Paddy Dowling travelled to the heart of the tragedy, where its victims are slowly rebuilding their lives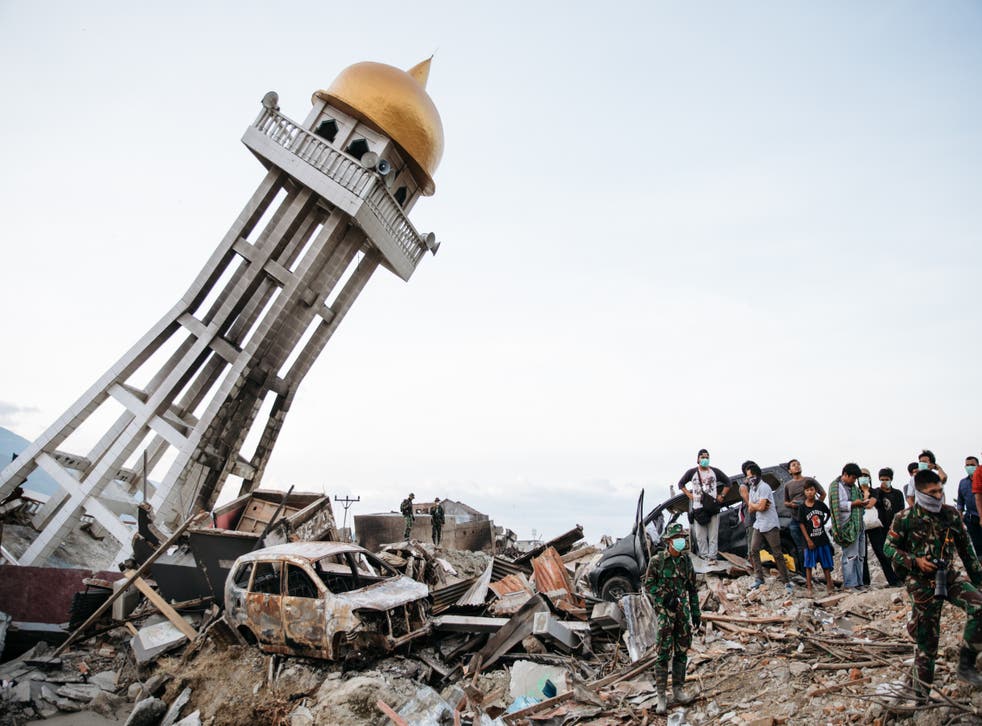 The sweet stench of death hangs thick and heavy in the early evening air at Perumnas Balaroa, Palu, Indonesia. Approximately 300 families perished in this area alone on 28 September in an earthquake measuring 7.4 on the Richter scale. There were 1,763 recorded deaths (now 1,948 and counting), 2,632 injured and 62,659 internally displaced people (IDP) camps in Mamuju and Makassar. To an expansive backdrop of devastation on an apocalyptic scale, locals gather together to recite the Quran and pray for friends and relatives lost.
Positioned on a mound, Budi, 35, head of media for Indonesian based NGO, Garbi who deliver emergency meals, drinking water and medical services, looks down to the ruins of where his parents' house once stood. His solitary figure motionless, heavy, and silent, he scrambles down the bank and pulls a box from between the shards of concrete, which contains his mother's shoes, a memory for him to hold on to.
Victims of Indonesia's Tsunami in 2018

Show all 23
Beyond the banana and coconut trees is the ruin of Darul Muttaqin Mosque where 35 bodies are being excavated after being cocooned in the buildings that swallowed them. Bubba, 65, who lives 220km from here in Pose, has waited patiently for eight days for news of his missing son feared buried below the rubble. Aged 28, he worked as a laptop repair specialist in the shadow of the mosque at JL Kenanga street.
The endless excavated bodies hang limp – hands and feet protruding from every bucket of mud dumped in long piles. Body bags zipped up then lined up. Men, women and children the youngest no more than three years in age. The hot air astir with flies.
In the centre of Palu, Lewi Kai, 44, sits and waits alongside emergency workers dressed in an array of orange, green and yellow overalls. The rescue team work in rotation searching for Lewi's wife, her body still trapped in the five-storey building that collapsed on her. They cut sections through the reinforced concrete floor layer by layer to reach her. With the search now in its eighth day, all hopes of finding her alive have faded. His eyes heavy from grief, he realises she will inevitably form another number in the toll of those that so tragically lost their lives in central Sulawesi.
With nightfall, an eerie silence falls across the town of Palu, in contrast to the sound of enormous machinery grinding through rocks and metal searching for the victims of this disaster by day. Muhammadiyah University, which once taught the next generation of young professionals in the region, has now been repurposed as makeshift accommodation for search and rescue teams, aid workers and IDPs.
The coastal town of Donggala, situated an hour's drive north of Palu, was once a popular tourist hotspot for many Europeans. Now it is littered with overturned vehicles jammed in against the few trees left standing. The only westerners left in the area are the very few permitted to operate as NGOs, as Indonesia's government keep the humanitarian assistance in-house and in-country. The exceptions only being made to those with local delivery partners on the ground.
Fadlullah Wilmot, head of mission for Muslim Aid Indonesia, says: "Even though Indonesia is used to earthquakes, this event is significant and has prompted the government to announce it as a national disaster. A long road lies ahead for government humanitarian agencies and the people involved to rebuilding their lives and their livelihoods." YKMI, the Indonesian partner of UK-based NGO Muslim Aid, is cooperating with other local partners to deliver food, clean drinking water and shelter.
850km south of Donggala, the smell of burning rubbish fills the air at the Sudiang Hajj home in Makassar, south Sulawesi – Indonesia's newest IDP camp providing temporary housing for around 10,000 people flown out of Palu by Indonesian Air Force Hercules transport planes. An endless stream of small open top trucks arrives in an overwhelming public display of solidarity, bringing donations of food, bottled water and clothing to assist the victims of the earthquake and tsunami in central Sulawesi.
International NGOs such as GlobalMedic from Canada wait for permits to access the disaster zones around Palu, helping where they can. Daniel Cyr and his colleagues arrive on site at the IDP camp in Makassar to help repurpose bottled water greatly needed in the affected areas. Their small-sized AR3 emergency water purification system is capable of treating 14,400 litres of water per day – enough to provide 3,500 people with the drinking water they need.
Streams of new arrivals step down wearily off buses from Makassar airport, assisted by the military, carrying what little possessions they have left from their homes, a majority who fled with just the clothes on their back.
An elderly gentleman is carried into the makeshift processing hall. Too exhausted to walk, Rahman, 75, from Palu, clings to the back of an army soldier who carefully places him into a chair. He sits alone, quietly, in shock, staring at his hands in his lap as he nervously twiddles his thumbs.
His cap casting enough shadow over his eyes to hide the emotion from view, he says: "The sea reared up like a cobra before it swallowed every main road and alleyway." Rahman and his family ran for their lives: "They were right beside me but when I looked back they were gone." He lost 10 members of his family that day.
This tragedy, although a harsh reminder of the fragility of mankind in the face of mother nature, has failed to dull the spirit and compassion of the residents of central Sulawesi. Their incredible resilience in the face of adversity will prove vital to rebuilding their towns, villages and lives.
Paddy Dowling is a humanitarian photojournalist who collaborated with Muslim Aid as part of his research for this article
Register for free to continue reading
Registration is a free and easy way to support our truly independent journalism
By registering, you will also enjoy limited access to Premium articles, exclusive newsletters, commenting, and virtual events with our leading journalists
Already have an account? sign in
Register for free to continue reading
Registration is a free and easy way to support our truly independent journalism
By registering, you will also enjoy limited access to Premium articles, exclusive newsletters, commenting, and virtual events with our leading journalists
Already have an account? sign in
Join our new commenting forum
Join thought-provoking conversations, follow other Independent readers and see their replies