Why are doctors in the Middle East cosying up to foreign armies?
Jonathan Whittall of Medecins Sans Frontieres scathingly attacked what he called 'stethoscopes for hire', those who operated 'as contractors driven by profit rather than the principles that guide humanitarian action in conflict'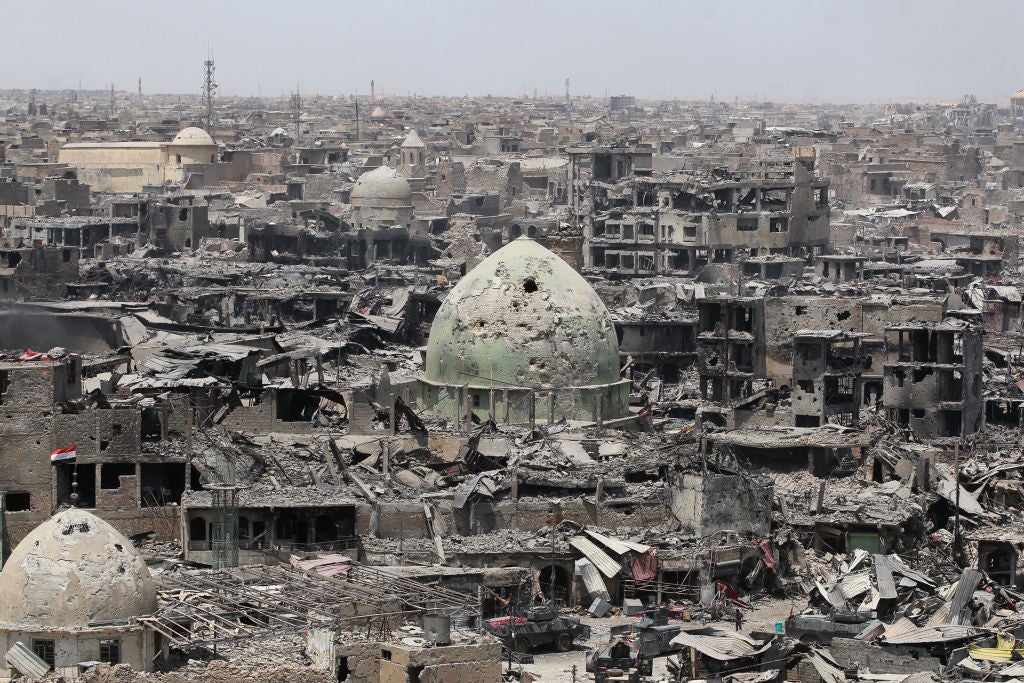 Foreign doctors in war zones have to talk to the bad guys. Always. NGOs need protection, they have to negotiate checkpoints, they sometimes have to bribe gunmen with food – think Darfour. Sometimes – remember Afghanistan and the ICRC – they are murdered. But the sieges of cities and towns in the Middle East these past two years have produced a new and more profoundly disturbing challenge: medical aid groups who embed themselves in armies and militias and thus align themselves with one side in the conflict.
Jonathan Whittall of Medecins Sans Frontieres (MSF) first raised the alarm during and after the siege of Mosul when doctors and medical personnel sometimes allowed local security forces to check the identity of patients entering their hospitals or aid centres. "Sometimes they gave the names of patients to the local secret services," Whittall told The Independent. "Horrific compromises were made to work hand-in-hand with the international military coalition. The wounded were often not treated as patients but as suspects. This fundamentally compromises the trust patients have in medics. And this makes our work less effective".
Based in Beirut, Whittall is director of MSF's analysis department and spent the first four weeks of the Mosul siege – as US-supported Iraqi troops and militias surrounded Isis forces amid tens of thousands of civilians – on the edge of the fighting as a project coordinator, receiving an influx of wounded as the front lines moved forward. He was so appalled at the "compromises" which he witnessed that he later wrote to the British Medical Journal.
World news in pictures
Show all 50
Sixteen years after the "War on Terror" began, Whittall gave an angry description of the Mosul siege: "most humanitarian actors behave in line with how [ex-US Secretary of State] Colin Powell described their role in 2001: 'NGOs are such a force multiplier for us, such an important part of our combat team.'"
The majority of wounded patients, Whittall wrote, "first arrive in trauma stabilisation points [TSPs] located close to the front line and embedded within different divisions of the Iraqi national security forces. Some TSPs are run by armed medical personnel, some of whom wear patches on their uniforms that say 'Make Mosul Great Again' – a clear reference to the US military campaign." MSF is entirely funded by private donations in Iraq. MSF's hospitals, Whittall said, "are gun-free zones... we negotiate with all authorities not to use our hospitals for law enforcement".
Early last year, the US network PBS Newshour published a photograph of what it called "a Norwegian volunteer medic" writing "Make Mosul Great Again" on the base of a destroyed Isis billboard in western Mosul. The most extraordinary part of the illustration – unmentioned in the caption – is that the Norwegian was wearing full military camouflage combat uniform and a flak jacket. The phrase "Make Mosul Great Again" has been advertised by the US military "Soldier Systems" blog which last year showed photographs of shoulder patches with the same logo – for sale, alongside Iraqi military insignia, "in order to donate 100 per cent of the proceeds towards medical aid and equipment for civilians currently escaping Isis".
The insignia belongs to ISOF, the Iraqi Special Operations Forces, the so-called "Golden Division", created with the help of the Americans in 2003 and which includes a unit called in Arabic "jihaz mukafahat al-irhab" – it can be translated as "counter-terrorism office" – and is funded by the Iraqi defence ministry.
The same Soldier Systems blog boasted 10 months ago that "we have been going over to Kurdistan and Iraq for the last two years supporting [Kurdish] Peshmerga and now recently ISOF in [a] certain (sic) capacity. We met and worked together with an organisation called 'The Academy of Emergency Medicine' on our last couple of trips, assisting them in rendering aid to civilians and soldiers on the battlefield. These guys are the real deal. Based out of the Slovak Republic, they are currently embedded with ISOF and are doing a lot of good on the medical front."
The Academy of Emergency Medicine describes itself as an "international NGO based in Slovakia", that operated "in war-torn Iraq" where "as the fight against the so-called Islamic [sic] State continues, our certified paramedics and doctors are working to save human lives...". But the "academy" also states that "we are closely cooperating with [the] international humanitarian community, civilian and military medical personnel and coalition security and armed forces". It does not describe the nature of its "cooperation" with the "security and armed forces".
Theresa May visits Iraq following the reclaiming of Mosul
But Jonathan Whittall remains deeply troubled. He says that in an MSF hospital south of Mosul during the fighting, he heard his medical unit described as "the American hospital", illustrating the risk that anything "foreign" was associated with the US military campaign. MSF's difficulties were caused by decisions "by other medical actors" to align with one side in the conflict.
In his BMJ article, Whittall scathingly attacked what he called "stethoscopes for hire", contractors for a commercial medical company who operated "as contractors driven by profit rather than the principles that guide humanitarian action in conflict. Other patients are referred to a hospital managed by a Christian organisation. At these hospitals, patients are officially screened by security forces against a list of potential suspected Islamic State members or sympathisers. Using health facilities in this way for law enforcement purposes makes health facilities places to be feared and further aligns healthcare to one side of this conflict."
The World Health Organisation adheres to the medical profession's ethical duties, Whittall says. "Yet it is this same WHO that has subcontracted its emergency health programme to these hospitals including the screening practice."
Would, for example, the WHO have funded Russian medical posts to be embedded with Syrian army units on the front lines of east Aleppo? They did not do so. But no one questioned the decision to make the same political compromise in Iraq. In Yemen, Egypt, Libya, Mali and Nigeria, similar sieges may soon develop. Whose side will the doctors be on then?