Ireland's abortion referendum signals progress for women – but north of the border under the DUP, things look grim
Many thought that the referendum on equal marriage in the Republic of Ireland in 2015 would encourage politicians to campaign for a similar change in the law in Northern Ireland. But the last couple of years has shown us that progress can suddenly stall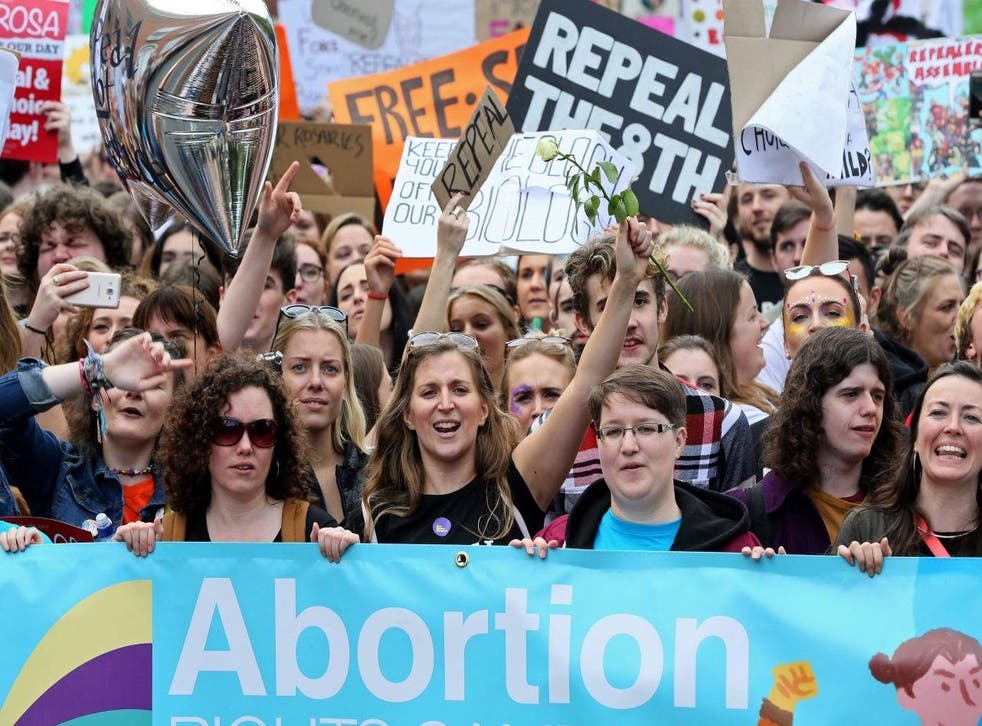 "Essentially what we're asking people to do is to allow us to change the constitution so that we can make changes to our laws – liberalise them, relax them, make them more compassionate… We're asking people, now, to trust women."
For thousands of Irish people watching a blurry YouTube live stream, or desperately refreshing Twitter last night, hearing Taoiseach Leo Varadkar say those words proved to be a surprisingly emotional moment.
After a mammoth six-hour cabinet meeting, pro-choice campaigners had been waiting anxiously to hear Varadkar's statement. Despite a commitment to support a change in the law on a BBC Radio 4 programme over the weekend, it was unclear exactly how far he would be willing to support a change in the legislation.
In the end though, there was relief. There will be a referendum before the end of May – a crucial concession which allows full participation from students and young people – and although the exact wording is yet to be announced, the basic question is clear. If successful, Article 40.3.3 (the Eighth Amendment) is to be removed and replaced by a short statement enabling the Oireachtas to legislate on the issue of abortion. Of course, the real battle is still to come – winning the referendum.
The Eighth Amendment was inserted into the constitution via a referendum in 1983. While abortion was already illegal at that time, a constitutional ban meant that there was no possibility of future governments legislating for abortion access. In order for there to be any change to the law, there would have to be another referendum.
In the 35 years since, hundreds of thousands of Irish women have travelled to Britain to have an abortion. In many ways, the close proximity of a jurisdiction with comparatively liberal laws allowed Irish politicians and Irish people to sweep this problem under the carpet, and pretend it wasn't happening.
Maria Caulfield, the pro-life MP appointed Tory vice chair for women, opposing decriminalisation of abortion in parliament
Recently though, that became impossible. The case of Savita Halappanavar in October 2012 who died after miscarrying and being refused an abortion, shocked Ireland, and the world. It emphasised to the public that the Eighth Amendment affected all pregnancies, including wanted ones. Heartbreaking stories like those of Claire Cullen-Delsol of Terminations for Medical Reasons (TFMR), whose wanted pregnancy was diagnosed with a fatal foetal abnormality, convinced many people that every abortion has a different story.
2017 saw a dramatic shift in political, as well as public, support for change. After the Citizens' Assembly and an Oireachtas committee recommended both the removal of the Eighth Amendment from the constitution and parliamentary legislation allowing for access to abortion without restriction on reason for pregnancies up to 12 weeks gestation, a referendum in 2018 was welcomed.
Unfortunately, the future looks significantly less bright north of the border. With the executive at Stormont unable to resume power and the hardline anti-abortion Democratic Unionist Party backing Theresa May's Government in Westminster, the chances of any liberalisation of abortion law in Northern Ireland are slim. Some commentators have suggested that a successful repeal campaign will provide the necessary momentum to act on this issue in Northern Ireland, but this seems unlikely. Many thought that the referendum on equal marriage in the Republic of Ireland in 2015 would encourage politicians to campaign for a similar change in the law in Northern Ireland.
UK news in pictures

Show all 50
However, despite widespread public support, the DUP have blocked any possible introduction of same sex marriage.
There are lessons to be learned from the 2015 Yes Equality campaign for those trying to repeal the 8th – mainly about just how difficult the next few months will be. Pro-life groups across Ireland are mobilising, and many of them are very well-funded. The Pro Life campaign recently hired uCampaign to set up its LoveBoth app – a digital consultancy that has previously worked for the NRA, Donald Trump and Vote Leave.
The Repeal campaign know that settling an issue like access to abortion through a referendum will put huge pressure on its volunteers, especially those who come forwards to speak of their personal experiences. But there is no alternative. The regional groups of the Abortion Rights Campaign, the Coalition to Repeal, the doctors, teachers, lawyers, midwives and parents for choice, the student unions and diaspora groups organising home to vote campaigns will all be putting everything they have into this campaign. And I believe that we will win.
Register for free to continue reading
Registration is a free and easy way to support our truly independent journalism
By registering, you will also enjoy limited access to Premium articles, exclusive newsletters, commenting, and virtual events with our leading journalists
Already have an account? sign in
Join our new commenting forum
Join thought-provoking conversations, follow other Independent readers and see their replies