This is why Isis attacked Barcelona
Despite a likely future increase in terrorist attacks, Isis risks a growing public disinterest and apathy toward its activities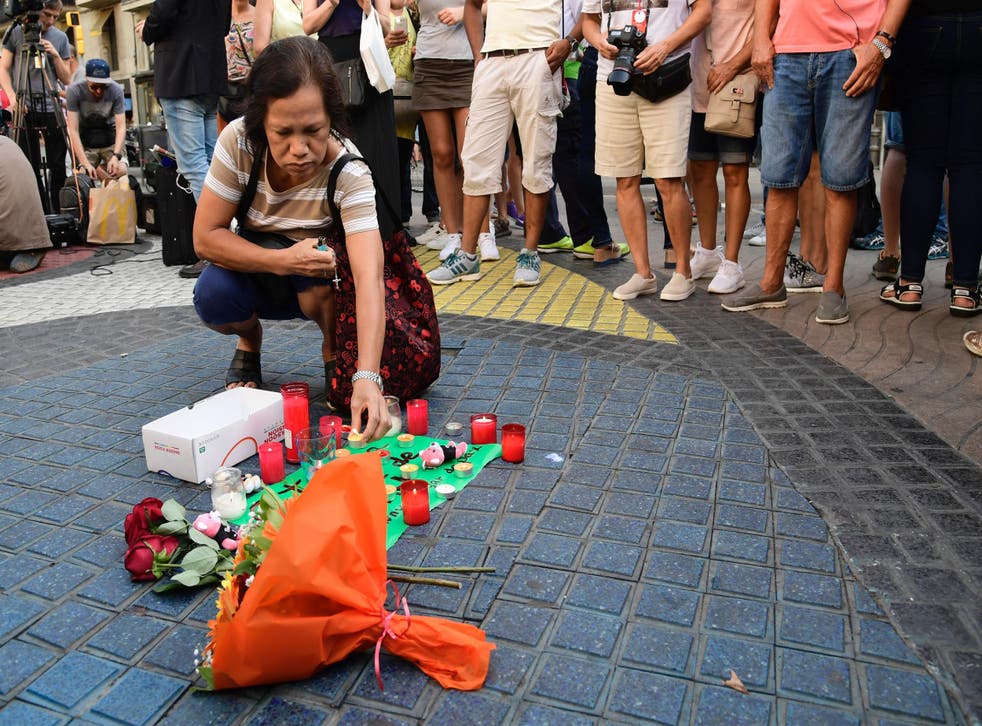 Despite its (relatively) low body count and primitive execution, Thursday's terrorist attack in Barcelona shocked many local and international onlookers. Isis was quick to claim responsibility for the attack in which a van was deliberately driven into pedestrians on Barcelona's famed Las Ramblas strip. At least 13 people are dead, and around 100 have been left injured.
The location and targeting of the attack deviates from the organisation's previous efforts. These have typically focused on punishing countries directly involved in military operations against it in Syria and Iraq.
But how reliable are its claims of responsibility? And why was Spain chosen, given its relatively inconsequential role in the fight against Isis?
The validity of Isis's claims
Verifying the culpability of terror attacks can be a tricky affair. Given that organisations that engage in terrorism are doing so from a position of weakness, there is always an incentive to lie in order to bolster mystique and inflate the image of threat.
13 dead and more than 100 injured as van driver brings terror to Barcelona
But in this regard, Isis seems to differ from previous groups. It has typically been reliably truthful in what it claims to have been its actions.
One Australian example of this can be found in the 2014 Sydney Lindt cafe siege. The perpetrator, Man Haron Monis, who was killed after taking 18 hostages, two of whom lost their lives, proclaimed he was acting under Isis auspices. But despite this declaration, and the potential propaganda victory it could bring, Isis resisted such advances and distanced itself from the incident.
While Isis would go on to praise Monis's actions, it never made any explicit claims to having organised or directed them. No pre-existing relationship was found in the subsequent inquest.
This incident, along with many others, seems to indicate that while Isis claims a butcher's bill of heinous activities, it doesn't tend to overtly lie about them.
Such a policy, while initially appearing counter-intuitive, maintains the perception of Isis as a trustworthy source of information. This is particularly important in recruitment efforts, and makes it difficult for governments to challenge the its claims in counter-propaganda.
For Isis, maintaining a twisted facade of chivalrous virtue remains paramount.
Spain and the clash of civilisations
The Barcelona attack also reflects Isis's view of the world as a civilisational clash.
Described as a "reluctant partner" in the anti-Isis coalition, Spain has resisted entreaties to join military efforts. Instead, it has opted for what it sees as a less risky role – providing logistical aid and training to local Iraqi forces, as well as preventing homegrown attempts to support Isis abroad.
Spain's limited role in the fight, particularly in contrast to other terror victims such as France and the US, might lead one to expect it to be relatively low on Isis's hit list.
But in terms of Isis's conflict narrative, Spain represents just another manifestation of a hostile Western civilisation in a state of war against the Islamic community. This leaves it more than open for reprisals.
At a spiritual level, Spain also holds a special place in Isis's mythology. Once a part of the Islamic empire, al-Andalus, as it is known in Arabic, is seen by many Isis ideologues as a natural territorial part of the end-state caliphate and currently under direct occupation by infidels.
Shock and bore
Terrorist reprisals like this attack are likely to intensify temporarily against Western targets throughout Europe and further abroad over the coming months and years as the terror group is systematically deconstructed on its home turf in Iraq and Syria.
Barcelona Attack

Show all 30
Isis remains heavily dependant on an image of defiant dynamism and a commitment to challenge the international status quo, which it claims subjugates the chosen community. As its ability to function as a "state" continues to decline, it will increasingly seek to maintain such a mystique through acts of spite against those that have prevented it from achieving its goal of a "caliphate".
Despite a likely future increase in terrorist attacks, Isis also risks a growing public disinterest and apathy toward its activities.
As one commentator has written, the banality and nontheatrical nature of Isis's approach to terrorism – particularly in contrast to al-Qaeda's keen eye for spectacular symbology – has left many onlookers less than impressed and far from terrified.
This piece first appeared in TheConversation.com
Register for free to continue reading
Registration is a free and easy way to support our truly independent journalism
By registering, you will also enjoy limited access to Premium articles, exclusive newsletters, commenting, and virtual events with our leading journalists
Already have an account? sign in
Join our new commenting forum
Join thought-provoking conversations, follow other Independent readers and see their replies