The Independent's journalism is supported by our readers. When you purchase through links on our site, we may earn commission.
If Theresa May is happy to call out anti-Semitism in other parties, isn't it time she addressed Islamophobia in her own?
The number of incidents is truly staggering. These have not, however, been sufficient for the Conservatives to hold an independent inquiry into Islamophobia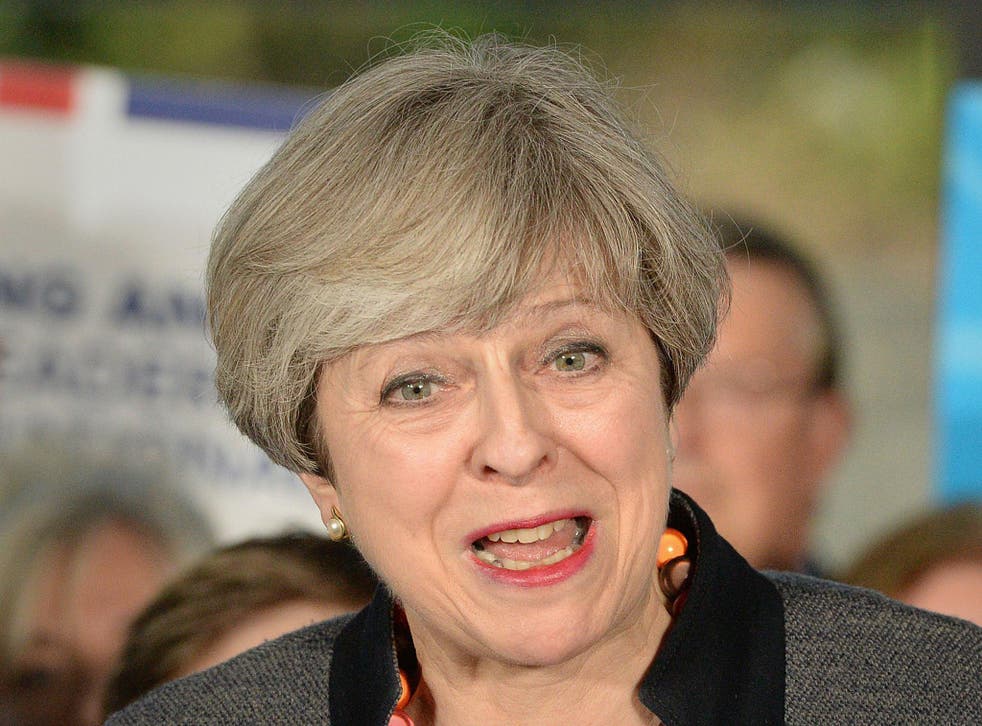 It is quite reasonable to expect that in this day and age, all bigotry will be challenged and scrutinised rigorously. But sadly it seems that some forms of bigotry are more acceptable and alive than others.
Last week, the Prime Minister condemned the "questionable record" of David Ward at PMQs, saying voters would be "disappointed" that the Liberal Democrats selected the ex-MP as a candidate, despite accusations of anti-Semitism. Ward was subsequently barred from standing again for the party, and many congratulated Theresa May for standing up against xenophobic sentiment.
Yet later that very same day, the Conservative party effectively condoned prejudice by selecting Zac Goldsmith – a man who ran what has roundly been described as an Islamophobic campaign for the Mayor of London (an approach he continued after the election ended, denying any racism) – to run as its MP.
General Election 2017: What you need to know
So what are we supposed to make of this apparent hypocrisy?
The most charitable explanation is that the Prime Minister refuses to see last year's mayoral election as an incidence of Islamophobia, even though there is a wealth of evidence to the contrary.
The problem with this position is that over and above commentators and politicians from the left of the political spectrum, Goldsmith's very own sister Jemima Khan publicly criticised his campaign and lifelong Conservative journalist Peter Oborne described Goldsmith's campaign as "the most repulsive I have ever seen as a political reporter".
Even senior Conservatives such as Andrew Boff said the campaign's tactics could not be described as "dog whistling" subtle racism as "you can't hear a dog whistle" whereas "everybody could hear this". Boff went further by stating that Goldsmith's campaign was "outrageous" as it "was effectively saying that people of conservative religious views are not to be trusted" – the very definition of bigotry.
A more sinister explanation is that the Prime Minister recognises that Islamophobia happened, but tolerates it, believing it not to be as politically damaging as claims of anti-Semitism.
One can only hope that is not the case.
Yet when even the former Chair of the Conservative party Sayeeda Warsi says, "There is a simmering underbelly of Islamophobia in the Conservative party", it should give any reasonable person cause for concern.
As should the Government's apparent lack of concern for Islamophobia being cited as the reason for the resignations of Dr Chris Allen and Professor Matthew Goodwin from the anti-Muslim hatred working group.
But the problem runs much deeper.
In England, sitting MP Philip Davies caused controversy in a 2007 speech when he called on mosques to fly the Union Jack. A year earlier he had refused to apologise after saying: "If there's anybody who should f*** off it's the Muslims who are doing this kind of thing", referring to what turned out subsequently to be a false story in the Sun which had claimed that a 'Muslim hate mob' had vandalised a house in Windsor and daubed the words 'f*** off' on the building.
Meanwhile, in 2010 Philip Hollobone MP called the burka "the religious equivalent of going around with a paper bag over your head with two holes for the eyes". Just last year David Davies MP claimed that the Islamic tradition requiring women to wear face and head coverings is "an excuse for sexual violence against women". In 2013 a Tory councillor compared Muslim children to black plastic bin-liners and another Tory council candidate said a year later it was "good to be anti-Islam" and called Islam the "religion of peace and rape".
UK General Election 2017

Show all 47
In Scotland, a Tory councillor last year backed attacks on fasting during Ramadan and calls to outlaw Muslim veils. Meanwhile, a Tory candidate due to stand in May's local elections was suspended after he told Muslims concerned about gelatine in flu inoculations to "shut your whingeing mouths, no wonder people get sick to the back teeth of you! If you are that way minded go and live in a Muslim country". Another Tory candidate attacked the French authorities after the Nice attack saying they "brought it on themselves. They supported the Muslims".
And the list goes on.
Of course some of these have been dealt with in some way by the party, but the number of incidents is truly staggering. These have not, however, been sufficient for the Conservatives to hold an independent inquiry into Islamophobia, as has been called for by the largest umbrella body of Muslim organisations in the UK.
As we move onto yet another election cycle, we can no longer be content in merely hoping that all forms of bigotry are treated equally. Standing up against all forms of discrimination is not "whataboutery", as Michael Gove claims; rather it is a necessity for our society.
So I call on anti-racism campaigners, civil society leaders, funders of the Conservative party, journalists and all those who want an equal and fair society to hold the Conservative party to account for this apparent hypocrisy.
Shouldn't fairness be for everyone, not just the privileged few?
Register for free to continue reading
Registration is a free and easy way to support our truly independent journalism
By registering, you will also enjoy limited access to Premium articles, exclusive newsletters, commenting, and virtual events with our leading journalists
Already have an account? sign in
Register for free to continue reading
Registration is a free and easy way to support our truly independent journalism
By registering, you will also enjoy limited access to Premium articles, exclusive newsletters, commenting, and virtual events with our leading journalists
Already have an account? sign in
Join our new commenting forum
Join thought-provoking conversations, follow other Independent readers and see their replies