Ivanka Trump is a pseudo-feminist fig leaf over her father's regressive politics
Her 'Women Who Work' initiative is the most risible heap of non-inclusive, beyond parody, bum-chunder since Gwyneth Paltow's Goop newsletter – and I laugh up a kidney at that once a week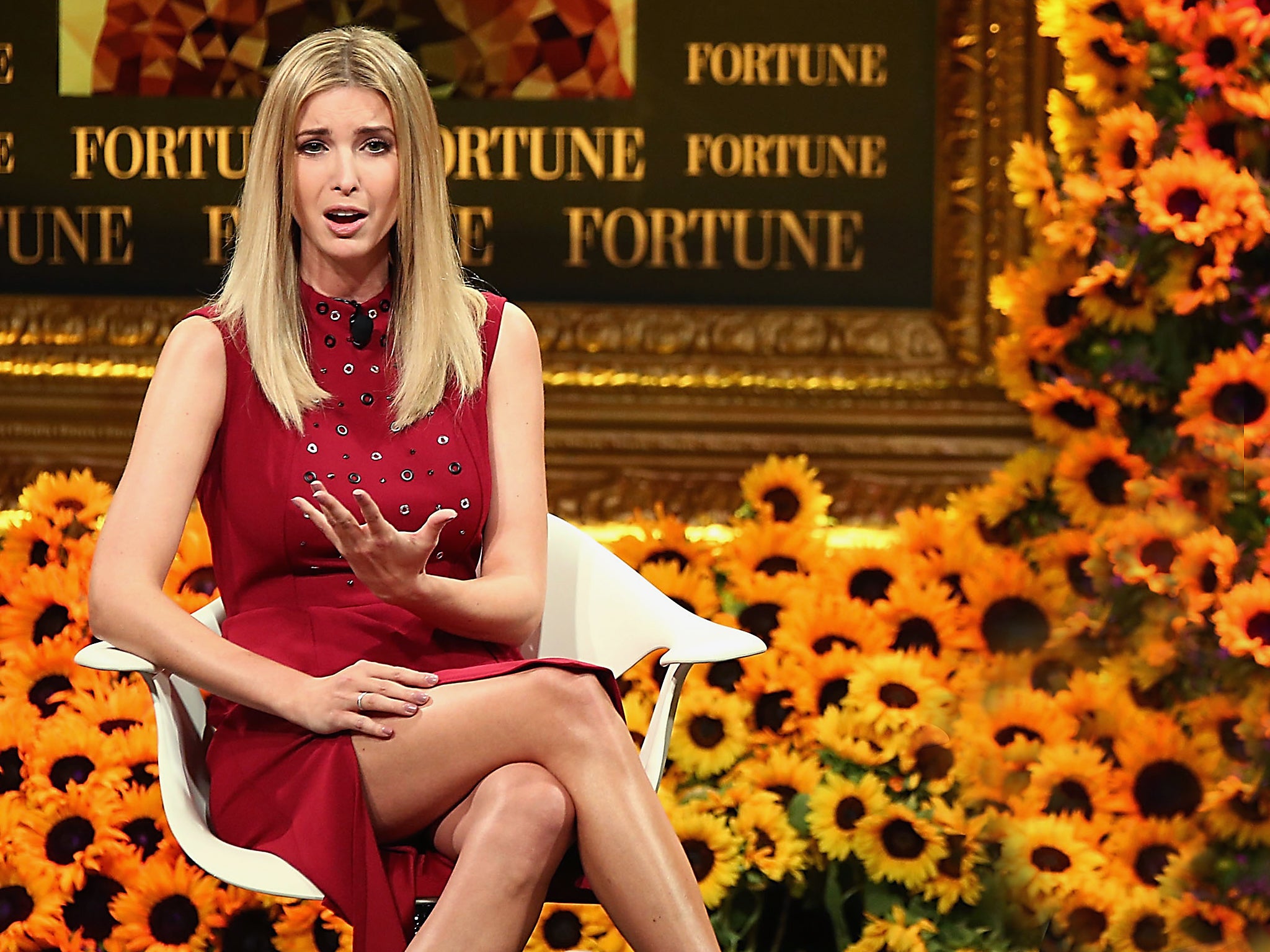 The problem with modern feminism's need to present all women as irreproachable little snowdrops is that when Ivanka Trump's daddy brings her along to his first meeting with the Japanese Prime Minister, it's easier to look the other way. Or perhaps even to clap like seals at her girl power prowess: you go, Ivanka! It's a woman at the table!
Sure, she's received no accountable briefing in Japanese business affairs or diplomacy. And yes, she did celebrate her first 60 Minutes Lesley Stahl interview by group emailing journalists informing them that the $10,000 bracelet on her arm was her "favourite bangle", available from her Metropolis collection, clearly not understanding the term "conflict of interests".
But it's a woman sitting with the big boys, so we shouldn't say too much. Just like she said literally nothing at all last week when her father promised to help overturn abortion legislation, meaning states such as Mississippi could close their one remaining clinic.
Obama: I'll weigh in on Trump's presidency if necessary
I'll guess that Ivanka's usefulness as a pseudo-feminist fig-leaf over her father's regressive policies will become more apparent as months roll by. Right now, we can cut her some slack on her initial diplomatic faux pas – the meeting intrusions, the flogging of jewelled trinkets during White House press calls – because, if Ivanka is taking her father's lead on the protocol required of the "First Family", then heaven help her.
Ivanka's father has spent his first weeks as President-elect behaving on social media like an evicted Celebrity Big Brother Z-lister, run ragged by unfair editing and "haterzz". This schtick is excruciating enough to observe when it's from the keyboard of Lee Ryan from Blue.
As we become used to the United States being in the charge of a veritable king of midnight, scattergun Twitter bantz, we shall also become used to Ivanka. Bearing in mind she felt adequately primed, within two weeks of her father's election, to meet Prime Minister Shinzo Abe for what the leader described as "very candid discussions", imagine how useful she'll be by 2017 on her specialist subjects of "being a modern woman".
Ivanka is a mother of three, don't you know, so will be rolled into the spotlight to emote powerfully "as a mother" on all types of womanly issues. She also (with the aid of nannies) very impressively went back to work (at her father's company) after each birth. Hrrrrrrnk, sound the mumpreneur klaxon.
World reaction to President Trump: In pictures
Show all 29
Pre-warnings of Ivanka Trump's attempts to connect with everyday women can be found on the "Women Who Work" pages tagged to the back of her luxury lifestyle website. "I want to inspire and empower women to architect lives that they love," Ivanka burbles on, and on, in the manner of a sub-Carrie Bradshaw performing Vogon poetry. "Lives that are uniquely their own and not based on the expectations of anyone other than themselves."
The site hits all the key words that advertising copywriters use when trying to hoover up the white, affluent wannabe feminist dollar, stopping just short of advising me to buy rollerblades and try backwards loops during my heaviest days.
Ivanka's site is festooned with pictures of size 0 Caucasian Manhattan women, holding signs that say "Women Who Work…never give up!" and "Women who work Multitask!". There are, obviously, no signs by women with size 16 hips, living in remote Louisiana saying "Women who work need abortion!" or "Women who work need to be not threatened with deportation".
The Ivanka Trump "Women Who Work" initiative is possibly the most risible heap of non-inclusive, beyond parody, wimmin-helping-wimmin, bum-chunder since Gwyneth Paltow's Goop newsletter – and I laugh up a kidney at that once a week. And Ivanka's only just getting started. Daddy is giving her access to all of the world's leaders, willy-nilly, for "candid discussions". Why does this not make me feel more empowered?
Join our commenting forum
Join thought-provoking conversations, follow other Independent readers and see their replies