Jamie Oliver's restaurants were doomed to fail – the ingredients needed to make a celeb chef aren't the same as those for a businessman
As effortlessly as flipping an omelette, Jamie Oliver's image as a slightly mouthy, salt-of-the-earth chap with a passion for creating unpretentious meals, was replaced with that of a scatty wannabe businessman exhibiting limited corporate acumen and an insatiable hunger for revenue and glory at any cost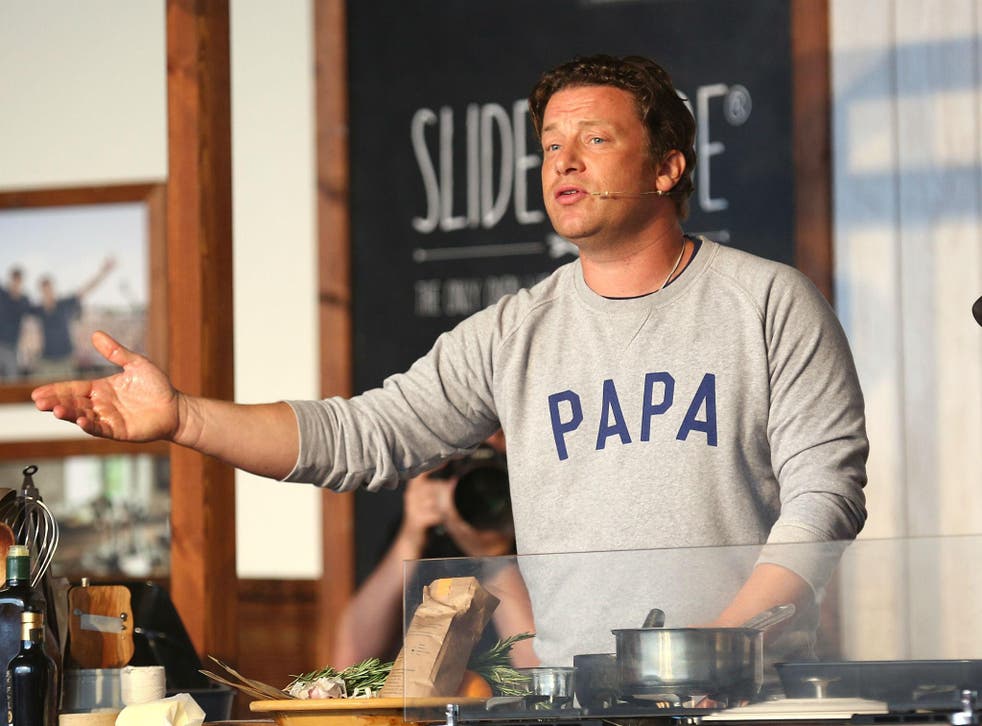 My eastern European, Yorkshire-based grandmother is one of the finest cooks I know and, incidentally, one of the most vicious critics of celebrity TV chefs. She seems to know the full line-up as intimately as her own family, generously peppering criticism on anyone who appears to pay more attention to their own ego than the flakiness or their pastry or the creaminess of their bechamel.
A regular target of her wrath is Jamie Oliver and it took me some time to understand why. Apart from owning a second-hand copy of one of his early recipe books, and once paying for a mediocre meal at his Italian outlet in Islington, I've taken little notice of the 42-year-old from Clavering.
But as his ventures have seeped into the headlines, I've started to examine the sprawling empire more closely, concluding this week that – in an era of high business rates, picky diners, low wages, social media scrutiny and metropolitan millennials graduating from cheese on toast to avocado on rye – Oliver's business is a perfect example of how not to run a company. Grandma, it seems, really does know best.
You could argue the trouble started way back in 2005 when Oliver sparked animal-lover outrage for slaughtering a fully-conscious lamb on TV. Or perhaps 2011, when the lippy Essex boy's endorsement of local produce was cut down by revelations that sauces served in Glasgow actually came from an industrial estate near Bicester, hundreds of miles away.
The chef has also battled a slew of claims relating to hygiene standards, perhaps most notably a report in 2014 according to which mouse droppings, mouldy carcasses and out-of-date meat had been found in his high-end London BBQ restaurant Barbecoa.
All of these would be enough to sour the appetite of any discerning clientele, but arguably his image problem as a businessman spans runs far deeper than that. And it will likely prove harder to fix than even my over-baked Yorkshire pudding concoction, stuck to the bottom of a ten-year-old baking tin.
At the beginning, there was so much promise. In the late 1990s Oliver was the fresh-faced, down-to-earth culinary whizz who hit our screens with his charming, stripped-back style and no-nonsense approach to healthy, wholesome – but indulgent when necessary – grub. Then all of a sudden, just like me when I refuse to choose between cheesecake, chocolate mouse and key lime pie, his eyes became bigger than his belly and the metaphorical souffle went flaccid.
Jamie Oliver sent death threats after adding chorizo to paella
In 2015 he was forced to shut his chain of cookery shops. Oliver's Union Jacks restaurants – which had haughtily set out to reinvent pizza – also flopped. Jamie's Italian had expanded at a ferocious pace but analysts described branch openings as ill-timed. On several occasions that overly ambitious approach came back to bite swiftly.
Last year, the group was forced to close half a dozen restaurants citing Brexit woes. Accounts for the previous year showed that the balance sheet had also been minced by the cost of reversing a decision to open a massive site at King's Cross, replete with restaurant, pub and head office.
This week, news broke that the two London-based Barbecoa restaurants had gone into administration. Some might say they were overpriced and never destined to thrive.
As effortlessly as flipping an omelette, Jamie Oliver's image as a slightly mouthy, salt-of-the-earth chap with a passion for creating unpretentious meals, was replaced with that of a scatty wannabe businessman exhibiting limited corporate acumen and an insatiable hunger for revenue and glory at any cost.
We wanted to consider him a chum who we could share baking tips with. Instead he became just another celebrity restaurateur out of touch with us, the ready-meal-munching, kebab-indulging hoi-polloi struggling to impress our friends with a decent lasagne.
In December, his wife Jools shameless posted pictures of the couple's illustrious home on social media, where they live with their five children, no doubt regularly feasting on pheasant, quinoa and Manchego cheese.
I understand that Oliver's done well for himself. I'm a firm believer in a meritocracy where everyone reaps the financial and non-financial rewards of hard work and discipline. But to me at least, brand Jamie doesn't live in a £9m Grade II-listed North London pile, decked out with free-standing baths, a grand piano and four-poster beds. Or if he must, then at least he could pretend to live in slightly scruffy place in Surbiton, preferably with a pig roaming around the allotment a la Tom and Barbara Good.
If all else fails, he should just stick to making nice roasts and sticky toffee puddings. And in return we'll promise not to mention mouse droppings and carcasses.
Join our new commenting forum
Join thought-provoking conversations, follow other Independent readers and see their replies