Jeremy Corbyn sacking rebel frontbench MPs proves he would make a great Prime Minister
Even when they're split, Labour somehow manages to evince an air of calm and, in the case of Corbyn, a prime ministerial decisiveness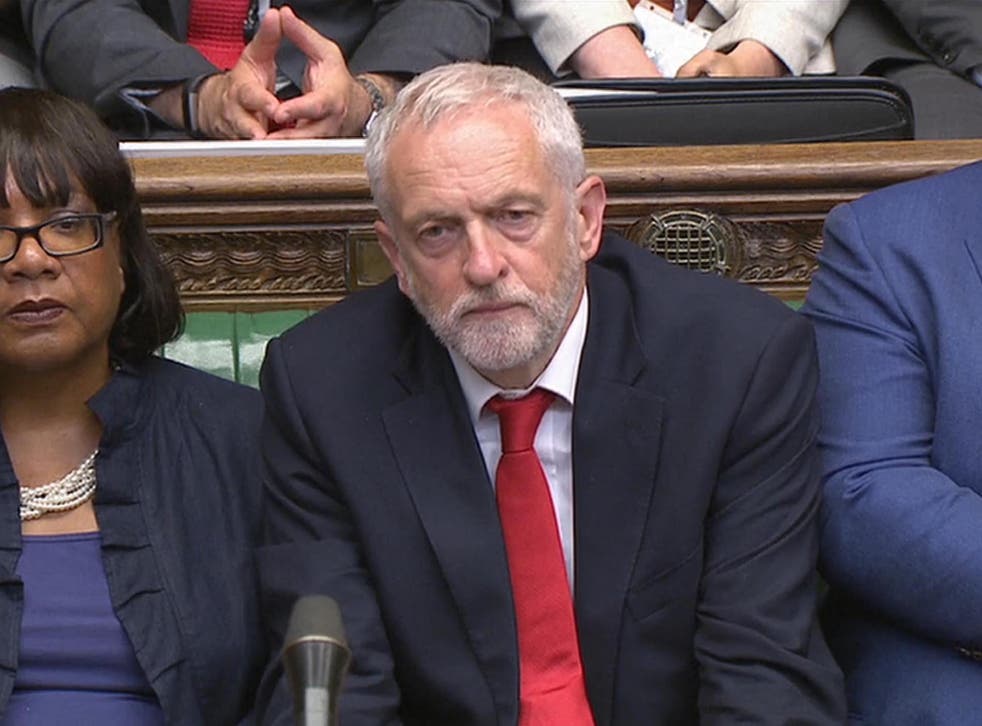 It is a sign of the dramatic switchback in British politics that Jeremy Corbyn can sack a clutch of rebel shadow ministers with scarcely a murmur of protest from anyone, while Theresa May has to put up with her own Chancellor going around saying that she messed up the election and poking fun at the Foreign Secretary's fondness for cake.
Backbenchers more or less openly mock May's deal with the DUP and the hopelessly slow Brexit talks. She's a joke, a lame duck, a caretaker. She now has a shorter shelf life than Corbyn. There you go.
It is, as someone who knew a good deal about political leadership once said, a funny old world. The departures of Catherine West, Ruth Cadbury and Andy Slaughter from Labour's front bench will, I'm sorry to say, hardly be noticed, and Corbyn, he needs reminding, has more talent to choose from in his parliamentary party than he perhaps appreciates. If only he is willing to extend the hand of friendship to those who traduced him before.
He needs to bring back those who have felt ostracised or, if you will, alienated themselves from his "project" – the likes of Caroline Flint, Liz Kendall, Yvette Cooper and so on. I realise that inviting the irksome Chuka Umunna might be more of an "ask" – it was his mischievous amendment on the Queen's Speech about Brexit that prompted the Labour revolt, but time heals, as they say.
Chuka Umunna proposes rebel backbench motion that would keep Britian in EU if May failed to get deal
The Corbyn Labour Party is even able to be cool about his troublemakers – Tom Watson telling the BBC that he regretted what Chuka had done only because of the unfortunate timing, more in sorrow than anger, etc. Even when they're split – as they clearly still are on an awful lot – Labour somehow manages to evince an air of calm and, in the case of Corbyn, a prime ministerial decisiveness. Collegiate he may be, but you can see a glint of steel when he whips out his flick-knife. Maybe he really is tougher than he looks.
Still, the Chuka amendment did draw attention to the most unfortunate aspect of the Labour Party right now: that it is making a fine opposition and protest movement, but it is still in no position to govern on the most important issue facing the country – Brexit.
Corbyn and his allies, notably the gifted Keir Starmer, have finessed the European issue as masterfully as anyone has managed in the past half century when it has tormented the British political classes.
It was for that tactical skill that they were rewarded with a wave of ex-Remain voters rallying to them in the general election (with the more Leave areas of the country lukewarm). And yet the Corbyn-Starmer line – about retaining "access" to the single market but also restricting free movement of workers – or rather not allowing "undercutting" of UK wages – is a nonsense, and they must surely know it.
It is a failure of the media that no Labour spokesperson has yet been properly cornered on the contradictions, but the fissures are there, just waiting to be breached.
A Corbyn near-kiss

Show all 5
The European leaders have made it abundantly clear that there is no such deal on offer to the UK, and, in fact, there is no such thing as a "soft Brexit" in that sense at all. At least Theresa May confronted the British public with that unwelcome truth when she made her Mansion House speech earlier this year.
In opposition, Corbyn's policy of soft Brexit and being nice and polite during the negotiations sounds an attractive one, and it works well as a fudge. Yet were Corbyn actually to be delivered into Number 10, he must know how short that European honeymoon would last, and how the reality of Brexit would soon surface. His best bet, for the next stage of his leadership and to bridge the journey into government, is to find another way of finessing the issue, and that of course is to offer the second referendum the country is increasingly demanding.
That way he can unite his party, and indeed all the opposition parties including the Lib Dems, Greens and Scottish and Welsh nationalists, behind one clear position on this fundamental issue. In that way Mr Corbyn could even find himself at the head of a great national "coalition of common sense" across all the major opposition parties, and support from then to get that proposal through Parliament. Labour, including the likes of Chuka Umunna, could unite around that call. He would at last have found common cause with Tony Blair and Peter Mandelson, not to mention Caroline Lucas, Vince Cable and Nicola Sturgeon. He might even find a few Europhile Tories to back him on that too. What a guy!
This 69-year old archetypal bearded leftie who many had written off decades ago as a harmless grumbler at the back of the bus could be the man to unite first his party, then the entire opposition and finally the country, and lead Britain away from a monumental folly – crashing out of the EU in the spring of 2019. Like I say, a funny old world.
Join our new commenting forum
Join thought-provoking conversations, follow other Independent readers and see their replies