Corbyn did the right thing when he chose Glastonbury over Armed Forces Day events
Nothing sums up more neatly than this the longstanding preoccupation of our country's majority right-wing press with Corbyn's refusal to sanction war and violence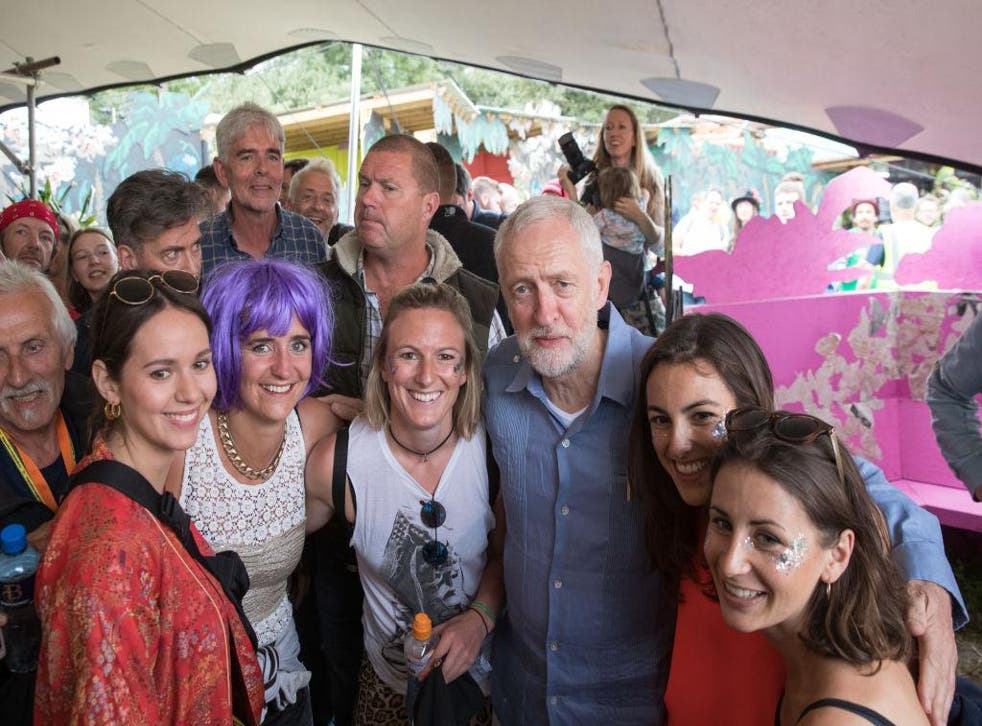 Jeremy Corbyn has been slammed in the right-wing press for choosing to appear at Glastonbury rather than Armed Forces Day events.
Nothing sums up more neatly than this the longstanding preoccupation of our country's majority right-wing press with Corbyn's refusal to sanction war and violence. And nothing sums up better how out-of-kilter that thinking is.
It has never failed to astound me how people can get so up in arms about a man who loves peace and deplores violence, a man who prefers words to bombs, who would rather call enemies "friends" instead of sanctioning further senseless killing. How are these things wrong? That mode of thinking is as illogical as it is uncompassionate. Worst of all, right-wing tabloids taking this view is pure hypocrisy. These are Christian values, after all – the very values that conservative press is supposed to stand for.
The Glastonbury controversy is just the latest in a string of predictable attacks on Jeremy Corbyn which seek to expose his apparently weak underbelly. Each one is more ludicrous than the next. He didn't immediately endorse a shoot-to-kill policy for armed terrorists: what's wrong with him? Sorry? Is it wrong to be a bit chary about the taking of a human life, in whatever context?
Corbyn wouldn't push the button on the nuclear deterrent: what's wrong with him? Sorry? A situation where someone is castigated for refusing to endorse the idea of putting millions of people to death with the push of a button belongs properly in a satirical dystopian novel, not everyday reality. But sadly that is the everyday reality that our media foists upon us.
Jeremy Corbyn's first Glastonbury in 60 seconds
As for Glastonbury, we need more events like it: events which bring people together and promote peace, understanding, individual liberty, creativity and free thinking. Events like Glastonbury need more support. With over £40 billion in annual funding, our armed forces – recently ranked the second most powerful in the world – get enough support already. They can make do without Jeremy Corbyn for a day.
Following the horrendous attacks at London Bridge and Finsbury Park Mosque and the tragedy of Grenfell Tower, what we need is more of a communal spirit of peace and understanding. Jeremy Corbyn was right to use a Glastonbury stage to highlight these things. At a time when people are growing apart and intolerance is breeding in the gap, it's right to attend an event that endorses friendship and tolerance. The armed forces don't suffer when we promote peace and understanding – they gain.
Jeremy Corbyn gives a speech at Glastonbury Festival
Remember the same time last year, where all the divisiveness and hate surrounding the Brexit vote came spilling out for the first time? The news was filled with anger and rage, and then a snapshot came on of Adele reaching out to embrace the crowd at Glastonbury, with hundreds of thousands of voices singing her words back at her. I remember thinking what a much-needed counterpoint it was to all the bickering and bile. Similarly this year, seeing tens of thousands of phones lit in unison to Ed Sheeran was like a balm, soothing the wounds of the terrible atrocities we've had to deal with recently.
We need more of the spirit of Glastonbury and less of the spirit of Finsbury Park Mosque. More togetherness, less hostility. So let's not criticise Jeremy Corbyn for baulking at the idea of plunging the world into nuclear Armageddon, or focusing on something other than war.
Glastonbury crowd sings 'Oh Jeremy Corbyn' as Radiohead condemns 'useless politicians'
A new generation is coming now, and they care much less about conservative, traditional ideologies surrounding patriotism, imperialism and warmongering. They were at Glastonbury this weekend. They will soon be the mass electorate, the paper-reading professionals of tomorrow. Whether or not certain people like it, the country is about to change – and Corbyn knows it.
Register for free to continue reading
Registration is a free and easy way to support our truly independent journalism
By registering, you will also enjoy limited access to Premium articles, exclusive newsletters, commenting, and virtual events with our leading journalists
Already have an account? sign in
Join our new commenting forum
Join thought-provoking conversations, follow other Independent readers and see their replies