The fight to succeed Jeremy Corbyn has already begun – and the Blairites could be defeated again
For those around the Labour leader, the priority is to ensure that he stays on after defeat, or that he is replaced by a fellow member of the faction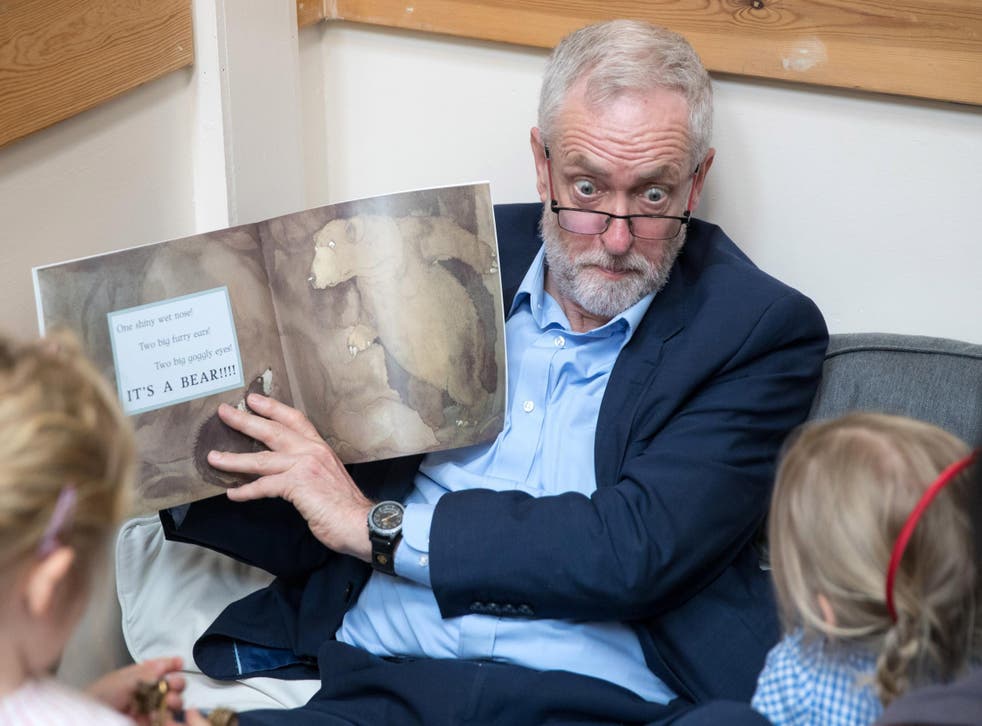 If on the way to the polling station in six weeks' time you notice people wrestling with themselves, tearing out their hair and twisting their own arm behind their neck, they will be the Blairites.
See if you can identify the subgroups. Some of them will be Kammites. Like Oliver Kamm, the Times leader-writer, who has decided to vote for Meg Hillier, his Labour MP, because she is a non-Corbynite who voted against Article 50. They will be engaged in an urgent discussion with themselves, pointing out that, no matter how sensible their local MP is, every vote for Labour will be recorded as a vote for a party led by Jeremy Corbyn, and will take the party further away from the humiliation necessary for rebuilding.
Others will be Godfreyans. Kate Godfrey was Labour candidate in Stafford in 2015, but she joined the Liberal Democrats at the end of last year. Many Blairites think Europe is the main question, and wish that Labour had adopted Tim Farron's policy of absolute opposition to Brexit.
The third category are the Hodgesians, named after Dan Hodges, the Mail on Sunday columnist, who will be voting Conservative – "And I'm not going to think twice." He may not, but there will be others who will, and who will agonise about giving Theresa May too much power. They are the ones who flinched when the Prime Minister told the nation on Tuesday, "every vote for the Conservatives will make me stronger". Admittedly she went on, after the briefest of pauses, "... when I negotiate for Britain with the European Union," but there was a chill in the air.
UK news in pictures

Show all 50
And everyone knows that the purpose of this election is not to decide who will win, but how much she will win by. Well, nearly everyone. I had half-a-dozen out of the 250 entries in my election sweepstake predicting a Labour majority or a hung parliament. But everyone else, including the people around Jeremy Corbyn, expect Labour to lose and are starting to plan accordingly.
For those around Corbyn, the priority is to ensure that he stays on as leader after defeat, or that he is replaced by a fellow member of the faction. Hence the desperate attempts going on behind the scenes as you read this article to try to secure selection as Labour candidates in safe seats for Corbyn supporters.
This is a political venture on a knife-edge, because most local Labour parties are not controlled by Corbynites and Labour's National Executive is split down the middle, meaning that it cannot be guaranteed to impose Corbynite candidates from above. Which matters because the number of Corbynite MPs is so close to the minimum that will be needed to nominate a Corbynite successor.
Bear with me, because there are numbers in the next bit, but the key to politics is being able to count. There are 26 MPs and MEPs who supported Corbyn in last year's leadership election who could support him next time. That is 11 per cent of the total, whereas if Corbyn were to resign, a candidate would need to be nominated by 15 per cent. That is why the leader's faction want to change the party rules to reduce the threshold to 5 per cent – the so-called McDonnell amendment, even though John McDonnell insists he doesn't want to be leader.
Mark Steel: If Labour wins we could pay-per-view Jeremy Corbyn meeting Donald Trump and fund the NHS
It has been suggested that Corbyn might stay on as leader after an election defeat, in order to try to get the rule change through this autumn's Labour Party conference. However, it is not clear that the Corbynites would have a majority of the votes in Brighton – the non-Corbynites have organised well to secure most delegates. And in any case if there is a challenge to Corbyn this year, as there is bound to be after an election defeat, it would be fought under the existing rules.
So Corbyn would either have to stay and fight, or his supporters would have to try to find someone else who could secure the backing of 15 per cent of MPs. I doubt if Corbyn would want to fight another leadership election. More importantly, I doubt if he could win it. His supporters rallied to him last year because they felt the challenge was too soon – that it was unfair because it didn't give him a chance to prove himself. But the general election is his chance, and if he fails a lot of his support will fall away. A poll of Labour members last month found that 68 per cent thought he should stand down if he loses the next election – at the time they thought it would be in 2020, but I think, especially after the shock of actual defeat, much of his support will evaporate.
Which brings us to plan C. If Labour is heavily defeated on 8 June, the number of MPs needed to reach the 15 per cent threshold would fall. If the number of Labour MPs, 232 at the last election, fell to 150, any candidate would need the support of 26 MPs and MEPs to stand (because there are, until 2019, 20 Labour MEPs). In other words, precisely the number who supported Corbyn in his second leadership campaign.
Naturally, Corbynites tend to be in safe Labour seats, so a catastrophic defeat for the party won't affect most of them. Cat Smith would probably lose Lancaster and Fleetwood, and Clive Lewis might lose Norwich South, although he is semi-detached from the Corbynites anyway and would like to be leader himself. That is why it is so important for Corbyn's supporters that they manage to get two or three of their own into the last-minute safe-ish seats that are now vacant.
Then, after the election, Corbyn can return to his place at the far end of the furthest back bench in the Commons and let Angela Rayner, shadow Education Secretary, or Rebecca Long-Bailey, shadow Business Secretary, stand as the faction's candidate against Lisa Nandy, Yvette Cooper, Chuka Umunna and Dan Jarvis. Or whoever else performs well in the beauty contest of the Labour campaign over the next six weeks.
The good news for Kammites, perhaps, is that the paradox of this election is that the more Labour MPs who are returned, although this might appear to endorse Corbynism, the harder it would be for the Corbynites to retain the leadership.
Join our new commenting forum
Join thought-provoking conversations, follow other Independent readers and see their replies