If Jeremy Corbyn wants to survive, he needs to turn around the Brexit narrative and embrace Lexit
Labour needs to embrace the vote for Brexit for what it really is: a vote against austerity, insecurity and uncertainty, with tax-dodging corporations, an irresponsible finance sector and the Conservative Party to blame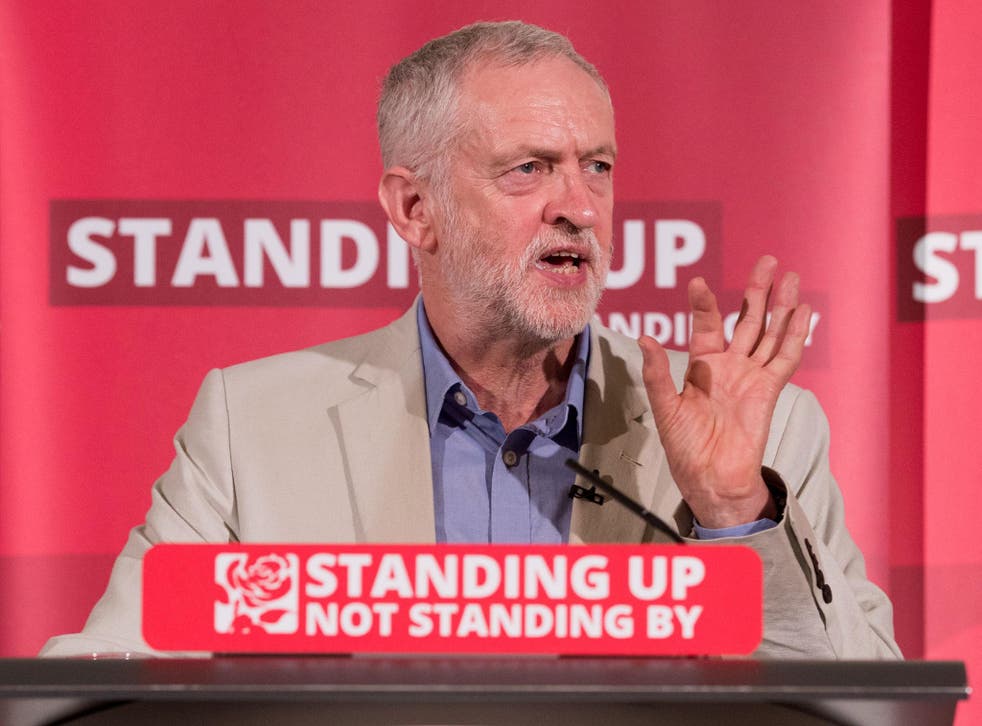 For supporters of Jeremy Corbyn and the Remain campaign, the EU referendum has been a disaster. While much of the Labour leader's left-wing critique of the EU as undemocratic, neoliberal and neocolonial is valid, his lack of enthusiasm for Remain and failure to mobilise left-wing communities have left Britain a divided nation, in store for more recession, austerity and xenophobia.
Evidence of this has already come to light. Scotland is intent on a second independence referendum, the pound is plummeting and EU citizens are feeling unwelcome and scared. Brexit is already legitimising a virulent strain of anti-immigrant sentiment and policy. On Friday morning children in Cambridgeshire found "No more Polish vermin" signs outside their schools.
What's done is done. Britain can no longer be a member of the European Union, and there is no time for mourning. If we are to escape the worst excesses of a post-Brexit UKIP-tinted Conservatism and generate a positive outcome for all, the Labour Party must act swiftly and decisively to reframe Brexit as 'Lexit': a Left-wing Exit.
Hilary Benn sacked after raising Corbyn leadership concerns
This means actually listening to the 17 million voters who voted Leave. What were their primary motivations? Anushka Asthana cites Chantelle, a Leave voter from Leigh, who explains that she is "just fighting for [her] little girl to get a place at primary school." Others make similar claims about strains on the NHS. In John Harris' video, one woman is anxious about being on the verge of homelessness. Another condemns the lack of investment in her deprived Manchester suburb. One man says he is voting out because it has become impossible to find employment.
These reasons may be anecdotal, but they make sense in light of Leave voter demographics. Compared to Remain supporters, Leave voters (at least in England) were considerably more rural, Northern, low-income and working class. Over the past decades, people in these social groups have faced the brunt of unemployment resulting from deindustrialisation and privatisation alongside impoverishment and insecurity from contemporary austerity. This has been imposed by a political elite dancing to the supposedly unstoppable tune of globalisation and unregulated markets. The consequence is massive deterioration of public services and the welfare state. Leave voters' lives are characterised by a level of insecurity and uncertainty unknown to middle-class city-dwellers.
And what about immigration? EU immigrants are less likely than Brits to claim benefits and contribute a surplus to the economy, given that they have been educated abroad and are less likely to need the NHS. So the demand for schools, housing and hospitals generated by immigrants is fully covered by their tax contributions—today's problems are a result of government policy. The EU and the discourse of immigrants as "benefit tourists", "scroungers" and "job stealers" have only been invoked to conceal the government's neoliberal failings.
This is not surprising, considering the scapegoating of every wave of immigrants to this country. Prominent Remain supporters like David Cameron have a long history of using immigrants to deflect government scrutiny. In 2014, defence secretary Michael Fallon, another Remainer, proclaimed that British towns were "swamped by migrants" with residents "under siege". For a long time Labour, too, advocated austerity at the same time as blaming immigrants. Rachel Reeves promised to both be "tougher than Tories on benefits" and to curb tax credits for EU migrants. Remember the "Controls on Immigration" mug?
6 ways Britain leaving the EU will affect you

Show all 6
It is true that some Leave supporters will have voted on the basis of sovereignty, democracy or purely xenophobia. Yet ultimately, voting Brexit was a rallying cry against austerity, declining living standards, insecurity and uncertainty, through the mask of the EU and immigration.
Now, for the sake of Britain's working class and immigrants, Labour must boldly make the argument that immigration is not to blame for this uncertainty. Instead, they must recast the narrative of Brexit as Lexit—a vote against austerity, insecurity and uncertainty, with tax-dodging corporations, an irresponsible finance sector and the Conservative Party to blame. This is the only way to reconnect with the communities that voted out, many of which were traditionally left-wing.
Seizing the narrative is one thing. The next step is to provide tangible solutions at Brexit negotiations. Primarily, Labour must push to retain in British law workers', parental and human rights provisions from the Social Chapter and other EU legislation. They must also push to remain in the single market, to the greatest extent possible, to protect business and free movement.
If a general election is held, the Labour leader's manifesto must directly respond to the concerns of Leave voters. This means ending austerity. Shifting blame away from immigrants would allow for a serious clampdown on tax evasion and higher taxation on the ultra-rich, for increased investment in healthcare, education and housing. Work contracts must be made stable and secure, alongside a move towards stronger trade unions and more collective bargaining, in order to overcome the undercutting of wages in low-income sectors. The welfare system needs more funding to increase security, ending sanctions, in-work poverty and the need for food banks.
Much of this is already Corbyn policy. But it must be clearly articulated, and all of Labour must get behind it, because it is only these measures that would truly deal with the structural conditions that caused Brexit.
I am not optimistic. I fear Corbyn will be replaced by a leader who, like Andy Burnham, stresses the need to "review" (read restrict) immigration. But Ukip-ising Labour would only further impoverish the UK and increase xenophobia. It would do nothing to alleviate neoliberal insecurity.
The window of opportunity for Labour to shift blame from immigration to austerity is small. If it is missed, right-wing anti-immigrant ideology will be part of government, whichever party is in power. Now, more than ever, Britain needs Lexit.
Join our new commenting forum
Join thought-provoking conversations, follow other Independent readers and see their replies