Keir Starmer's new stance in favour of staying in the single market is a calculated gamble for colossal stakes
On the surface, Starmer is sticking to the commitment to recognise the democratic will to leave the EU. A few millimetres beneath it, he is doggy-paddling towards reversing it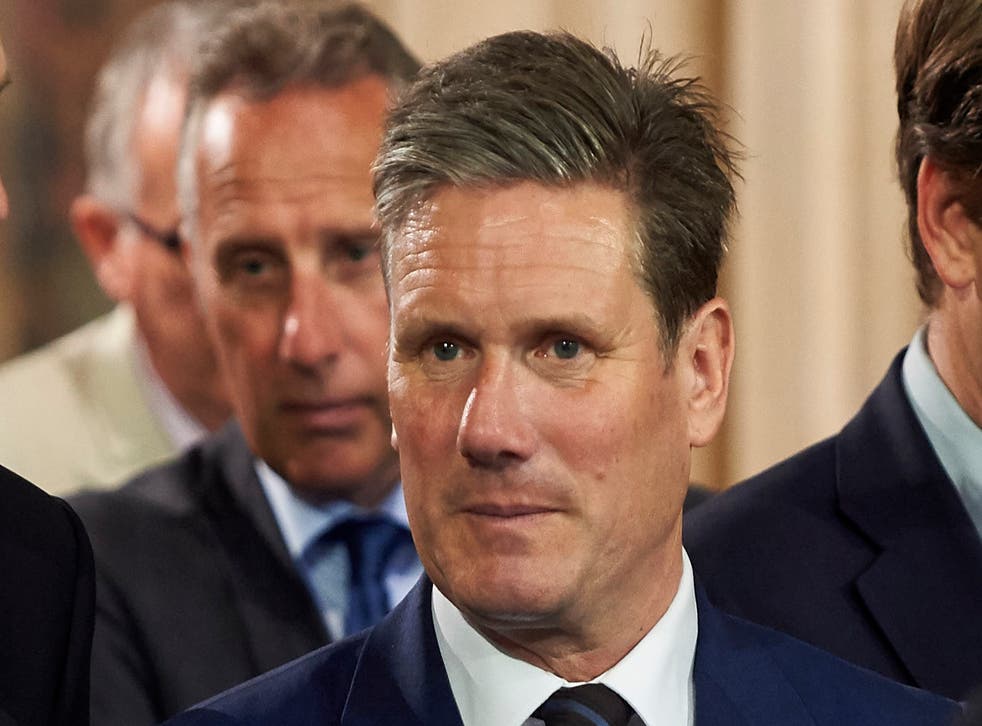 At last – or so it seems – Labour has rolled the Brexit dice. After pussyfooting around the craps cage for ages, it has bet the house on a Brexit so soft as to be virtually no Brexit at all. Apparently.
Forgive the qualifications, but the party's meanderings on the issue have been so tortured and confused that even the supposedly definitive word of Keir Starmer, its Brexit supremo, wants seasoning with a dribble of doubt.
At the time of writing, after all, there has been no word from Jeremy Corbyn. Reportedly, he agreed the change last week. But he will have done so with real reluctance, and he has form for abruptly, publicly contradicting policy that offends him.
Time will tell there. Starmer's word, expressed in an article today, is that the time of "constructive ambiguity" over Brexit has passed.
Labour would take Britain out of the EU single market, Corbyn says
More through luck than judgement, the ambiguity served it perfectly at the election. The tension between Corbyn's barely disguised desire to leave the EU and the bulk of the party's preference to remain necessitated a fudge which alienated neither side of the Brexit divide.
Since then, some political realities have changed. Corbyn's overnight transformation from comical no-hoper into PM-in-waiting dictated that paradoxes and contradictions will no longer be so gently indulged.
Meanwhile, Vince Cable's elevation to the Liberal Democrat leadership presents a mortal threat. The last time the Lib Dems stood against both main parties to warn of the oncoming catastrophe in Iraq, they benefited enormously from having the whole field to themselves. Had Labour continued sharing the Tory policy of no customs union and single market after March, 2019, as reiterated by Corbyn a few weeks ago, it would have been a gigantic gift to Vince.
Despite constraining his electoral prospects, he will accept Labour's semi-volte face with rueful good grace. Vince has helped to relocate the centre of Brexit gravity towards sanity by forcing Labour's hand, gawd bless him, and may take pride from that.
Ostensibly, the territory colonised today by Starmer is the middle ground between the hard Brexit of Theresa May and her Three Stooges, and the Lib Dem policy of no Brexit via a second referendum.
He proposes a transitional deal whereby, in return for freedom of movement concessions, Britain stays in the single market and the customs union for what he calls "a period". He doesn't specify its length, but implies it could be indefinitely extended if required.
Starmer is not stupid or naive. He knows how this will be interpreted. The newspapers which peddled the propaganda about 75 million Turks landing at Gatwick on the same Thursday lunchtime, and the NHS getting an extra trillion on the hour every hour, will go berserk.
They will equate this potentially indefinite transitional deal with barely leaving the EU. They will foresee it as a stepping stone towards Labour demanding a second referendum. And they might very well be right.
In pictures: European parliament Brexit discussions

Show all 12
Starmer is offering a refined version of the constructive ambiguity he claims to be jettisoning. On the surface, he is sticking to the commitment to recognise the democratic will. A few millimetres beneath it, he is doggy-paddling towards reversing it.
He can and will semi-plausibly deny this when The Sun and Daily Mail call him a traitor and set out to tear him apart.
Even by its own standards, the reactionary press is unusually hysterical about Brexit, because it knows the game isn't over yet. There is still a chance that it can be avoided, and this policy shift increases it.
Everything depends on public opinion, which in turn depends on various possible events. If the public notices that David Davis isn't up to negotiating a 0.2 per cent discount from a Casablanca market trader; if holidaymakers getting 87 Euro cents to the pound fret that next year it could be 60 cents; if the public is properly alarmed by more and more multinationals and City firms threatening to relocate to Dublin or Frankfurt; if the electorate becomes vexed that UK economic growth is crawling while it surges in the EU; if these and other epiphanies move the polls to 60-40 for Remain, Labour's natural move would be to complete its metamorphosis from Suicide Brexit via Transitional Brexit, to the gorgeous butterfly of No Brexit.
You can write the intro for that Keir Starmer piece now. "We in the Labour party respect the democratic will of the people. We respected it in June 2016, when the UK voted to leave the EU. We respect it now, when every opinion poll suggests that, by a wider margin than voted to leave then, they wish to remain today. It is therefore our duty as democrats to ask the question again. We must have a second referendum."
This is one of various alternate timelines you can imagined flowing from where are we now, and Starmer has clearly imagined it even if Corbyn has not. He has adroitly repositioned Labour to stifle a Lib Dem resurgence, saddle May with the sole custody of the hard Brexit problem child she'd rather share, and prepare Labour for the day it follows its head and its heart by fighting to remain.
It is, as I said, a right gamble. The risk of alienating Leave voters who supported Labour in May speaks for itself. But it is a calculated gamble for colossal stakes. If the dice fall right, it might just keep us in Europe.
Register for free to continue reading
Registration is a free and easy way to support our truly independent journalism
By registering, you will also enjoy limited access to Premium articles, exclusive newsletters, commenting, and virtual events with our leading journalists
Already have an account? sign in
Join our new commenting forum
Join thought-provoking conversations, follow other Independent readers and see their replies