Labour conference: The sensible voices are all shouting at each other in the dark
Labour's moderates all care deeply about their "children's futures" but the children have all got better things to do than to listen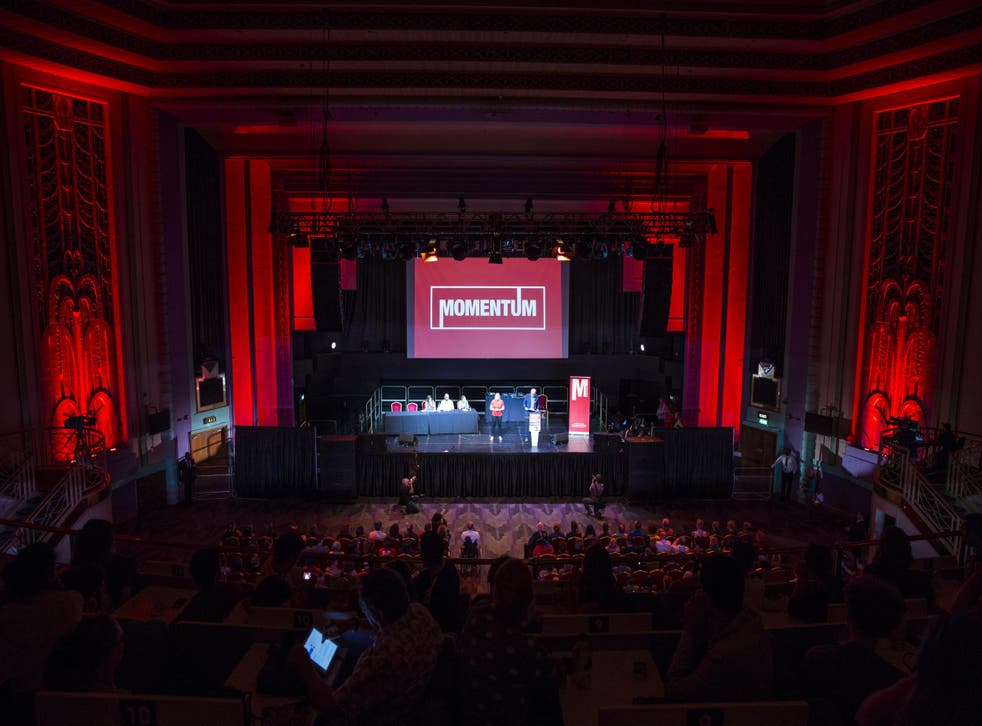 Progress and Momentum are good names for left leaning political movements. Both very firmly intimate they are going places. But while one has all but taken over its host organism the other sat in the dark in Screen One of the Brighton Odeon, trying not to hear the moderate voices in its moderate head.
Having been founded in 1996, doing its bit to win three general elections for Tony Blair, it may just be that Progress isn't making too much progress anymore.
You might know the names: your Caroline Flints, your Ben Bradshaws, your Stella Creasys. The ones who are slowly coming to terms with having given their lives to the party, and yet here they are at conference, ushered off in to the dark, to make room for grown adults making clay dinosaurs to "show the symbiotic relationship between making and thinking", to take just one example from Momentum's ever popular "Creative Chaos Corner."
As they lined up, speaker after speaker, there was not one among them who wasn't in it "for the sake of our children's futures." Not one was in any doubt that it was they who have the ideas for making the world a better place for a young generation, coming of age in austerity, who isn't having it very good.
Trouble is, the children have decided their future is elsewhere, and that does not involve sitting around in the Odeon listening to Caroline Flint, but hammering cans of Red Stripe, chanting "Oh Jeremy Corbyn" and having a magnificent time.
It's hard to avoid the feeling that these are Labour's grown-ups, making grave pronouncements about their children's hopes and dreams, nobly putting forward the ideas that can bend things back towards a better future, but pretending not to have noticed the children all left for a school trip years ago, the plane's crashed on a desert island, they've all gone fully feral and they're never coming back.
Wes Streeting, the bright young thing from Ilford North, appeared towards the end and rabble roused with all the appropriate gusto of a career student politician talking to a cinema full of wonks in lanyards. In praise of "globalisation and all that it has achieved", and the "most far reaching political triumph mankind has ever created - the European Union." Just to say again - over the road, they're making clay dinosaurs, and they're winning.
As they'd lined up past the Ben & Jerry's counter to get in, Labour's fading sensible movement stared at their phones in disbelief at the latest development coming from the conference floor. The party had taken a vote and decided Brexit wouldn't be one of the "contemporary topics" that was worth talking about this year. Why would they?
For the time being, it is merely a question of staying upright long enough for the Conservatives to fall. But at some point, even its seemingly self replicating youth army might start to notice it has become a party that quite literally cannot be serious.
Register for free to continue reading
Registration is a free and easy way to support our truly independent journalism
By registering, you will also enjoy limited access to Premium articles, exclusive newsletters, commenting, and virtual events with our leading journalists
Already have an account? sign in
Register for free to continue reading
Registration is a free and easy way to support our truly independent journalism
By registering, you will also enjoy limited access to Premium articles, exclusive newsletters, commenting, and virtual events with our leading journalists
Already have an account? sign in
Join our new commenting forum
Join thought-provoking conversations, follow other Independent readers and see their replies