People need to be evacuated from Afghanistan now – processing paperwork can wait
Please send your letters to letters@independent.co.uk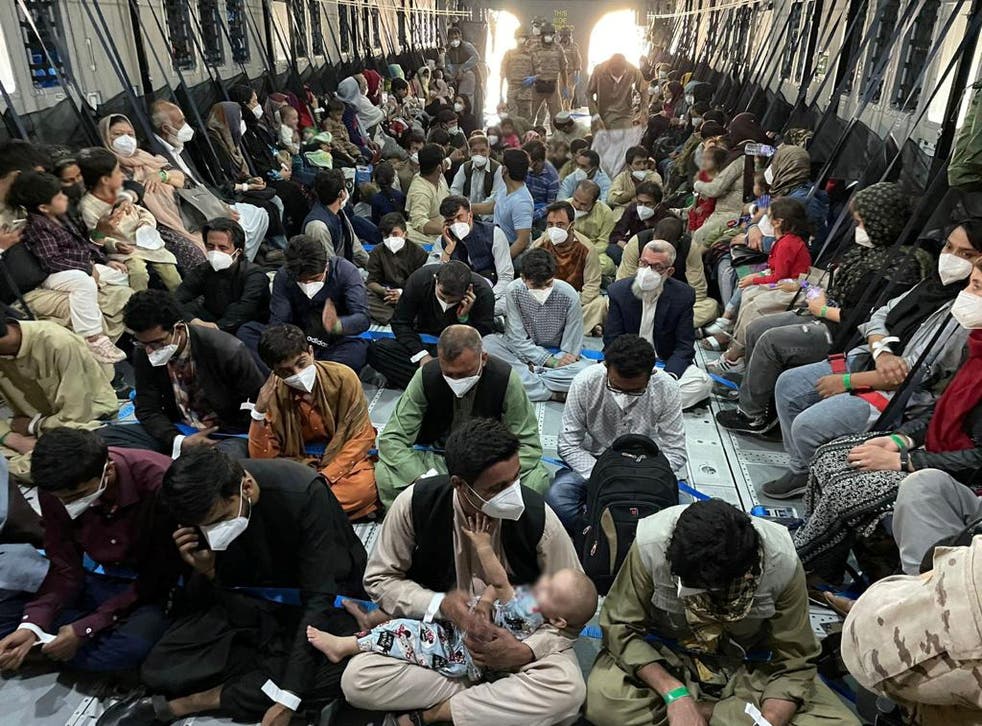 We are a group of Afghan and international citizens. We are today calling on the governments of all countries trying to help evacuate people from Afghanistan to waive the requirement to have a visa or other permission to leave Afghanistan. In this moment of extreme an unprecedented crisis for millions of Afghan people, we must help people leave first, and then process the applications when they are in a safe place. Asking for papers to get on emergency evacuation planes is the equivalent of asking people on a sinking Titanic to provide papers in order to board lifeboats. It is completely wrong.
There are 38 million people in Afghanistan and several million are in desperate danger and trying to leave. Kabul airport is hosting a few thousand only at any one time. The numbers being evacuated every day are a drop in the ocean of the full number who desperately need to leave. It is estimated that there are now more than 1 million applications for permission to travel via any of the multiple emergency and existing immigration processes in countries around the world. Huge numbers of applications have been submitted in the last few days, and those are for people who are fortunate enough to have access to a computer, to the internet or to know someone in another country who can do this on their behalf.
The civil service in every country involved is completely overwhelmed trying to process the applications, each time a new email address is opened for emergency cases, within minutes they are receiving thousands of email requests for help. The offices of politicians are all operating on an almost 24-hour basis as they try to deal with the avalanche of requests for help – every one of them relating to a desperate individual, group or family. For most Afghans with applications, there is no chance the applications will be done in time for 31 August, when we understand the Americans will leave and the evacuation effort seems likely to come to an abrupt end. For those without applications, there is no hope whatsoever of escape, though many are risking their lives to try.
Within the signatories of this letter, we have friends who, having been granted permission to travel, endured multiple Taliban checkpoints and a deeply traumatic ordeal at the airport, only to be turned away. This was due to an administrative error within one government's processing system. They witnessed and experienced almost indescribable violence and tragedy, alongside their young children. The failure to accept them onto a plane due to not having the right piece of paper for that desk in that moment may have terrible consequences for this family.
We understand that governments are reluctant to waive the processes because they are worried about extremists getting through. However, if people are taken to secure locations after being evacuated, those people could be identified and dealt with through due criminal processes at their destination. It cannot be right to jeopardise the safety of ordinary, desperate Afghan citizens, including children, people with disabilities and elderly Afghans, on this basis.
Governments can and must be creative and flexible in times of extreme crisis. The simplest way to speed up the system is to remove people now and process later, and to commit with urgency to taking full planes full of people out of the airport and any other evacuation routes as quickly and regularly as possible.
On 31 August, it looks highly likely that this evacuation process will stop. We have a matter of days to get as many Afghan citizens to safety as possible. A policy change of this kind will save lives – we implore you to act.
Yours sincerely,
Dr Nasrin Oryakhil, Director and founder of the Afghan Medical Council and former minister of labour and social affairs, Afghan
Dr Nilofar Ibrahimi, MP, Afghanistan parliament, Afghan
Rahela Sidiqi, CEO Global Governance Reform Advisory, Afghan
Diane Abbott, Labour MP, British
To see the full list of more than 150 names, click here
In hindsight
So Dominic Raab has belatedly admitted that "with hindsight" he would not have gone away at all as the Taliban moved into Kabul.
All well and good, but hindsight is something we all have. Surely, one of the required job skills for a foreign secretary and first secretary of state is foresight.
Since when has lacking a core skill been seen as a defence?
Gary Wiltshire
Isle of Mull
A disaster
Joe Biden's decision to exit Afghanistan, a policy inherited from the Trump administration, has been without a shadow of doubt, disastrous because it was so badly thought out.
Yet he seems to be entirely unconcerned, unaffected and disconnected from the deluge of criticism about it coming at him from all directions.
Linda Evans
London
Sensible and not
The call by the British Retail Consortium (BRC) for the government to allow more HGV driving tests to take place is sensible. However, the call for the issuing of temporary visas for EU drivers is not.
If I were an EU-based driver and received the offer of a temporary visa to help out a country that has made it very clear that non-nationals can be treated with contempt and only given grudging acceptance if we absolutely can't manage without them, I would treat the offer with the derision it deserves.
If the chief executive of the BRC, Helen Dickinson, recognises the need for EU citizens to help our economy, then she should be honest, state clearly that Brexit was an ill-informed mistake and call for the country to apply to rejoin the EU as soon as possible.
Phil Whitney
Cromford
Old observation
Marie le Conte's account of the Jesse Brammar story puts me in mind of the old observation that to vote Tory is normal; to vote Labour is political!
Joanna Pallister
Durham City
Join our new commenting forum
Join thought-provoking conversations, follow other Independent readers and see their replies