Brexit is unfinished business in the minds of many Brits
Please send your letters to letters@independent.co.uk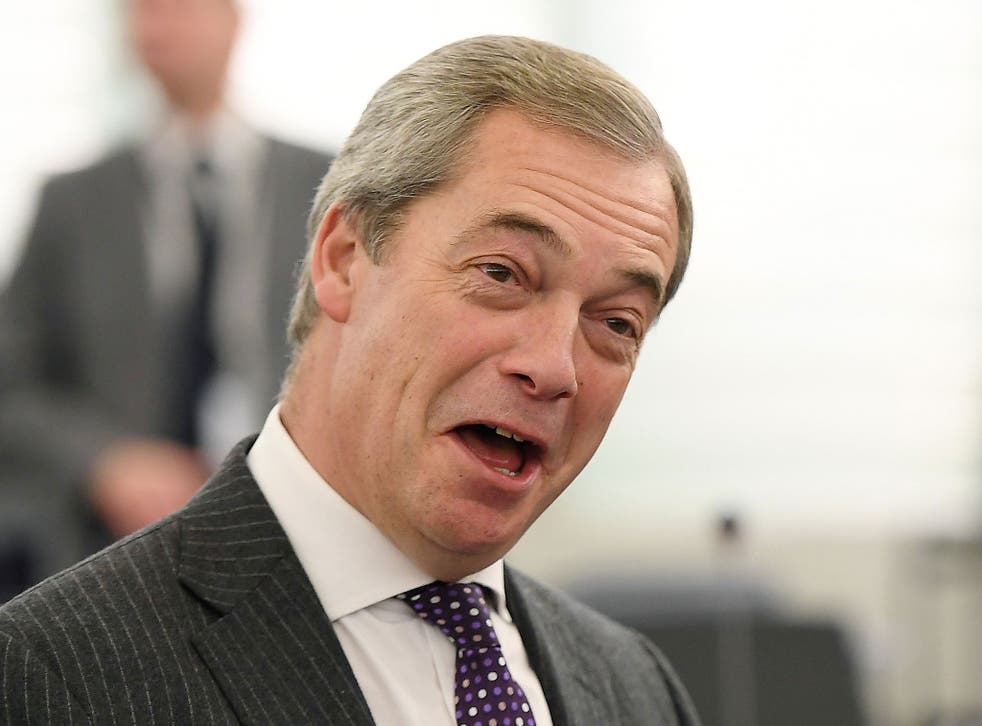 ​I have just stumbled across this comment from Nigel Farage made during the Brexit campaign.
The Ukip leader said a small defeat for his Leave camp would be "unfinished business" and predicted pressure would grow for a rerun of the 23 June ballot.
"In a 52-48 referendum this would be unfinished business by a long way. If the Remain campaign win two-thirds to one-third that ends it."
So I assume he agrees that this business is still unfinished by a long way?
N Priestley
Lancaster
Open out an atlas, look for the UK and see how small it is against the rest of the world. How on earth can we stand alone without our membership of the EU? Answer: we can't.
Richard Grant
Hampshire
I despair of the bullying tactics adopted by the Brexiteers. Woe betide anybody who disagrees with them; it's undemocratic and doesn't respect the will of the people wherever that may lie at present.
Why reject the opinions of Blair and Mandelson because they are unpopular figures? It really is a case of shooting the messenger, not listening to what he is saying.
It seems that immigration may not change very much, £350m per week for the NHS is a downright lie, Nissan, Toyota et al are considering their positions post-Brexit, the pound has dropped from $1.60 to $1.25, which is really feeding inflation, and EU migrants are rightly very nervous. Not to mention the Northern Irish and Scottish questions, completely unanticipated in the referendum.
So the Brexiteers need to explain what the future benefits will be. However, looking at Mrs Mayhem leading us lemming like over a cliff, the deeply underwhelming Truss and Rudd, Buffoon Boris, David Davis and the invisible Mr Fox, I am not sure that they are capable of making of making an argument that is not based on prejudice or character assassination. Therefore, what actually are their various positions? I can only think that they are worried about losing their seats at the next election, especially in Leave constituencies. This applies to both Tory and Labour MPs.
By the way, what is happening about all the other issues that are affecting the country such the NHS, the railways and prisons? Are these matters being attended to, or is this Government so obsessed with delivering a Brexit that satisfies 100 per cent that normal government has gone by the board?
Robert Hubbard
London N10
When a decision has to be made, post-negotiation, on the UK's relation to the rest of Europe, is there not a third option? Surely the choices should be: to accept the terms of "Brexit"; reject them and settle for WTO status temporarily; or alternatively to accept, after all, that remaining within (a reformed) EU is the best option.
In the third case, our political leaders may find the resulting loss of face embarrassing, but was not this one of the hidden objectives of those who voted to leave the EU?
Roger Knight
Swansea
Our greatest challenge
In a world replete with perils and crises, it is hard to imagine anything that defines our common future as a shared humanity and poses greater challenge and opportunity than climate change. This is the number one threat to global health. It has stirred a global refugee crisis so intolerable and so perilous whose repercussions reverberate well beyond the realm of one specific country.
As your report showed, global warming events such as heatwaves and droughts pose the greatest security risk in the 21st century. Women and children often bear the brunt of sexual trafficking, rapes and gender based assaults. Many remain hostages to stereotypical male masculinity. There is an urgent need to educate the public, young and old about the causes and consequences of climate disruption, ocean acidification, desertification, deforestation, floods, cyclones, extinguished wildlife, flora and work in partnerships to mitigate our vulnerabilities to climatic impacts.
Munjed Farid Al Qutob
London NW2
Giving money away
I don't mind what is used to make the £5 note, but I don't like them. They have a mind of their own and will not be folded and don't like being in a purse. I get rid of them quickly.
BG Levin
Address supplied
The path to redemption
Great article (Liz Truss is right – we should look to 'The Shawshank Redemption' when reforming the UK's prisons, Matthew Norman, 19 February): it should be printed and sent to anyone even vaguely connected with prison reform.
Liz Truss was way out of her depth during her BBS interview, and how Andrew Marr has the patience to cope with such useless answers, I know not.
Prisoners need help to find a new way of living, education, training and some kindness.
M Maguire
Surrey
Register for free to continue reading
Registration is a free and easy way to support our truly independent journalism
By registering, you will also enjoy limited access to Premium articles, exclusive newsletters, commenting, and virtual events with our leading journalists
Already have an account? sign in
Join our new commenting forum
Join thought-provoking conversations, follow other Independent readers and see their replies