MPs should follow their code of conduct when it comes to the Brexit vote
Send your letters in to letters@independent.co.uk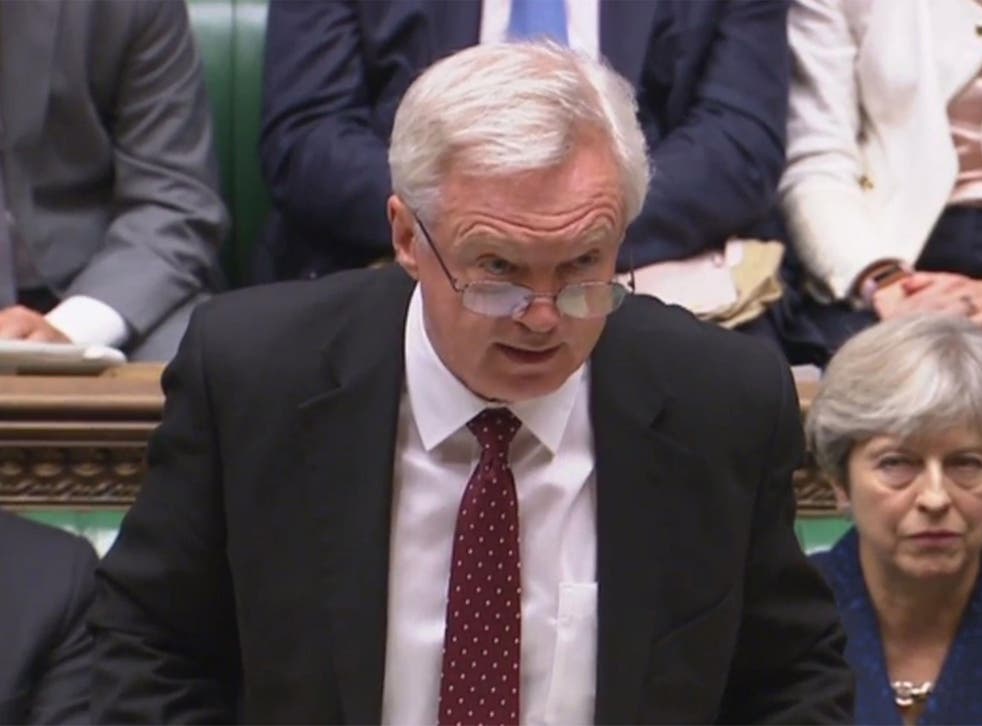 Tom Peck suggests MPs should leave their consciences at the door when voting on Brexit, given that the majority believe they are getting on with something they know to be wrong.
In fact a timely reminder should be issued to all MPs of rule 6 of their own code of conduct:
"Members have a general duty to act in the interests of the nation as a whole; and a special duty to their constituents. "
MPs in Leave-voting constituencies who believe Brexit will cause harm have a conflict. At the minimum they have a duty to educate and repeatedly test the water of local opinion carefully.
MPs who themselves voted Remain believing it was in the best interests of the nation as a whole, and who are in Remain-voting constituencies such as mine should be voting to prevent Brexit, especially a hard Brexit.
Why aren't they?
Fionna O'Leary
Cheltenham
David Davis is quite right that the electorate did not vote for confusion in the Brexit referendum; they have been badly let down by the Brexiteers and the Government.
The solution is not a series of ill-thought through fudges. The Government must be honest and admit what is obvious to everyone: that it needs more time to understand what is best for Britain. It needs to go back to the drawing board and identify all the issues, get a democratic mandate from the electorate for a well thought-through proposal and get the cooperation from Europe to achieve it. Without any preconceptions on the eventual outcome.
Such honesty would gain a great deal of support.
Jon Hawksley
Address supplied
Theresa May justifies a hard Brexit on the basis of a 52 to 48 per cent referendum vote. Yet in the last general election in June, the Tories secured only 42.4 per cent of the popular vote.
Despite this, later this week she is planning to grab the so-called Henry VIII powers and pack a crucial Commons committee with Conservative MPs. In Saturday's fascinating obituary in The Independent on Edward du Cann, the possibly apocryphal story is related to how when Sir Edward was asked the time, he replied: "What time would you like it to be, dear boy?"
Presumably if Theresa May was asked what she understood by the term the "will of the people", she would reply in a similar vein, but with one crucial difference. Her response would no doubt be: "The will of the people is what I want it to be, dear boy."
MT Harris
Address supplied
Whatever May, Davis, Juncker and Barnier say today and have said these past weeks, it's entirely posturing, chest-to-chest, who-blinks-first, mine's-bigger-than-yours stuff.
For nobody either side of the Channel has the slightest real clue what to do – this is totally uncharted ground, amazingly complex and nerve-jangling for all parties. Brexit will formally happen in around 18 months from now. But we will still be in the EU in five years time, gradually, bit by bit sliding out with agreement on all sides. A slow detumescent withdrawal rather than mercatus interruptus.
Allan Friswell
North Yorkshire
American leaders need to start taking scientists seriously when it comes to climate change
As a physicist, it is very sad for me to read about many of our scientifically-illiterate social, business, and political "elites" who don't understand climate science and, as a result, are misleading millions of their followers into denying reality which will ultimately be a very dangerous undertaking as our climate changes even further.
The fact is that a large majority of scientists agree that humans are having a deleterious effect on our environment. As the concentration of carbon dioxide and other greenhouse gases in our atmosphere increases, more heat is retained and trapped which makes more energy available for storms, thus increasing their severity and increasing the oscillation between extremes (heat and cold, drought and flooding, and so on) similarly to stretching a spring with evermore amplitude.
Though predicting the weather is very challenging and storms do typically weaken when they make landfall, it is criminal for someone such as Rush Limbaugh to belittle the efforts to protect the public from Hurricane Irma and discourage his listeners from taking the warnings seriously. It is better to have one life saved by erring-on-the-side-of-caution evacuations than to lose many innocents from ignorance or denial.
Whether Limbaugh believes it or not, these "once in a generation" events are becoming ever more frequent with ever more loss of life and destruction of property.
How many more will need to occur before our "leaders" take their heads out of the sand and start seriously listening to the scientists (not censoring them) and seek their help in mitigating this looming unprecedented crisis?
Michael Pravica, PhD
Nevada, US
Do the Virgin Islands really deserve our money?
Boris Johnston was on the radio this morning saying that is was important that we should help restore the financial services industry in the British Virgin Islands. Should this be paid for by the British taxpayer when the BVI government collects little if any tax from the wealthy tax avoiders it shelters?
G Forward
Stirling
Join our new commenting forum
Join thought-provoking conversations, follow other Independent readers and see their replies