Cambridge University's investigation into its role in the slave trade is pointless. What about modern slavery?
Please send your letters to letters@independent.co.uk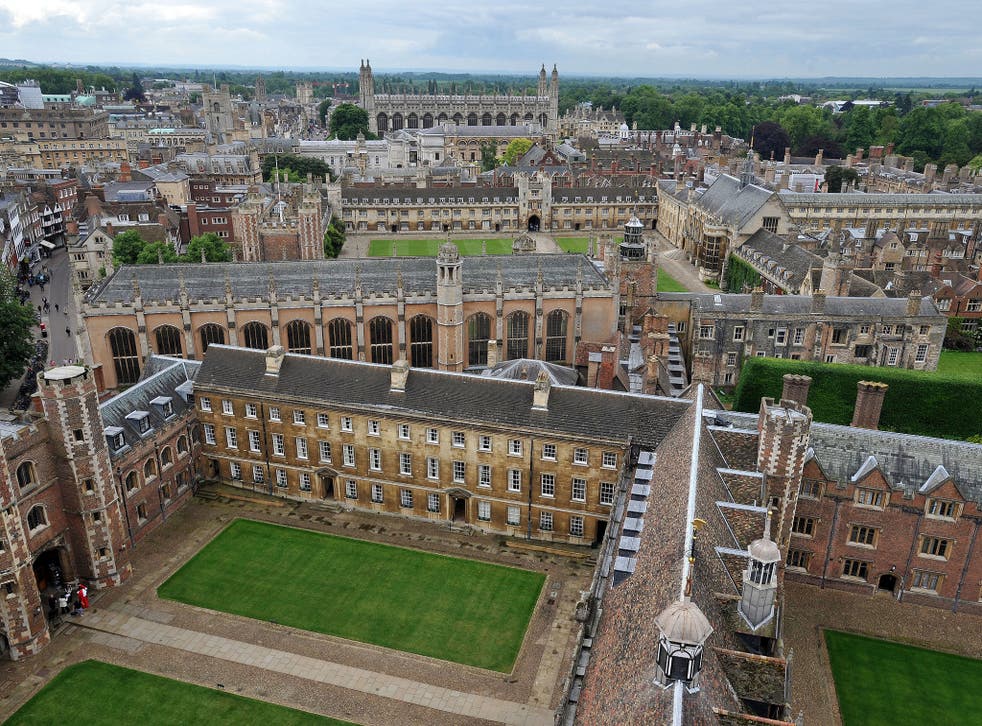 Cambridge University is an easy public target for an investigation into its links to the slave trade, but of no value unless all "beneficiaries" are examined concurrently and fairly.
A balanced approach would be to look at everyone who came to prominence during the slave trade and whose legacy wealth is from that time: every port merchant, every old rich family (ennobled or not), every old stock exchange portfolio, every charity, every building, every inheritance and so it goes on.
Perhaps we should also include discussion of the Barbary Pirates who came to Europe and took people as slaves in 16th-18th centuries?
Do we also wish to look at the African and Arab rulers who actively assisted in the sale of people, and without whose support the trade would have been impossible?
Slavery has been a part of humanity ever since the first tribes battled for local supremacy; the subjugation of one human by another has taken place for many thousands of years and there is plenty of evidence to show that it endures.
World University Rankings 2018: The top 10

Show all 11
What should be lauded are the pioneers, such as Britain, who fought first and foremost to end the odious inhumanity of the slave trade.
If there is to be open demand for apology and reparation it should be inclusive and not a blinkered and socially vindictive act.
Or might it not be better to focus this energy into ensuring that slavery that still exists is eradicated, and that any future activity is deterred, prevented and punished?
Matt Minshall
Norfolk
Mary Robinson's hypocrisy
Mary Robinson's call for justice for all (Voices, Monday) is admirable, but she might do well to practise what she preaches.
Robinson's trip to Dubai last December to try and assure the world that the allegedly violently kidnapped princess Sheikha Latifa is fit and well and thriving in the bosom of her abusive family is precisely the kind of denial of justice the former Irish president claims to be fighting.
I hope I can be forgiven a wry smile when I read "a third of people with a justice problem are likely to experience a physical or mental health problem" and "violence against women is estimated to cost between 1 and 4 per cent of GDP". Indeed Mrs Robinson, so please do as you say, not as you do.
David Haigh​
Address supplied
Hysterical green fantasists
I for one am fed up with being lectured to by hysterical green fantasists.
When the green lobby can come up with detailed and costed proposals as to how and when we are going to replace millions of gas boilers, petrol and diesel vehicles and massively increase electricity production, then I will listen.
Until then I ask that they allow me to travel to work and keep warm in the winter, while they fantasise about being carbon neutral.
Andy Brown
Derby
Climate change appeasement
I am very pleased that The Independent is highlighting the groundswell of public concern and demand for action by leading climate activists. Greta Thunberg is inspiring and the Extinction Rebellion movement is very necessary to grab attention of politicians and company leaders, although many will scoff at the realism of some of its demands.
The phrase "climate change appeasement" is exactly where the western world is.
Too reluctant to change its lifestyle. There is no easy political solution or even technical solutions, but if all fronts were tackled coherently we may just avert disaster.
While the west could probably handle the impact of climate change, most of the world can't and so the migration pressures to the developed countries will increase to unimaginable levels.
We need a reliable, emission-free base-load source and that can only be nuclear. Not the traditional solid fuel reactors which are hugely expensive due to the necessary safety factors to contain possible explosive failures. A technology hardly ever mentioned anywhere is being worked on at pace in China and Canada called molten salt reactors. It's not new, but it had never been developed for commercial use. Now it needs to be. And fast. It's much safer and much lower cost than today's solid fuel designs. The UK must support companies that are pursuing it as fast and much as possible.
Scott Peacock
Ballater, Aberdeenshire
BMI isn't measurable
There's a story from Monday about BMI and obesity rates which mentions recording and measuring BMI. BMI isn't measured, or measurable, it is a ratio between two measurements, height and weight.
The former doesn't change significantly in adult life, so need only be recorded once. The latter is more often recorded. Records or access to them moves with patients.
It would be very unexpected if weight had never been recorded in a quarter of patients. Software, or if necessary a pencil, calculates the BMI.
It would be easy to design a query of the database which asked the wrong question.
In stories dealing with technical matters it is as desirable that the journalist understands them, such as the distinction between measurement and index here, as that they get their English correct.
Dr Adrian Midgley
Exeter
Support free-thinking journalism and attend Independent events
An unconventional Russian weapon
In yesterday's Independent, an article by Harry Cockburn led with the headline "Whale found in harness 'could be Russian weapon". It went on to describe "a harness recovered from an unusually friendly white whale in north Norway may indicate the animal had been trained by the Russian navy as part of a marine mammal special force, experts said".
The article reminded readers that both the US and Russia trained marine mammals during the Cold War, Vietnam War and the Iraq war.
A 26-year-old Norwegian fisherman managed to remove and retrieve the harness, which had a label entitled "Equipment of St Petersburg" attached to it.
It is believed that the tight harness could be used to attach cameras or other instruments.
We must exercise caution and resist the temptation to jump to hasty conclusions. The whale in question might be entirely innocent. It is, however, highly probable that the harness was originally designed for nefarious porpoises.
Nigel Plevin
Somerset
Join our new commenting forum
Join thought-provoking conversations, follow other Independent readers and see their replies