There are some simple answers when it comes to exam marking and vaccines for teachers
Please send your letters to letters@independent.co.uk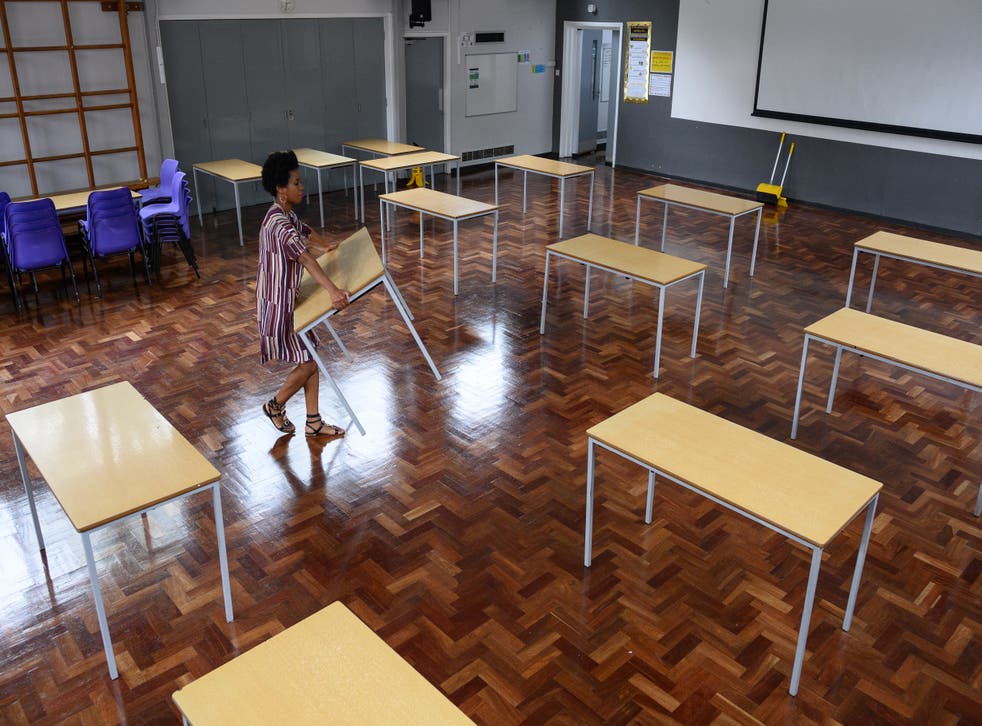 Ah, the "Pub Quiz Solution" to school exams as hinted at by Cole Davis in Letters. I can only assume the current education minister and his department colleagues have never taken part in one.
There is another system that works effectively and allows confidence in the process and that, in my time in this arena, was used in the assessment and marking of NVQs:
1. Work marked by teacher
2. In-house verification of that marking
3. Random selection of students work at each grade verified by teachers from other establishments within the authority.
Result - confidence that within the authority the grades offered were consistent
We could call this approach "Pub Quiz Solution Plus".
Please feel free to pass my email on to the minister when he realises he needs me.
Judy Marris
Bath
I'm firmly of the opinion that our government needs some ideas. So here's one. There is an easy way to give all the teachers their jabs without adding delay and causing age and occupation chaos.
Simply ask all the teachers who still need a jab to go into their school on the first Monday of the Easter holidays and arrange for their local GP surgery to go there and jab anyone that moves.
If a teacher can't be there that day then they simply wait for their age slot, but this simple and cost- effective arrangement will catch most.
It's not rocket science!
Paul Finch
Somerset
Another Brexit lesson
So minister's strategy for a possible second Scottish referendum would be to "insist Scots voted on a detailed blueprint so they knew the full consequences rather than on the principle of independence". (Andrew Grice).
One lesson learned from the Brexit fiasco then.
Paul Keeble
Manchester
Stop moaning about hotel quarantine
I have followed the articles of people in hotel quarantine with interest. I have also noted the criticism voiced.
As much as I may take a different view, the rules concerning quarantine for red-listed countries have been clear with sufficient warning, so I fail to understand the complaints.
We have now been at the Radisson Blu Renaissance quarantine hotel at Heathrow for three nights, with 8 nights to go. Yesterday we had our first virus test which has come back today, showing negative.
Given the choice, of course I would prefer to isolate at home. We had been to Brazil for six weeks for very personal reasons. Our return flights kept being cancelled, I kept rebooking.
In order to fly I had five coronavirus tests during this last week as none of the airlines were prepared to accept a negative test certificate in Portuguese, which is the national language in Brazil.
To conclude? I can only praise the extremely friendly personnel, security, systems and standard of food in place at the hotel to make our stay, if not enjoyable, very much acceptable.
After all, our quarantine is self-inflicted, though it is only too easy to accuse life for having thrown us a very curved ball.
Gunter Straub
London
Creating a martyr
As has been pointed out, the UK government has turned Shamima Begum into a martyr. This was achieved firstly by illegally rendering her stateless, then by refusing to let her into the UK to appeal that decision.
In the (probably unlikely) event that she is a terrorist threat, would it not be safer to bring her to the UK where an eye can be kept on her? No, of course not. Silly of me. It's much better to act tough even if it does have the opposite of the desired effect.
Susan Alexander
Frampton Cotterell
Treat older people fairly
Lord Clarke (no relation) makes a strange case ("Tory Grandee warns Rishi Sunak") for singling out the older generation as particularly deserving to be taxed more to help reduce the government debt which has necessarily risen during the pandemic,
"The older middle class, comfortable and retired, are actually financially better off because of the crisis because their house prices have gone up, their investments have increased in value thanks to quantitative easing and they saved money which they haven't been able to spend on their holidays."
It is not only the house prices and investments of older people that have increased in value. It is not just older people who have saved money because they haven't had holidays. And haven't many younger people also saved money because pubs, restaurants, and other places of entertainment have been closed for many months?
I am sure that most older people - certainly those of us who are "comfortable" - would accept that we should bear our fair share of any increased tax burden.
But it must be fair. And those businesses which have done well during the pandemic also need to contribute.
Fairness should also take into account that losing perhaps a couple of years of normal living represents a much higher cost to the older generation than to those who still have most of their lives ahead of them.
Michael Clarke
North Somerset
Join our new commenting forum
Join thought-provoking conversations, follow other Independent readers and see their replies