Hidden costs and benefits of wind power
These letters appear in the Friday 9th October edition of the Independent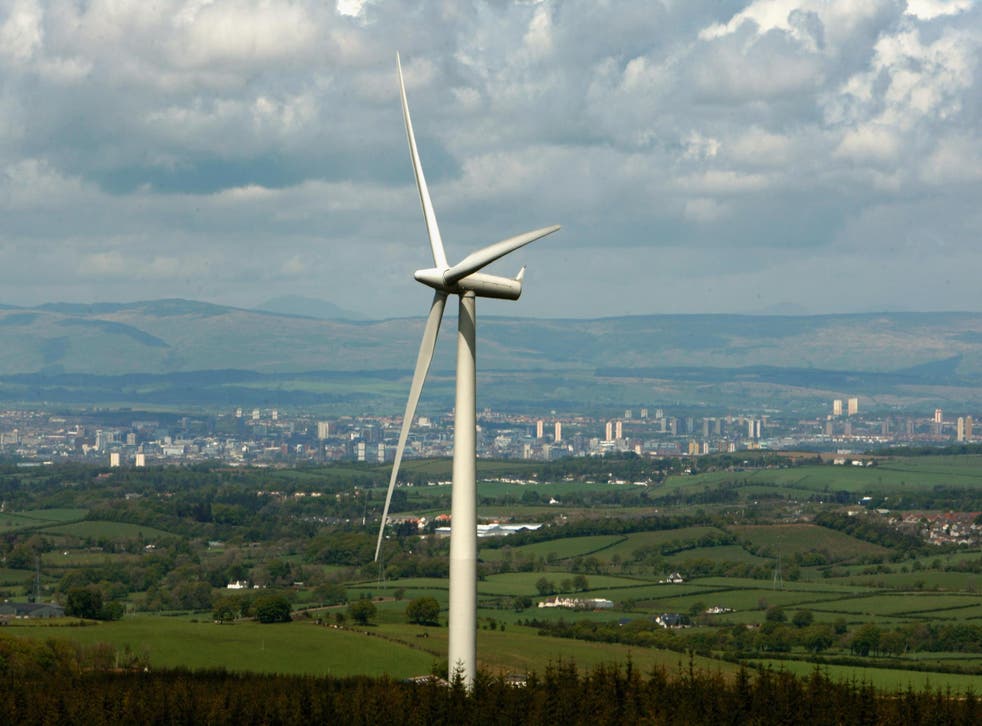 In declaring that wind power is "now the cheapest form of energy" (8 October), Environment Editor Tom Bawden is wide of the mark. Other reputable analyses paint a picture different to Bloomberg's.
However, the elephant in the room is intermittency. Taking the most basic approach, an onshore wind turbine at 25 per cent load factor requires 75 per cent back-up. The best candidate for that back-up is combined cycle gas power, and having it on standby when the wind is strong adds around £13 to each MWh of wind power. More to the point, we are never going to decarbonise the grid by going on in this way.
The Intergovernmental Panel on Climate Change recognises that wind power requires "extra measures" if it is to be a serious player. That means store-and-recover technologies, of which there are many types including our own Dinorwig pumped hydro facility. Inevitably, some of the energy will be lost as it goes into storage, and some more lost as it is recovered. Whatever technology is used, it appears that only about 65 per cent or so of the electricity destined for storage would make it into the grid.
The overall effect is a real cost for wholesale wind power that is approaching double what is claimed.
Renewables campaigners must know all of this: in claiming otherwise they just squander credibility and trust.
Meanwhile, across the Channel the French grid is almost fully decarbonised, courtesy of nuclear and hydroelectric power, and is also delivering some of the lowest electricity prices in Europe.
The demonising of nuclear power for two generations has left the electorate in disbelief that nuclear is overall less demanding of finite resources than any of the wind, solar or biomass "solutions". Do we really want solutions, or is protest being enjoyed for its own sake?
James Anderson, South Wonston, Hampshire
Is it just me or is anybody else's head in a spin about the amount of industrial-scale wind farms appearing in the highlands and uplands of Scotland. Everywhere I look I find myself staring at rotating propellers, and it's starting to make me feel dizzy.
There was a time, not so long ago, when a drive through Scotland filled me with awe, wonder and pride to live in such a unique country, with such outstanding landscapes, for which we used to be so famed throughout the world. Now I find myself dreading driving around the next corner in case the next industrial-scale wind farm has been erected on one of our sacred mountain sides.
How much more of this vandalism are we prepared to accept? How can you call something that destroys wild habitat "green energy"? I fully appreciate and support smaller-scale community-led wind turbine projects that benefit the community. However, there is a big difference between those and these awful industrial scale developments which now blight much of Scotland.
The whole "green energy" movement has been hijacked by EU subsidy hungry landowners and businessmen. They don't care about climate change or Scotland, they only care about revenue.
Calum Cormack, Aboyne, Aberdeenshire
The sooner people cease their nimbyism and desire for beauty, the better. Britain has huge amounts of countryside; leave the Areas of Outstanding Natural Beauty but start building well-designed wind turbines throughout the rest, in addition to well-insulated homes. It is selfish to fail to tackle climate change and live a life of personal luxury.
Sebastian Monblat, Sutton, Surrey
Whenever I see an onshore windfarm, I feel the thrill of seeing these potent symbols of a brave new, sustainable world.
Keith O'Neill, Shrewsbury
Your garden needs creepy-crawlies
One problem with wasps disappearing, along with many other insects, including humble aphids, grander butterflies, moths and other creepy-crawlies, is that it is not only farmers who use excessive pesticide, herbicide and the rest, but so many everyday gardeners do the same (Michael McCarthy, 6 October).
It is all very well to say that gardens now hold so much of our wildlife; many people like the thought of birds popping around and butterflies in their gardens, but will do everything they can to starve the birds of caterpillars and insects on their garden plants.
Yes, I do crush or remove caterpillars from my vegetables from time to time, but I also leave some behind, and actually welcome them on pretty much anything in the garden. Snails are removed from particular places and put elsewhere.
If I want frogs, toads, birds, butterflies, hoverflies, solitary bees, the lot, there have to be things for them to eat, and gardeners, as well as farmers, should stop buying poisons of all sorts and stop putting them on their gardens. Garden centres, as well as manufacturers, have much to answer for.
Sarianne Durie, Billesdon, Leicestershire
Celebrating a mongrel nation
Dave Croucher (letter, 7 October) wishes our Home Secretary to improve our leaking borders and prevent British culture from being overrun and disappearing for ever.
I remind him that without previous centuries of mass migrations to our islands we wouldn't have our present British culture.
I think he's confused. He is obviously very proud to belong to our mongrel nation, which, like most mongrels, is healthy, outgoing and well adjusted; yet at the same time he seems to wish for it to become an unhealthy, fearful and maladjusted inbred.
David Rose, Sutton Coldfield, West Midlands
How about a campaign for all those of us who know we are descended from immigrants to wear lapel ribbons? Maybe a nice, cheery orange?
My mother came from the Netherlands and on my father's side my great grandmother's family were Huguenots. Farther back were people from many different countries. I think it is something to celebrate.
Three cheers for diversity and the richness of our heritage. And poor Theresa May, if her forebears only came from one place.
Helen Watson, Goring Heath, Oxfordshire
What happens to the poor when they die?
A few months ago I heard that someone I studied A-levels with had died. He lived alone in London, and had few savings.
The typical cost of a funeral is now £3,702, and the ceiling for Government help with funeral expenses is £700 ("Cost of dying outstrips cost of living", 5 October). His body is still in the mortuary, but his friends will soon have raised enough funds to pay for the funeral. However, one wonders what happens to poor, friendless people when they die.
During the Winter of Discontent of 1978-79 the media showed graphic images of gravediggers refusing to bury the dead. However, it is more difficult to make graphic images of funeral directors explaining that they are unable to transport the deceased to cemeteries without receiving any remuneration.
Ivor Morgan, Lincoln
Watch out for the new poll tax
I see that with increasing panic among Tory ministers about the impact of the forthcoming cuts to working tax credits, some are urging the Chancellor to increase the personal tax allowance to soften the effects.
But, if my memory serves me correctly, a table that you published when the measures were first announced indicated that the group suffering the most severe cuts was single parents with two or more children working part-time and earning at or less than the tax-free personal allowance.
Increasing the personal allowance would be of no help to this category, of whom there must be many. Perhaps there is indeed another "poll tax" event in the offing.
Tony Sims, Lewes
All but forgotten masterpiece
Your obituary of John Guillermin (6 October) failed to mention his extraordinary Rapture (1965), one of the director's favourites and a love story of almost overwhelming power set in the marvellously evoked countryside of Brittany.
It is a film unlike any other by Guillermin, with a hypnotic performance by the young Patricia Gozzi, who retired from acting shortly afterwards. This work of something like genius needs to be rescued from its current obscurity.
Grahame Smith, Gargunnock, Stirling
The politics of personal attacks
Oh dear. If Jeremy Corbyn is, as David Cameron's conference tirade described him, a "security-threatening terrorist-sympathising British-hater" then I suppose je suis JC too.
Sara Starkey,Tonbridge, Kent
Join our new commenting forum
Join thought-provoking conversations, follow other Independent readers and see their replies