Letters: Subs with no nukes aren't such a daft idea
The following letters appear in the 20th January edition of the Independent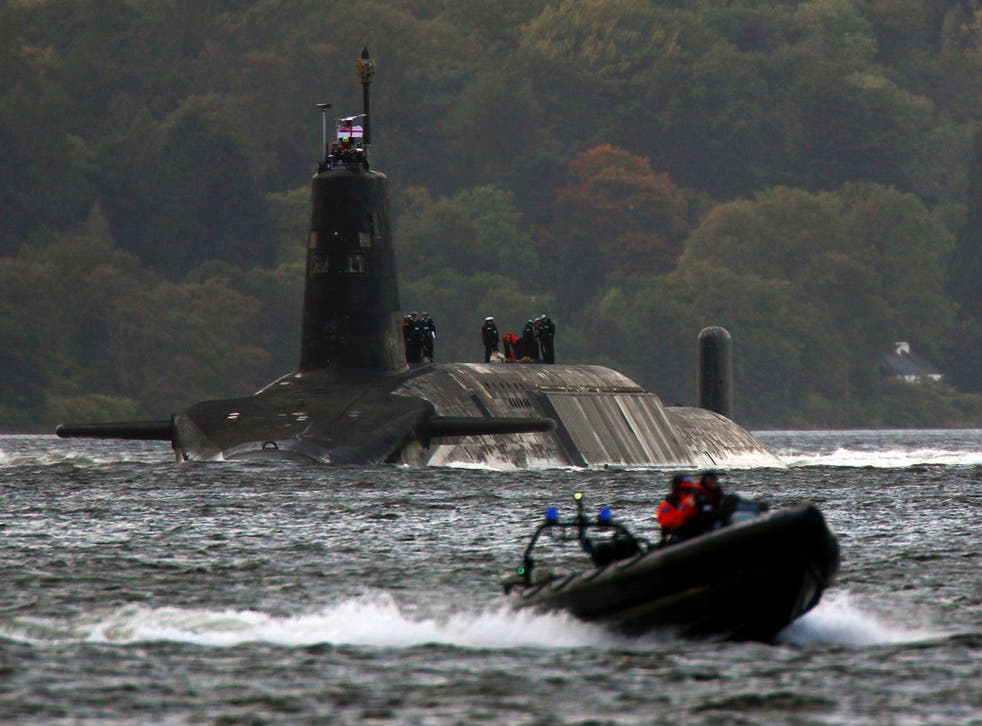 Jeremy Corbyn is not perhaps as foolish as commentators are saying when he suggests that Trident missiles could carry conventional warheads instead of nuclear ones,.
I understand that the US successfully developed these some years ago. Twelve warheads on 16 missiles (or however many missiles the replacement for Trident carries) would provide 192 independently and accurately targetable warheads that even a sophisticated military state could not begin to destroy in flight. Such a salvo would be quite capable of taking out government buildings, command centres or other military "hot spots", to say nothing of additional missiles fired from the back-up boats not actually on patrol.
This would give the UK a genuine first strike capability which could be launched at "rogue states" with less than the enormous collateral damage that currently – and rightly – inhibits the use of nuclear weapons. It is definitely worth a serious look.
What Mr Corbyn also rightly points up is that nuclear weapons are of no value at all against today's threats, but the cost of keeping them has reduced our armed forces to a level at which we cannot defend ourselves – surely the first requisite of any nation? Either we make Trident useable or scrap it and replace it with more conventional forces in all the three services.
Robert Forsyth
Commander RN (ret'd)
Deddington, Oxfordshire
Oliver Wright reports on Jeremy Corbyn's headless compromise ("Corbyn floats 'no warheads' compromise on Trident, 18 January). If Trident is vital to manufacturing jobs, we should make both Trident and its missiles and export the finished product to willing buyers, as we do military aircraft. Making an unmarketable product and putting it to sea without purpose is a short-term expedient that will not protect jobs for the next generation.
Corbyn's idea is a refusal to understand the economy: it is activity without performance. It would make more sense to build neither submarines nor missiles and distribute the money more equally to all the needy.
Martin London
Henllan, Denbighshire
Constitution undermined
Our unwritten constitution has served us reasonably well as long as our "first past the post" governments have broadly followed its intentions. However, it is becoming increasingly evident from the concerns raised by Baroness Smith and others ("A contempt for democracy", 19 January) that constitutional change is being imposed for its own advantage by the present government which, though it has a slender majority of MPs, did not win a majority of the votes in the country.
One could add to the list of changes the fixed-term Parliament, the threshold of 55 per cent plus 1 to defeat a sitting government and the punitive reduction of Short money to opposition parties, none of which were in any election manifesto.
A dangerous precedent is being set. It is time that all constitutional changes be a matter for cross-party agreement and ratification by an agreed proportion of the whole electorate.
Neil Kobish
Barnet, Hertfordshire
English lessons for Muslim women
David Cameron has launched a £20m language fund to help Muslim women facing discrimination and social isolation, since 40,000 don't speak English at all and 190,000 have very poor English. In Canada the deal is simple: if you want to live in this country, you learn the language.
David Cameron also said that schools, courts and any other public institution which wants to ban Muslim women from wearing the veil can expect the full backing of the UK government. France and Belgium have had a ban on wearing the veil in public for some time. In France those who defy the ban are fined and made to attend classes on French values.
A woman Muslim journalist said that it isn't Muslim women that are the problem with not learning English and wearing the veil but Muslim men and hard-line imams who do not consider women equal.
Clark Cross
Linlithgow, West Lothian
During the Prime Minister's interview on the BBC Radio 4 Today programme on Monday when he was asked about Muslim women wearing face coverings, his response was that "this is a country in which we allow people to wear what they want to wear". That response ignores so many factors.
Earlier in the interview Mr Cameron stated the need for immigrant women to learn English as a means of empowering them and encouraging their integration into British society. Yet the wearing of niqabs and burkas disempowers women and is a clear statement that they are not prepared to integrate.
A ban on wearing of face masks in public would be a major step forward for the empowerment of Muslim women, and would have the support of the majority of the British people.
Mike Stroud
Swansea
So extremism is the fault of Muslim women. The Government has drastically cut English for speakers of other languages (ESOL) provision at further education Colleges; some women cannot retain their place on the remaining courses because of family caring commitments and others have minimal education because their families consider education unnecessary. But it's the women's fault.
Kathryn Salomon
London N2
Imagine if the Welsh Assembly Government announced that anyone not able to learn Welsh would be deported or have their second home confiscated ...
Mandi Abrahams
Rhosneigr, Anglesey
Climate solutions that would work
Richard Mountford keeps proposing geo-engineering as a solution to climate change, but conspicuously fails to identify any technology that might actually work (letter, 14 January). Carbon-negative technologies offer a much greater prospect of success.
For example it is perfectly feasible to grow seaweed in prodigious quantities which would fix atmospheric CO2. It could be harvested and turned into biogas. If this was burnt in combination with carbon capture, then you would have an energy source that removes carbon from the atmosphere.
Obviously a large investment is required to turn such "third-way" technologies into reality. It is Britain's tragedy that our scientifically illiterate Cabinet, in thrall to the fossil fuel industry, appears totally blind to the possibilities.
Dr Robin Russell-Jones
Stoke Poges, Buckinghamshire
An example to the Queen
The tea party to celebrate the Queen's 90th birthday seems in sharp contrast to the similar age celebrations of my maiden aunt, who not only organised her own party, at which presents were strictly prohibited, but also marked the occasion by delving into her meagre resources to send each of her nieces and nephews a cheque to enjoy spending as they wished.
Her death a year or two later has at least spared her, an ardent monarchist, from the realisation that such behaviour is clearly not the done thing in polite society.
Martin Morse
Bristol
Waitrose pays up promptly
I heartily agree with James Moore (19 January): supermarkets should pay their suppliers a fair price, promptly. And that's what we do. We commit to the Prompt Payment Code and have always supported the work of the Groceries Code Adjudicator.
Our suppliers have rated us as one of the top performers in the industry for compliance with the code. We also live by the spirit of the John Lewis Partnership Constitution, which states that our relationships with suppliers must be based on "honesty, fairness, courtesy and promptness".
Our current review is very positive for our smaller suppliers, those who typically supply fewer than 10 of our shops. We are looking at how we simplify the payment process, as well as the speed with which we pay these firms. Our intention is to make our good relationships with these important suppliers even better.
Mark Williamson
Commercial Director, Waitrose
London SE1
The wrong kind of nude
Lawyers for Deborah de Robertis have accused staff of the Musée d'Orsay in Paris of "official prudishness" and implied hypocrisy on their part, for removing and prosecuting her for indecent exposure after she lay down naked in front of Manet's reclining nude Olympia, to mimic it. However, the argument that she should be allowed to perform in this way, as a "work of art", is flawed.
Those whose works are displayed in this prestigious gallery are acknowledged as great artists. Even if we accept De Robertis' behaviour as "art", this is not the case with her. The Musée d'Orsay is not the appropriate forum for her "work" and the museum's staff have made the correct judgement. Otherwise we could all just go and hang our pictures in there.
David Shewring
Cardiff
Join our new commenting forum
Join thought-provoking conversations, follow other Independent readers and see their replies