Letters: We stand by the striking junior doctors
The following letters appear in the 6th January edition of the Independent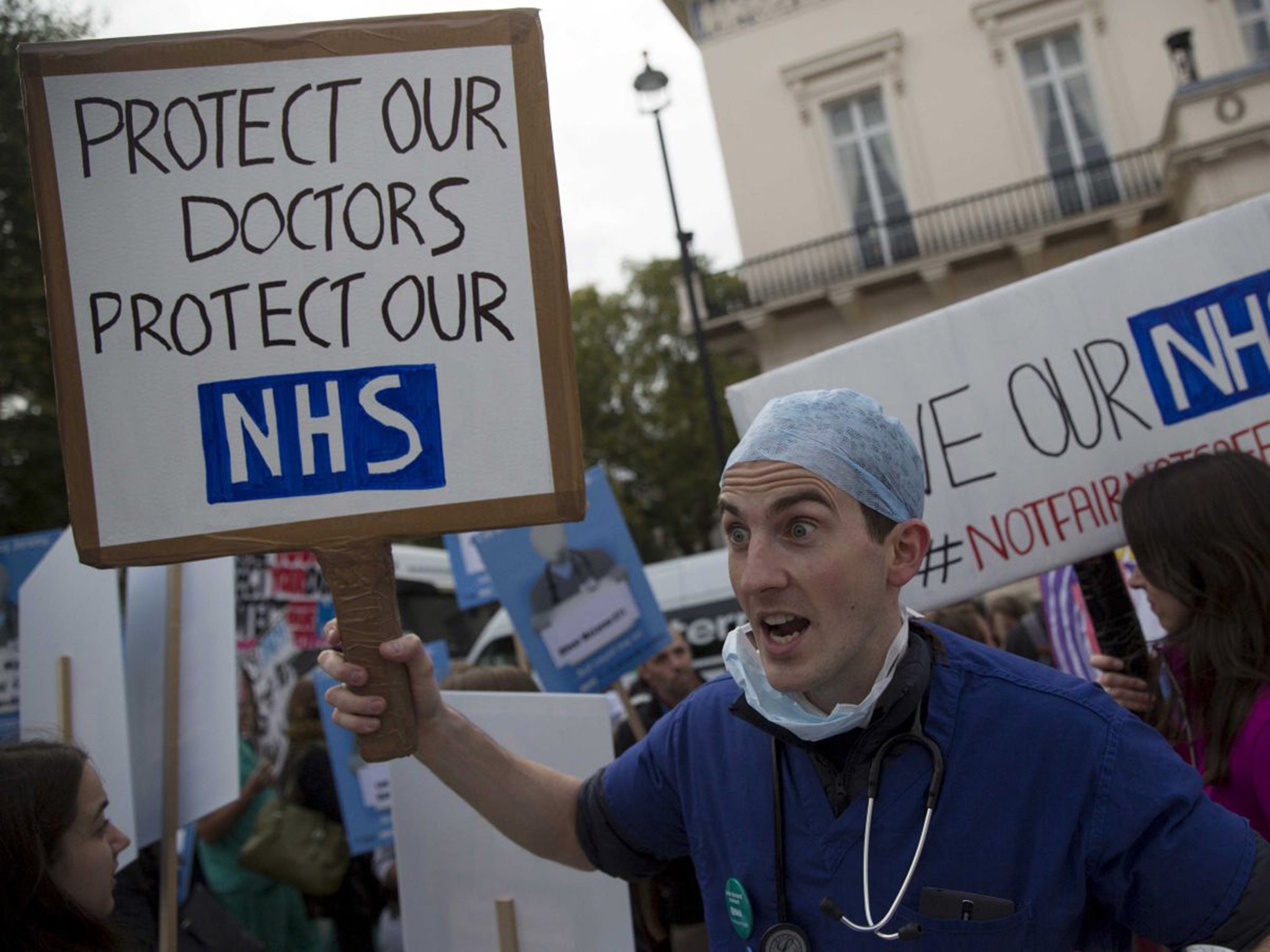 We – nurses, healthcare assistants, care support workers, allied health professionals, secretaries, paramedics, pharmacists, porters, housekeeping staff, medical scientists and technicians, practitioners and all members of the NHS workforce – want to publicly demonstrate our support for junior docters during this difficult time.
We have seen them day after day, night after night caring for patients with dedication, compassion and unparalleled commitment. We know this because we have been right there by their side, sometimes needing to care for them as well as our patients.
We stand by them in solidarity at a time when they feel they have no choice but to take industrial action. We too believe that industrial action is the only option now in order to protect our patients first and foremost from an unsafe contract that will see the junior doctors even more exhausted and demoralised than they already are.
We see them miss their childrens' birthdays, relatives' funerals and precious evenings with their families, just as we do. We know how that feels and what sacrifices they make, because we make them too. It is time for us now to stand together as healthcare professionals and unite for the sake of our patients, our working conditions and most of all, our precious NHS. We believe in the doctors to do the right thing for our patients now and in the future.
Janice Gibson
Junior Sister
Samantha Wallace
Staff Nurse
Rob Abaya
Staff Nurse
Jenny Buisan
Vascular Advanced Nurse Practioner
Karen Fenn
Sister
Varsha Ormerod
Senior Haematology/Oncology Pharmacist
More signatories can be found here
My son is a junior doctor. He spent five years at university and over £70,000 to qualify. His basic pay is about £28,000 a year. He pays for his own insurance, fees and very expensive exams.
He regularly works weekends and nights and spends much of his "free" time adjusting his sleep patterns. He almost always works one to three hours extra daily because of understaffing. He witnesses death and misery almost every week. If he makes a mistake someone might die.
His social life is almost non-existent because of exhaustion and antisocial hours.
Jeremy Hunt wants junior doctors to work more nights and weekends. Overtime will only be paid when hours exceed 87 a week – 39 more than the maximum working hours allowed under the European Working Time Directive.
Most junior doctors are neither well paid, well treated nor well appreciated by their employer. Their recent overwhelming vote in favour of a strike is largely because Mr Hunt apparently believes them to be the root cause of many of the problems in the NHS. His solution – to work them even harder and for even less pay – makes it clear how little the Government values their dedication.
Why would they not strike?
Adrian Whittaker
Ditchingham, Norfolk
Britain's dilemma over the Saudi regime
In your editorial "Saving the Saudis" (4 January) you rightly acknowledge the threat posed by Isis should the House of Saud collapse. However, you miss the true reason for this threat.
You dwell on the geopolitical and religious history of the region but do not recognise that in Isis we have something very new to deal with, a violent new state, not just a mere sectarian group. Max Weber said: "A state is that human community which (successfully) lays claim to the monopoly of legitimate physical violence within a certain territory", and Isis undoubtedly meets this definition of statehood, despite what the UN and international community might say.
It controls territory in Syria and the Levant and, via affiliates, in areas of Afghanistan, Nigeria and Libya. It attracts people from around the globe to join its community and of course its ruthless violence needs no further discussion.
Your suggestion that we should prop up the despotic House of Saud is simply naïve; the regime has had many opportunities to mend its ways but it still assassinated 47 people this week.
If Britain were to aid the regime, we would be abandoning the principles of democracy that underpin our nation state; this would result in more individuals such as "the new Jihadi John", disgruntled at yet more Western hypocrisy, rejecting their British identity in favour of the Islamic State and ultimately lead to a more rapid expansion of the proclaimed caliphate.
Amelia Baisley
Edingley, Nottinghamshire
Unravelling the "US-British-Saudi connection" (Letters, 5 January) is an uncomfortable business. The city in which I live is a case in point.
In 2014 Lincoln College announced it had been awarded a contract worth £250m by the Kingdom of Saudi Arabia. This is not a wealthy city, and the deal was quietly celebrated. Not a word of ethical or political protest was heard.
It is easy for critics of the British-Saudi connection to challenge the stance taken by David Cameron, but they themselves have some hard pills to swallow. Severing economic links with Saudi Arabia would have massive economic consequences for this country, and not just for employees at Lincoln College. And the fall of the Saudi regime might possibly be followed by something even worse.
Ivor Morgan
Lincoln
Here we go again. No sooner is the original "Jihadi John" neutralised than a replacement appears, carrying on where the other left off. The reason Isis do this is because the tabloids give them the oxygen of publicity.
In doing so they aren't reporting news but creating it. Isis will continue doing it because the Western press lets them.
Mark Thomas
Histon, Cambridgeshire
When the honour is just an extra
Ian McKenzie (letter 2 January) argues that a CBE for the Ann Summers boss, Jacqueline Gold, is no less appropriate than an award to any other business leader who has built up a successful brand. He is right that the nature of the product her company sells should not make her less deserving of an award, but is it really necessary to give an award to any successful business person?
It seems to me that someone who has built up a successful business is sufficiently rewarded by the success of that business and the wealth and prestige thereby generated – why do we need to give them an extra pat on the back? By the same token, it seems odd to me that when a sportsman or woman wins Olympic gold they are automatically given an award in the next honours list. Surely the gold medal is already the appropriate and sufficient reward for their achievement?
If we are to maintain the honours system it seems to me that it would be preferable to use it to reward those whose efforts have not been rewarded already in other ways.
Jonathan Wallace
Newcastle upon Tyne
Your tiny chance of winning the lottery
It is pleasing that you bring some objectivity and mathematical rigour into the chances of winning the lottery ("Could it be you? Not with the lottery odds these days", 5 January) and especially comparing the winning odds against the chances of other happenings in our lives.
I have had such a discussion on many occasions with my wife, who regularly buys a ticket or two. She readily accepts my similar assessments of the extremely remote chances of winning a jackpot compared with the odds of other occurrences in her life – such as that she is many times more likely to get run over by a bus on the way to buying a ticket.
These interactions invariably end with her asking: "Somebody has to win it?" – "Yes, eventually," I respond.
"And it could be me?" My mathematical background can only respond "Yes" again. She smiles triumphantly and the discussion comes to an end.
Michael G Scott-Robinson
London E4
Surprise! No blood on Labour's carpet
Why are the media so surprised that Jeremy Corbyn does not seem to be indulging in a "radical" or "revenge" reshuffle, when there was no reliable evidence that he would?
Journalists seem base their current reporting on the Labour Party on gossip, speculation, reading each other's conjectures, and wishful thinking – after all, conflict, revenge, chaos, splits, and personality and political clashes make such good stories.
Marilyn Mason
Kingston upon Thames
How can there be a reshuffle of Jeremy Corbyn's shadow cabinet, when there has not been a shuffle?
Christopher Court
Ashford, Middlesex
Price tags written in the stars
Reading The Independent Magazine (2 January), I didn't know which was more unbelievable, the article on astrology or the price of the clothes in the following feature.
Eddie Doherty
Wolverhampton
Join our commenting forum
Join thought-provoking conversations, follow other Independent readers and see their replies