Iain Duncan Smith has made the lives of millions worse. Why are we knighting him?
Send your letters to letters@independent.co.uk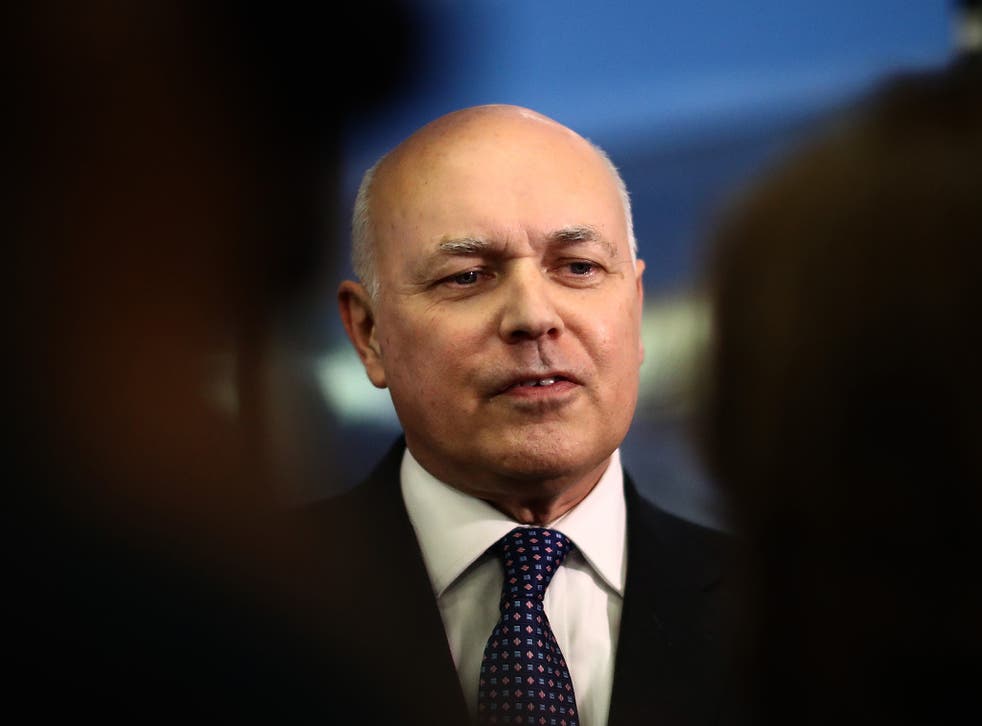 The Tories have awarded the odious Iain Duncan Smith – the man behind the universal credit scheme which has left 1.9 million of the poorest £1,000 worse off a year, and led to the immiseration of millions of benefit claimants – a knighthood.
In 2013, Duncan Smith boasted that he could survive on a benefit allowance of £53 a week. This from a man who claimed £39 for a single breakfast from parliamentary expenses.
While looking after his own comforts, Duncan Smith has worked to make the lives of the unemployed, poor, sick and disabled as wretched as possible. In addition to creating the universal credit scheme, Duncan Smith is also responsible for the bedroom tax and inflicting the humiliating "fit for work tests" on the disabled and ill.
In 2015 the Department for Work and Pensions own figures found that between December 2011 and February 2014 at least 2,380 people had died after being found "fit for work" and losing their benefits. They were part of the 120,000 premature deaths that have been linked by a study to Tory austerity between 2012 and 2019.
Sasha Simic
Stamford Hill, London
Antisemitism across the Atlantic
The attack on Jews in New York is a warning of the parallel dangers we face in the UK. The social tensions Brexit unleashed need to be channelled into a positive, inclusive celebration of British identity, not allowed to degenerate into discord and division.
Rabbi Dr Jonathan Romain​
Maidenhead Synagogue
Scotland's health
Official figures show that delayed discharges from hospitals cost the Scottish NHS 521,772 bed days in 2018-19, a 6 per cent increase on 2017-18. That is to say, more than half a million days were spent accommodating people whose medical treatment was complete in Scottish hospitals, at great expense. This in turn meant that some of those arriving at A&E outpatients departments who required hospitalisation could not be moved from A&E because no other beds were available.
Medics will tell you that the best thing for patients, especially the elderly, is to spend as little time as possible in hospital because prolonged stays can lead to atrophying of muscles and exposure to infection. Health and social care are fully devolved to Holyrood and have been the responsibility of the SNP since 2007; our current first minister is a former health minister. Why isn't the time and energy expended on campaigning to reduce our disposable income through the separatist movement not directed towards solving the pressing problems in our health and social care sector?
Jill Stephenson
Edinburgh
No choice for Nick​​ Clegg
John Rentoul's otherwise excellent piece ('How Brexit grew from an awkward encounter on the campaign trail 10 years ago') is marred by the following sentence: "At the beginning, Nick Clegg chose to go into coalition with the Conservatives instead of trying to do a deal with David Miliband as an interim Labour prime minister."
When a general election moves the House of Commons from an overall majority to a hung parliament, it may not be clear who's won, but it's clear who's lost. In 2010, it would have been as wrong for Gordon Brown to remain prime minister as it would have been for Ted Heath in March 1974.
In 2010, the outgoing Labour cabinet had the power to change the leader but chose not to; had it done so, the dynamics would have been wholly different. As it was, the only choices Nick Clegg had were to enter into a coalition or support a minority Conservative administration with a supply and confidence agreement. As I advised him, the latter would have resulted in the Conservatives calling an early general election, which it alone had the financial resources effectively to contest.
Philip Goldenberg
Woking, Surrey
The puritanical left
David Hiley's dismissal of Tony Blair as never having had a socialist thought in his head ('Racism is a form of tribalism – no wonder it flourishes in football') is an example of the extremism we have to face in the Labour Party. The left wing's definition of socialist values exists for the ideologically-driven part of the Labour movement that can be confident that they will never have to taint the purity of their vision with the realities of power. We can't continue to let our party be driven by their puritanical beliefs.
Anthony Pearson
Gwynedd, North Wales
Register for free to continue reading
Registration is a free and easy way to support our truly independent journalism
By registering, you will also enjoy limited access to Premium articles, exclusive newsletters, commenting, and virtual events with our leading journalists
Already have an account? sign in
Register for free to continue reading
Registration is a free and easy way to support our truly independent journalism
By registering, you will also enjoy limited access to Premium articles, exclusive newsletters, commenting, and virtual events with our leading journalists
Already have an account? sign in
Join our new commenting forum
Join thought-provoking conversations, follow other Independent readers and see their replies