Open letter to David Cameron: Building the walls of fortress Europe has had deadly results
In this open letter, a coalition of 19 charities calls on the UK to ensure that a fully resourced search-and-rescue mission is re-established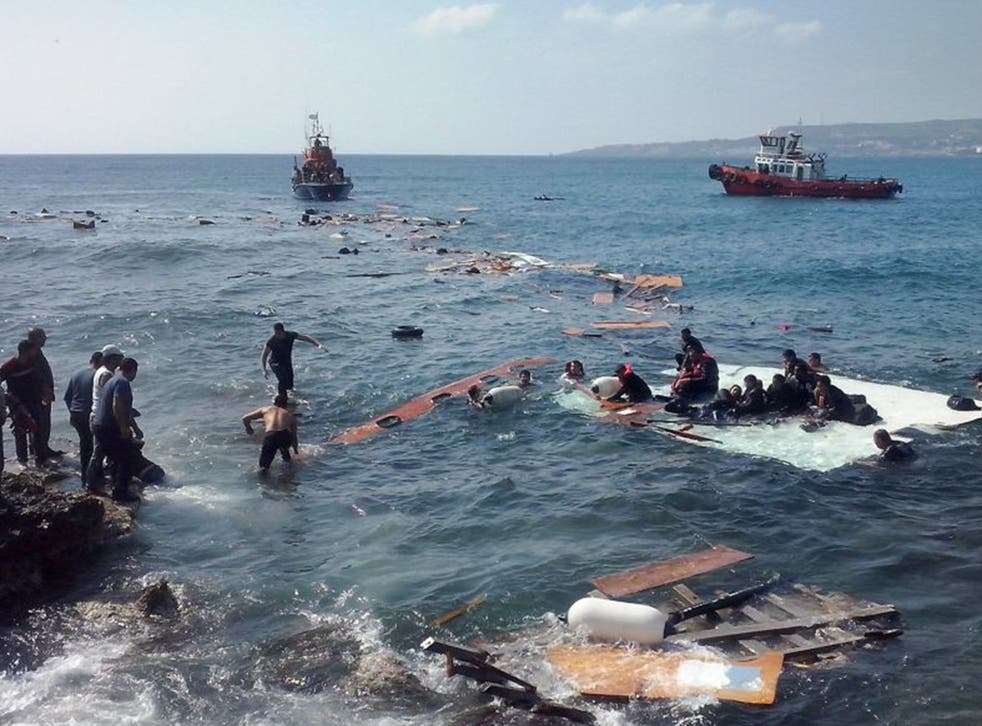 Dear Prime Minister,
We are devastated by the crisis happening in the Mediterranean. Every day we're witnessing more and more men, women and children losing their lives on Europe's doorstep.
Although we're deeply saddened by recent events, we're not surprised. While wars raging overseas are driving more people to flee their homes than at any other time since the Second World War, Europe has been building its walls ever higher.
The gloomy backdrop to the horrific human tragedy occurring in the Mediterranean is that there is a lack of safe and legal ways for refugees to access protection in Europe. Britain offers no 'asylum visa'.
As a matter of urgency, the UK and others must immediately restart the search and rescue operation in the Mediterranean and ensure it has the money it needs to make a difference. We know that it saves lives; Italy's Mare Nostrum saved over 150,000 people last year.
In the medium term, the UK must resettle many more refugees from conflict zones around the world, bringing them directly and safely to our shores. We must also make it easier for refugees to reunite with their relatives. In the long term, greater efforts must be made to tackle the reasons why people flee in the first place.
Syrians are just one group having their escape routes closed off by European immigration policies. For a Syrian family trying to find protection in the UK there is virtually no safe and legal way of getting here.
In pictures: Migrant boat disaster

Show all 10
There is no easy answer to this crisis, but the solution can never be to impassively watch on while desperate people drown. Until safer ways to seek refuge are found, more people will be forced into the hands of smugglers and onto unseaworthy boats in their search for a safe haven. At the moment, European immigration policies leave many with no other choice.
Building the walls of fortress Europe has had disgracefully deadly results. It's time for a new approach, which prioritises saving lives and opening up alternative routes to safety. As we've seen, it's a matter of life and death.
Yours sincerely,
Maurice Wren, British Refugee Council Chief Executive
Jan Shaw, Refugee Programme Director, Amnesty International UK
Mark Goldring, Chief Executive, Oxfam GB
Tiffy Allen, Chief Executive, City of Sanctuary
Professor Bridget Anderson, Director of Research, Centre On Migration, Policy and Society (COMPAS), University of Oxford
Zrinka Bralo, Executive Director, Migrant and Refugee Communities Forum
Don Flynn, Director of Migrants Rights Network
Saira Grant, Legal & Policy Director, Joint Council for the Welfare of Immigrants
Stephen Hale, Refugee Action, Chief Executive
Almir Koldzic, Counterpoints Arts, Co-Director
Nick Lowles, Chief Executive, HOPE not hate
Susan Munroe, Chief Executive, Freedom From Torture
Wayne Myslik, Chief Executive, Asylum Aid
Eiri Ohtani, Coordinator, The Detention Forum
Nazek Ramadan, Director, Migrant Voice
Dr Trevor Trueman, Oromo Relief Group
John Wilkes, Chief Executive, Scottish Refugee Council
Emma Williams, Chief Executive, Student Action for Refugees and Regional Asylum Activism
Fr. Peter Balleis SJ, International Director, Jesuit Refugee Service
Register for free to continue reading
Registration is a free and easy way to support our truly independent journalism
By registering, you will also enjoy limited access to Premium articles, exclusive newsletters, commenting, and virtual events with our leading journalists
Already have an account? sign in
Join our new commenting forum
Join thought-provoking conversations, follow other Independent readers and see their replies