Testing on non-human primates in neuroscience research is no longer justifiable
Please send your letters to letters@independent.co.uk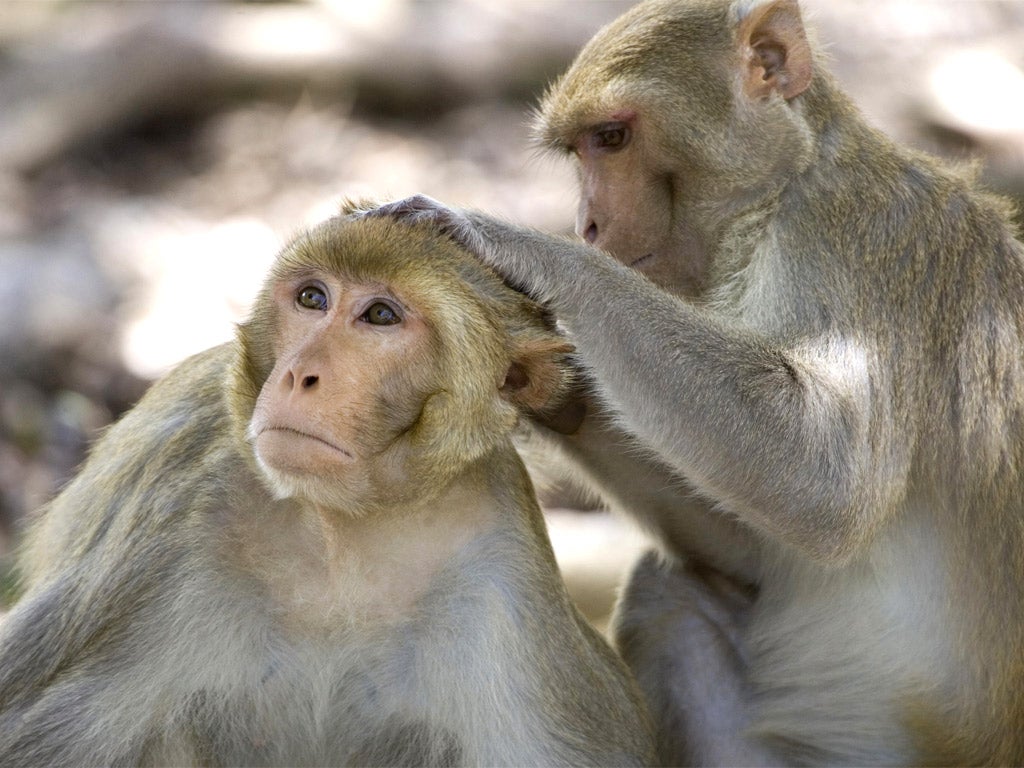 Scientists, primatologists and animal welfare experts are supporting Cruelty Free International in raising concerns about the controversial use of non-human primates in neuroscience research. Given the significant level of suffering caused to the animals and the availability of human based approaches, the group has signed an open letter of concern to those bodies in the UK and EU responsible for the funding and licencing of this type of research.
We, the undersigned, are concerned at the level of suffering involved in many neuroscience experiments on non-human primates, especially where fluid deprivation and movement restraint is involved, and believe that there has now been sufficient progress in human-based alternatives to call into serious question whether further research of this type is necessary.
We note the recent research in this area published in ATLA [Bailey J & Taylor K.] (2016). Non-human Primates in Neuroscience Research: The Case Against its Scientific Necessity. ATLA 44, 43-69]. We therefore call on bodies responsible for the funding and licencing of this type of research to review their policies and specifically to end support for experiments involving deprivation of fluids and movement restraint.
Signatories:
Sir David Attenborough, broadcaster and naturalist
Simon Bearder, PhD, Emeritus Professor, Department of Anthropology, Oxford Brookes University
Marc Bekoff, PhD, Emeritus Professor, Department of Ecology and Evolutionary Biology, University of Colorado
Nedim C. Buyukmihci, VMD, Emeritus Professor, Department of Veterinary Medicine, University of California, Davis
Herbert H. Covert, PhD, Professor, Department of Anthropology, University of Colorado Boulder
Paul Furlong, PhD, Professor of Clinical Neuroimaging, Director, Aston Brain Centre, School of Life and Health Sciences, Aston University
John P. Gluck, PhD, Emeritus Professor, Department of Psychology, University of New Mexico; Research Professor Kennedy Institute of Ethics, Georgetown University
Jane Goodall, PhD, DBE - Founder of the Jane Goodall Institute and UN Messenger of Peace
Colin Groves, PhD, Emeritus Professor of Bioanthropology, Australian National University
Eleonora Gullone, PhD, Affiliate Associate Professor, Centre for Developmental Psychiatry and Psychology, Monash University
Stevan Harnad, PhD, Professor of Psychology at Université du Québec à Montréal (UQAM) and Professor of Cognitive Science at the University of Southampton
Catherine Hobaiter, PhD, Lecturer, School of Psychology and Neuroscience, St Andrews University
Jessica A. Mayhew, PhD, Assistant Professor, Department of Anthropology & Museum Studies and Primate Behavior & Ecology Program, Central Washington University
Dr Monika Merkes, PhD, (Public Health) Honorary Associate, Australian Institute for Primary Care & Ageing, La Trobe University
Anna Nekaris, PhD, Professor in Anthropology and Course Leader, MSc Primate Conservation, Oxford Brookes University
Hugh Notman, PhD, Associate Dean, Learning Technologies & Associate Professor, Anthropology, Biological, Athabasca University
Ian Redmond, OBE, Field biologist and conservationist, Ambassador, UNEP Convention on Migratory Species, former Envoy for UN-GRASP
Vernon Reynolds, PhD, Emeritus Professor, School of Anthropology, Oxford University and Founder of the Budongo Conservation Field Station, Uganda
Lori K. Sheeran, PhD, Professor, Department of Anthropology & Museum Studies and Primate Behavior & Ecology Program, Central Washington University
Jo Thompson, PhD, Executive Director, Lukuru Foundation, Democratic Republic of Congo
Richard Wrangham, PhD, Ruth B. Moore Professor and Chair of Biological Anthropology, Harvard University     
Theresa May needs a new plan if she's serious about educational reform
The reintroduction of grammar schools would be a decision based on ideology not on what is needed by our young people and the economy. Eleven is too young to decide how a young person will develop; but what we do need is a 14+ where pupils decide, after discussion with parents and teachers, to follow an academic path or a vocational path from 14 to 18 years of age (school years 10 to 13).
Our economy may be 80 per cent service industry but we still need builders, plumbers, etc – as the influx of such from Eastern Europe over the past few years has demonstrated. Those on the academic path would follow the current system of GCSEs, A-Levels and then University or work/apprenticeships. Those on the vocational path would learn a trade through an apprenticeship but still take some GCSE's (particularly those relevant to their chosen trade), B-Tech and other qualifications and even progress to university.
We might need to create a system of vocational colleges as Lord Baker has been trying to do for a few years now or some schools in each area could decide to adapt their programmes to include vocational courses.
If Theresa May is serious about wanting to increase social mobility and give "white working class boys" the same opportunities as the rest then she has to create an education system that provides courses for all skill types not just those who have analytical intelligence.
Mike Jenkins
Bromley
Mother Theresa was a good woman – she doesn't deserve personal attacks
After opening your website the other day, I was shocked by the attack on the reputation of Mother Teresa by a "Secularist". The world seems full of spite these days. When I was young, the atheist H.G. Wells and the Catholic apologist G.K. Chesterton would vigorously attack each other's views but not each other's persons. In fact they appeared to be good personal friends. Your contributor could have expressed disagreement with Mother Teresa over abortion or birth control without attacking the person of a woman who exhausted herself doing good and lived poorly.
So Mother Teresa handled billions of dollars. Did she spend it on five-star hotels, eat at the Ritz, have private villas in Bermuda or the Côte d'azure, a private yacht or plane? When she came to Beirut to save some children caught on the wrong side of the firing line (for that one day the firing providentially stopped), I was sent by Radio Liban libre to interview Mother Teresa as she left the port of Jounieh. She arrived in a very ordinary car with a couple of helpers. When I tried to interview her, she answered with one short sentence saying she had come to do a job and walked off to the boat serving the Jounieh-Cyprus ferry service.
There is an old saying "As cold as charity", meaning that people seeking free service from charitable institutions are often faced with tired, grumpy employees and long waits. Mother Teresa tried to provide that personal love that millions in the world yearn for. I hope your secularist contributor does what he can for the poor and neglected.
Kenneth Mortimer
Lebanon
Violence towards cyclists should be a hate crime
I'm pleased to see that, the woman who (allegedly) kicked the bicycle of radio presenter, Jeremy Vine, has been held/bailed. In an equal/fair world, such behaviour should qualify as a hate crime.
I was introduced to cycling by my "cycling passionate" grandfather whilst "in nappies". Suffice to say, I've been attached to a bicycle ever since. Without my (seven) bicycles, one a 60-year-old "track bike", life wouldn't be worth living.
Up until my mid-20s, it was the only way I could afford/wanted to travel. It's been said of the bicycle that it's "the first step out of poverty." The money I saved back then, paid my mortgage; now (by leaving my car on the drive), it more than pays for my gas/electric.
Cycling is as much a part of my DNA as my race (Scottish), religion and sexual orientation – God/nature effectively gave me no choice in the matter. Indeed, I've been disabled by careless/lawless drivers on more than a few occasions. At one point, I qualified for a Blue Badge: cycling made life worth living.
In my 60-plus years, I've also had "missiles" e.g. fruit and veg, thrown at/hit me from passing vehicles, and been spat at. Furthermore, I must have been told a thousand times: "You've no right being on the road; you don't pay 'road tax'." (Neither do drivers; it was abolished by Winston Churchill pre-WW2; it's an emissions tax; bicycles/electric cars/scooters, guide-dogs and horses are zero rated).
If we can't stop the 'war on the roads', we've surely no chance with the bigger issues of our age.
Allan Ramsay
Radcliffe
Sturgeon needs to forget a second referendum and focus on the day job
There was the usual lack of detail in the SNP's plans for the next year at Holyrood apart from an oft-stated ambition to finally sort out Scotland's entrenched educational disadvantage.
Well that would be, as they say, a "neat trick" but forcing universities to accept more state school pupils with low grades looks an uncomfortable fit with "places of academic excellence".
In fact Nicola Sturgeon has focused on a second referendum to the detriment of the day job and she needs to deliver on the central promises she made when she became First Minister.
She has talked the talk, now she needs to walk the walk on the economy, public services and a fairer society yet few of this year's grandiose plans are really pointing in that direction.
Rev Dr John Cameron
St Andrews
The SNP are the real opposition
This week during Prime Minister's Questions and the following debate I watched the SNP's Angus Robertson effectively displace Jeremy Corbyn as opposition leader. When will it be made official?
Patrick Cosgrove
Bucknell
Join our commenting forum
Join thought-provoking conversations, follow other Independent readers and see their replies