Sack Boris? No way!
Please send your letters to letters@independent.co.uk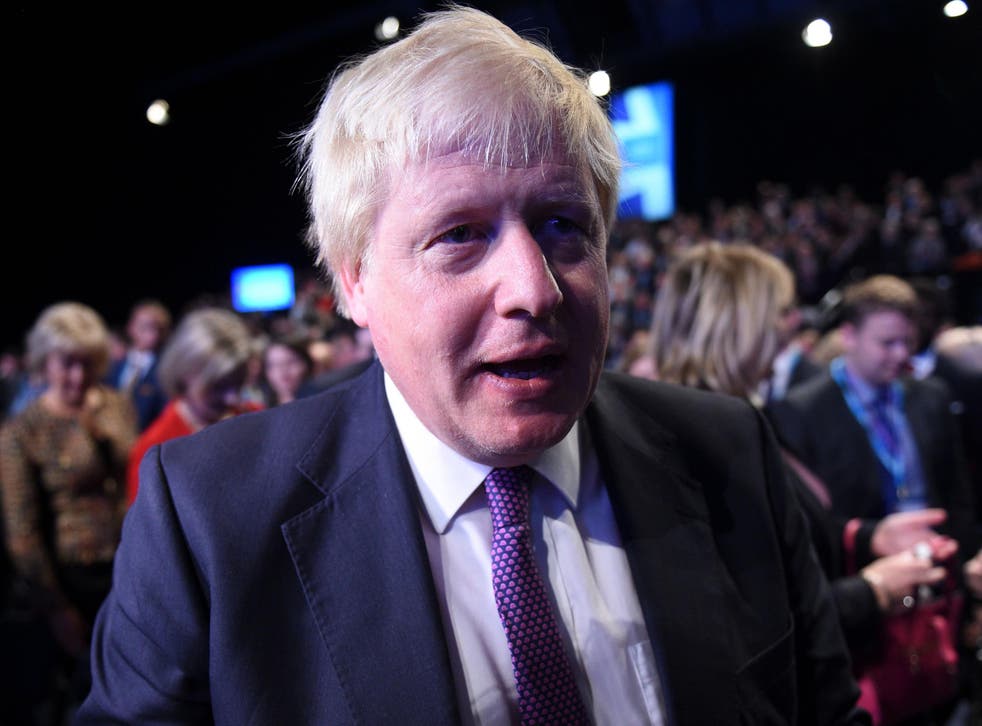 Bernie Evans suggested in his letter that Theresa May should sack Boris Johnson. Satisfying though it would be to see the congenital liar publicly humiliated, we need to keep an eye on the bigger picture.
Boris and Gove shoulder major responsibility for the utter disaster of leaving the EU and the Single Market, and they must remain in post, accepting collective responsibility for every single aspect of the impending economic and diplomatic calamity that Britain's more gullible and poorly-informed citizens voted for.
It's imperative that this pair of crooks stay on the bridge as RMS Brexitanic plunges to its watery doom, taking our prosperity and national self-respect with it.
To allow these corrosive charlatans to escape, so that they can then spend the rest of their "careers" claiming that if only they'd been in charge everything would have turned out beautifully, and blaming absolutely everything and everyone apart from Brexit itself for the massive problems they have caused us for the decades to come, would be a travesty.
Graeme Bell
Herefordshire
Three cheers for Simon Calder
I have been reading and watching Simon Calder's reports for many years and it's great to see him rewarded (Simon Calder named News Journalist of the Year at the Business Travel Journalism Awards).
His articles always offer clear, simply phrased insight into every aspect of travel and I seem to quote his name on a weekly basis as a source of solid and creative travel news. People often ask as to why I know what's going on, and it's all down to his articles in print and his appearance on TV.
Well done, Mr Calder. I'm sure many others see you as a winner for the great British holidaymaker!
Eileen McCulloch
Falkirk
Please pass on congratulations to Simon Calder! A well-deserved award. We travel a lot and always read his excellent articles. I did once email him and was delighted to receive a quick reply.
Long may he continue at the Independent.
Anne and Chris Jones
Address supplied
Our MPs are going into Brexit blind
What a brilliant analogy from Patrick Cockburn: just like Edward Lear's Jumblies, the government is taking us out to sea in a sieve. Most of our MPs, who should be safeguarding the future for their constituents, are wearing blinkers. How can we get them to take them off?
Helen Watson
Goring Heath
Efforts are ongoing to unseat Theresa May
The letter from Richard Grant advising everyone in favour of halting Brexit to join the Liberal Democrats is most welcome. As a result of the referendum, Cameron's disastrous attempt to placate the Tory hard right, tens of thousands have done exactly that. Although the Conservative party has not been prepared to release membership figures, most commentators believe that the Liberal Democrats, with well over 100,000 members, now surpass them.
I can assure Richard Grant that campaigning in Theresa May's Maidenhead constituency has been on-going in the twenty years since she was first elected. As a former councillor in the Royal Borough of Windsor and Maidenhead, I can also tell him that many of my former councillor colleagues are leading the efforts to unseat her. Even though he lives in Hampshire, he would be most welcome to come and help.
Richard Fagence
Windsor
The Government must act on the ivory ban
The UK Government's announcement that an ivory ban consultation was being launched (6 October) is a hugely positive step for elephants. With more than 20,000 elephants a year being killed for their ivory and localised populations at risk of extinction, the International Fund for Animal Welfare (IFAW) and many other groups which have campaigned for an ivory trade ban have warmly welcomed the announcement. However, the key now is for the Government to act quickly to ensure that this public consultation leads to a total UK ivory trade ban with only minor exemptions.
Time really is running out for elephants so it is essential that after the 12-week consultation ends on 29 December, the Government begins the process to ensure a ban is enshrined in legislation without serious delays which could impede its ultimate success or effectiveness.
Right now the UK is a direct contributor to the killing of elephants in Africa. Having illegal and legal ivory markets spells trouble as legal trade in ivory can provide a smokescreen for the further poaching of elephants. The UK has a legal ivory trade in antiques which are often sold overseas, while data on ivory seizures in the UK and the rest of Europe highlights that we play a significant part in the global ivory trade and demand for ivory products.
Polling recently released by IFAW revealed that the vast majority of the UK public want to protect elephants with a UK trade ban and do not wish to purchase ivory themselves. An overwhelming 95 per cent of respondents polled by YouGov stated that they would not be interested in purchasing antique ivory. A YouGov survey of MPs also found 97 per cent of MPs to be supportive of either a total ivory ban or a ban with some exemptions. IFAW is encouraging members of the public and MPs to take part in the consultation and help ensure lasting protection for elephants.
In October next year, the UK hosts the fourth International Conference on the Illegal Wildlife Trade, a high level Governmental conference to tackle this issue. Having a ban in place by then would send a clear message that the UK is a leader in the fight to protect elephants for future generations.
David Cowdrey – Head of Policy & Campaigns, International Fund for Animal Welfare (IFAW)
Join our new commenting forum
Join thought-provoking conversations, follow other Independent readers and see their replies