I'm turning my husband vegetarian, one animal at a time
Please send your letters to letters@independent.co.uk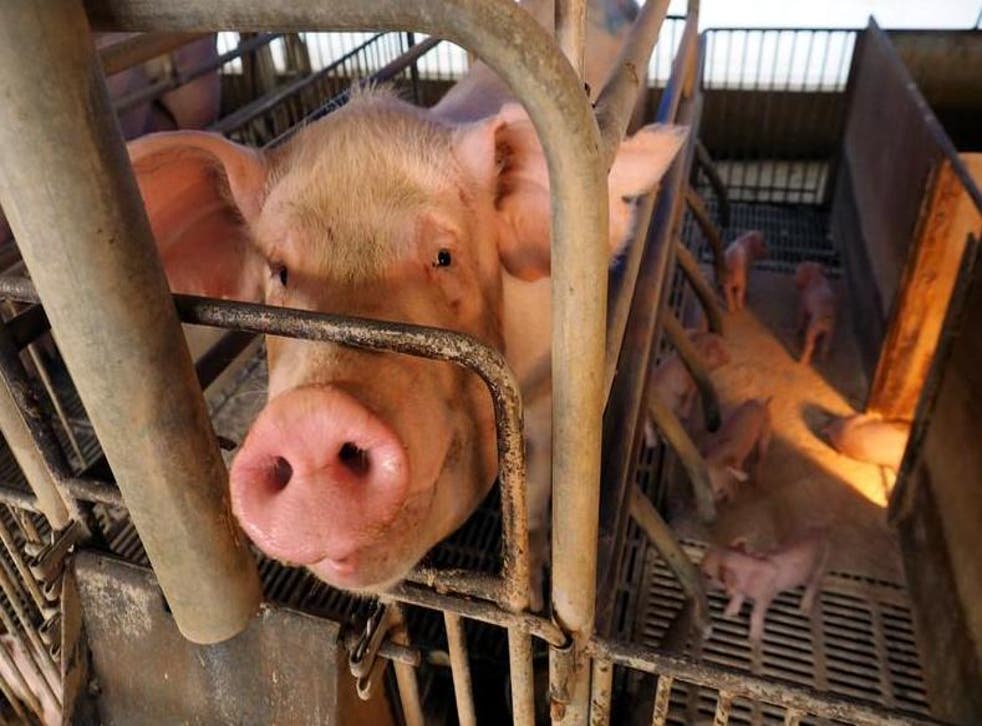 I have been a vegetarian for 19 years however my husband is not despite my best efforts.
Earlier this week I arrived home and my husband announced: "I won't be eating pork ever again." This is all thanks to an article by Chas Newkey-Burden and a short video my husband watched after reading it. I just wanted to say thank you to Chas and to The Independent for this.
Can you now follow up with articles about chicken and beef please (he doesn't eat lamb), then we might be a vegetarian household before the end of the year!
Apryl Whitehouse
Address supplied
Discrimination is everywhere
Faiza Shaheen's opinion has struck a chord with me. Do we really still have racism, bigotry, discrimination, antisemitism, anti-Muslim prejudices, hatred, intolerance, religious marginalisation and social ostracism in our midst?
Worse is the fact that this could sometimes be practised by academic staff at British universities, places of knowledge and openness.
A few weeks ago, a damning report found that black and minority ethnic students feel victimised and unsafe at Goldsmiths, University of London. This could be the same elsewhere and could be accentuated in post-Brexit times. It is time to build a fairer society.
Dr Munjed Farid Al Qutob
London NW2
Bad deal
We can only hope that MPs will not vote before actually reading and debating the withdrawal agreement Boris Johnson has brought back from Brussels.
Comparing it to May's deal, it's much worse. Gone are the legal safeguards against international tax evasion (I wonder why?) and for rules to ensure access to trade in the single market.
Gone too are genuine guarantees on rights for workers and environmental standards. And if your job depends on selling services into Europe, you don't get a mention.
In comes a one way ticket to an Irish border poll, which may explain why nobody in Northern Ireland is keen to vote for it.
In fact, it opens the path to a disastrous no-deal Brexit at the end of 2020. I didn't see that option on the ballot paper in 2016.
And all this with a promise for a "good deal" to unite the country? This isn't a deal for a United Kingdom, but the surest way of breaking up the Union.
Magdalena Williams
London
Many people will feel sympathy for Meghan, Duchess of Sussex, in connection with the revelation of her unhappiness over press exposure. However, this story, along with the humiliation of the Queen over the prorogation scandal, should make us all give some thought to the role of the monarchy in modern British life.
No one would deny that the Queen has worked hard to discharge her role. Equally many will respect the good works that Princes William and Harry have engaged in.
One has to wonder, however, if monarchy – looked at in cool, logical terms – really has any place in the modern world. In fact its very existence may well encourage old fashioned habits of deference, snobbery and privilege.
Many changes in the British constitution are currently clearly required. Along with these we should be looking at the example of flourishing, up-to-date countries like France or Germany where the Head of State is elected, not given the job because of the circumstances of their birth.
The Rev Andrew McLuskey
Middlesex
Given the destructive power of pornography on lives, especially of young people, it is surprising the government has decided to drop plans for age verification checks on pornography sites.
Nicky Morgan, the digital secretary, has insisted the government's commitment to protecting children is unwavering, so why the failure to implement the Bill designed to protect children?
Has she succumbed to The Adam Smith Institute's claim that the Bill would infringe freedom? Often infringing the freedom of young children is what every responsible adult should do to prevent them permanently damaging themselves.
Jonathan Longstaff
East Sussex
Beware far-right "pinkwashing"
As lesbian, gay, bisexual, transgender and queer (LGBT+) activists, academics and community members, we oppose fascism in all its forms. While often the far right is blatantly oppressive of LGBT+ people as well as women, occasionally it uses the tactic of "pinkwashing", pretending that mistreating other minorities somehow makes us freer and safer.
Religious and racial minorities may be portrayed as "backward", so that LGBT+ people and women need to be "rescued" by the forces of the extreme right. But no rainbow flag can long conceal the macho violence and abuse of power which lies behind this.
For example, a meeting on resisting fascism and building solidarities in India and Kashmir at SOAS, University of London, was recently disrupted by masked right-wing extremists claiming to be LGBT+ and trying to justify the seizure of Kashmir in August. The Indian Supreme Court decriminalised gay sex in 2018 and legal experts advised, soon after, that this applied to then-autonomous Kashmir too, though this was not as widely publicised as it might have been.
Decriminalisation was largely due to the work of human rights advocates now under attack by fascists, not the efforts of ruling party politicians such as Subramanian Swamy, who believe that homosexuality is a genetic disorder and threat to national security. Military rule and a social media shutdown have now left LGBT+ Kashmiris isolated and afraid, yet the grim situation is being spun as in their interests.
We urge people of goodwill not to be taken in by "pinkwashing" wherever it occurs but rather to support LGBT+ struggles for justice, democracy and human rights for all.
Savitri Hensman, Founder, London Black Lesbian and Gay Centre, writer and activist
Professor Dibyesh Anand, University of Westminster
Trustees, Imaan Muslim LGBTQI group
Meghna Mehra, Founder, All India Queer Association
Rafiul Alom Rahman, Founder, The Queer Muslim Project, Delhi
Kaushal Bodwal, Hasratein: a queer collective
Taranjit Chana, Campaigner for LGBT+ and race equality
Rohit K Dasgupta, Councillor, London Borough of Newham and senior lecturer at Loughborough University
Dr Sandeep Bakshi, Senior lecturer in postcolonial and queer literatures and literary translation, University of Paris Diderot
Dev Desai, Social activist, ANHAD, Ahmedabad, Gujarat
Gee Imaan Semmalar, Trans activist, India
Ruth Chawngthu, Founder, Nazariya: A Grassroots LGBT-Straight Alliance
Dr Shakuntala Banaji, LSE
Dr Polly Withers, LSE media and communications & Middle East centre
Anjum Mouj, LQBTQI activist and campaigner
David Landau
Ruth Bashall, Human Rights activist
Dr Suhraiya Jivraj, Director of the Centre for Sexuality, Race & Gender Justice, Kent Law School, University of Kent
Nishant Upadhyay, University of Colorado Boulder
Yasmine Kherfi, Projects Assistant, Middle East Centre
Jack McGinn, LSE Middle East Centre
Sanaz Raji, Independent Scholar & Organiser, Unis Resist Border Controls
Nila Gupta
Sushmita Verma, Researcher, IIST, University of Erasmus, Rotterdam
Dev Desai, Social activist, ANHAD, Ahmedabad, Gujarat
Bittu Kondaiah, Telangana Hijra Intersex Transgender Samiti
Shambhavi Saxena, Writer, Queer Feminist, New Delhi
Poulomi Desai
Mumtaz Karimjee
Abha Bhaiya
Dr Stan Papoulias, King's College London
Dimple Oberoi Vahali
Bob Cant
Rahul Rao, Senior lecturer in politics, SOAS, University of London
Dr Gabriel Varghese, Associate research fellow, Kenyon Institute (Council for British Research in the Levant), Sheikh Jarrah, East Jerusalem
Alessandra Mezzadri, Senior lecturer, development studies, SOAS
Akriti Mehta, King's College London
Akanksha Mehta, Goldsmith's, University of London
Reshna Begum, Approved Mental Health Professional (AMHP) Social Worker
Dr Ameet Mukherjee
Nazmia Jamal
Sahed Ali, Photographic Technician in East London
Feyzi Ismail, SOAS, University of London
Dr Shanon Shah, King's College London
Dr Silvia Posocco, Birkbeck, University of London
Decolonizing Sexualities Network
Dr Manjeet Ramgotra, Lecturer in political theory, Department of Politics and International Studies, SOAS, University of London
Sita Balani, King's College London
Alastair Hendy, Photographer, writer, shop owner
Dr Humaira Saeed
Michael Etheridge, Unison Official
Camille Kumar, Anti-violence campaigner
Tabitha Benjamin, Butch, Please!
Join our new commenting forum
Join thought-provoking conversations, follow other Independent readers and see their replies